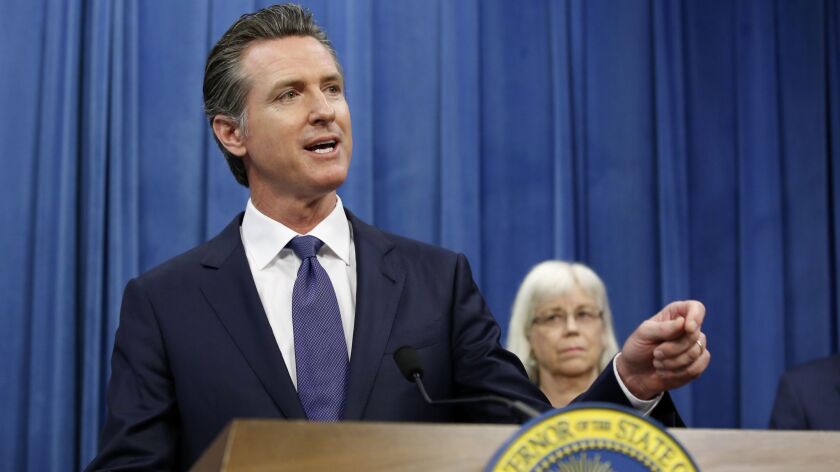 Gov. Gavin Newsom signed into law Wednesday a bill that gives the California Horse Racing Board the ability to swiftly suspend racing at a track, move races between tracks and change dates.
The impetus behind the bipartisan bill, sponsored by state Sen. Bill Dodd (D-Napa), was the spike in equine deaths at Santa Anita. The meeting concluded Sunday with the deaths of 30 horses since its opening day on Dec. 26.
The CHRB earlier this month asked Santa Anita not to run the last six days of its meeting after a 28th horse suffered a catastrophic injury. Santa Anita said no and the CHRB had no recourse because of a mandatory 10-day public notice period required for any action by the board.
It now has the authority to suspend racing without a public notice period.
The day after Santa Anita announced racing would continue, the horse Truffalino died of a heart attack. American Currency died after training on Saturday, the next-to-last day of the meeting.
"Business as usual has resulted in too many horse deaths," Newsom said. "I applaud the Legislature for taking action to expand the authority of the CHRB to cancel or move race meets when animal and human safety are at risk. This problem demands deeper partnership between the CHRB and track officials. I call on race tracks around the state to hold themselves to the higher screening standards recently adopted at Santa Anita. This model can save horses' lives."
After Santa Anita turned down the request of the CHRB, the board ordered that horses scheduled to run at the track pass a pre-screening by a five-member "super panel." A single "no" vote resulted in disqualification. During the final six days, 38 horses were disqualified.
The panel will be in force at Los Alamitos in its meeting, which starts Saturday. It's expected that a panel will also evaluate horses running at Del Mar when that seaside track opens next month.
---