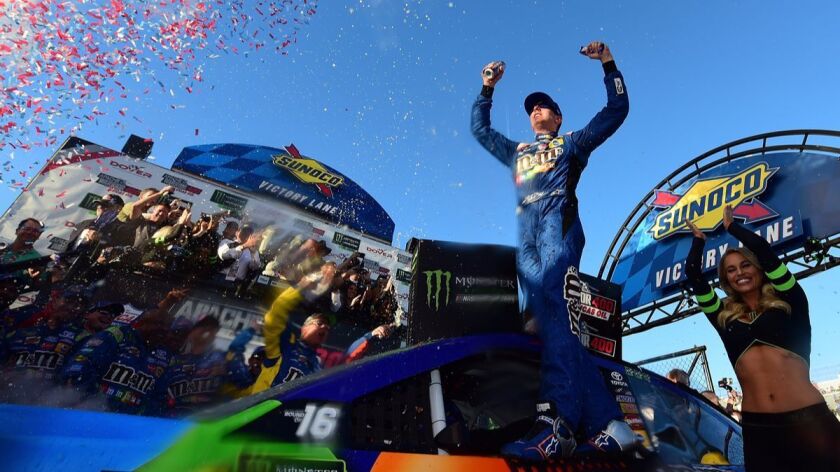 And here we thought Martin Truex Jr. was cruising down the highway, heading to his first NASCAR Cup title.
Not so fast. Things are about to get disruptive with The Rowdy One, Kyle Busch.
Busch now has won two consecutive playoff races and is only 18 points behind Truex in the playoff standings. Every point is critical in trying to move forward to Homestead in late November for the final-four matchup near Miami, but victories are a surefire way to advance.
We are down to 12 drivers in the championship mix, after Kurt Busch, Kasey Kahne, Austin Dillon and Ryan Newman were eliminated this past week at Dover.
As for Kyle Busch, it's catch him if you can.
"We've got to win Charlotte," Busch said after winning in Dover on Sunday, looking ahead toward this week's race. "Apparently, I haven't won there before, so I need to go get that win and check that one off the list, and that will put us into the next round and we'll go from there."
Busch won the Cup title in 2015, capping an impressive comeback after breaking his right leg and left foot in a horrific crash in an Xfinity Series race the day before the Daytona 500. He missed 11 races, had to learn to walk again and, with the help of a NASCAR waiver, advanced to the playoffs and won the whole thing.
But he's been in it full-time in 2017 and up to his usual "does not play nice" personality traits that endear him to many fans and annoy so many others.
A year in review includes Busch ripping Goodyear tires after crashing at Daytona to start the season, starting a brawl with Joey Logano and his crew members after a wreck in Las Vegas and throwing shade at Talladega by implying it's not a real race track.
Busch was then dismissive of Dillon's victory at Charlotte in a video snippet that went viral in the NASCAR community and may or may not have included him picking his nose.
But his combative piece de resistance remains his feud with Brad Keselowski that dates back a few years. When Keselowski implied on Twitter last month that NASCAR was giving Toyota favorable slack in setups, Busch fired back with a dismissive tweet.
Keselowski's turn: "It's 2017. When you're about to lose an argument, you call people names rather than face facts."
Busch then volleyed with a picture of "Sweet Heat" Skittles (a sponsor), adding, "Ahh yeah!! It's getting (flame emoji) in here!"
Boys will be boys in cyberspace. Keselowski, by the way, is fourth in points, which would put both drivers in the championship crosshairs in Homestead.
"It just needs to stop," Busch said in a recent interview with Kaitlyn Vincie on "NASCAR Raceday".
"It goes in cycles. We weren't the ones complaining when we knew the No. 2 car [Keselowski] had an advantage over the rest of the field when they won their championship. We had to go to work to try to figure it out. We were too late when it was said and done."
There are still seven races to go. We can easily say that all is not said and done among Busch, Truex and Keselowski.
Remembering Robert Yates
NASCAR Hall of Famer Robert Yates died Monday night at age 74. Yates, a team owner and engine builder in his career, had been battling liver cancer.
He was widely respected in the industry, and his legacy includes winning 57 Cup races and three Daytona 500s while an owner for drivers such as Davey Allison and Dale Jarrett.
"Robert excelled in multiple NASCAR disciplines, earning the respect of an entire industry and an everlasting place in the hearts and minds of the NASCAR fanbase," NASCAR CEO and chairman Brian France said in a statement. "His excellence spanned decades, from the 1983 championship powered by his engines and the 1999 title captured by the cars he owned, both of which helped earn him a deserved spot in the NASCAR Hall of Fame Class of 2018.
"And though he was a master at his craft, it was Robert's passion and character that endeared him to every single person he encountered and will ensure that his memory will live on for generations. On behalf of my family and all of NASCAR, I extend heartfelt condolences to the family and friends of a NASCAR giant, whose legacy will impact an entire industry forever."
---