Plenty of experience at quarterback should help Pac-12 achieve success in 2018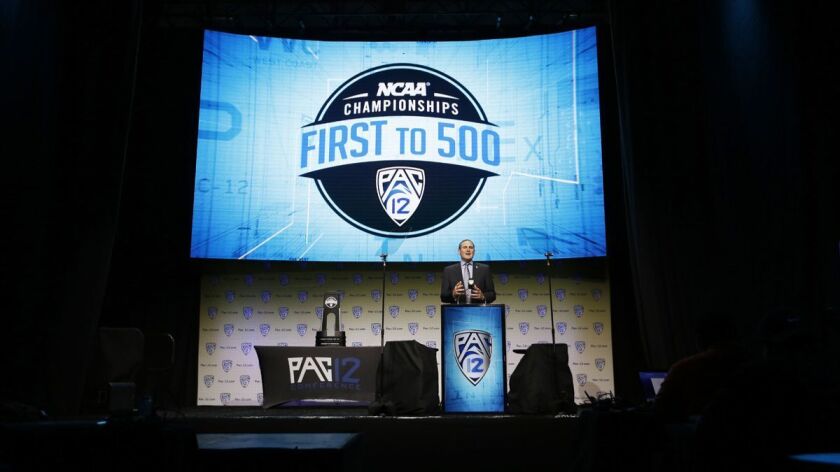 As a conference known for wide-open offense, the Pac-12 has always been at its best when there is across-the-board experience at quarterback.
This could be one of those seasons.
Though Sam Darnold and Josh Rosen now play in the NFL, eight teams have returning starters under center this fall. The list of veterans includes Jake Browning of Washington, Justin Herbert of Oregon and Khalil Tate of Arizona, all of whom showed up Wednesday at Pac-12 media day in Hollywood.
"Some of the best talent in the country," Herbert said. "You'll definitely check ESPN from time-to-time to see how everyone's doing."
Not that other conferences don't have stars at the position. Jake Fromm of Georgia, Jarrett Stidham of Auburn and Drew Lock of Missouri highlight the Southeastern Conference. Trace McSorley of Penn State and Alex Hornibrook of Wisconsin figure to shine in the Big Ten.
But as the 2018 season approaches, Pac-12 passers bear particular responsibility for a league that has only two appearances — and zero titles — in the four-year history of the College Football Playoff.
Tate acknowledged the expectations, but said: "I mean, pressure makes diamonds."
Safe bet
With a recent Supreme Court decision opening the door for legalized sports gambling, college coaches might have to start issuing weekly injury reports just like the NFL does.
That doesn't sit well with Washington State's Mike Leach, who has always been closed-mouthed about the status of his players.
"You've got some conferences talking about, all right, having an injury report," Leach said. "Well, let's start with the fact I'm not a doctor, so I'm not even qualified to say whether a guy is injured or not."
Big Ten Commissioner Jim Delany recently acknowledged that gamblers want information. He suggested "availability" reports that don't include medical details but indicate whether or not a player is expected to take the field.
Pac-12 Commissioner Larry Scott said the conference is considering a weekly list, a prospect that doesn't bother some of his coaches. Justin Wilcox of California said: "If they change the rules on the injury report, we'll abide by them."
But Stanford's David Shaw disagreed with "catering toward the gambling." And Leach suggested he will resist.
"I'm not going to reveal injuries, even if I'm qualified to, until I'm forced," the coach said. "Then I'll try to figure out a way around it."
Health concerns
In 2013, the Pac-12 established a committee to assess issues of athlete welfare. For much of the last five years, that meant talking about concussions.
Now, with the suicide of Washington State quarterback Tyler Hilinski in January, the focus is shifting toward mental health.
"We have to make this a priority," Scott said.
Concern has spread to campuses such as UCLA, where linebacker Josh Woods told teammates: "If you're going through anything, you can come talk to me."
Woods not only played with Hilinski at Upland High but also battled depression himself when he was sidelined by a shoulder injury last season.
"I had some dark times," he said. "Coach is not talking to you. They don't care where you're at, what you're doing. Even when you're on the sideline, you don't feel like you're part of the team."
Each school year, the Pac-12 earmarks about $3.6 million for health care and research, Scott said, adding that a significant portion of those funds will now go toward mental health.
At Washington State, counselors responded immediately to help players with Hilinski's death.
"You constantly look for something to improve and make things better," Leach said. "A lot of that is pretty much in the doctors' and the experts' [hands] and the medical team and stuff like that. With regard to my advice on how to do their business, they're really not that interested, you know?" Then, of course, a lot of that is out of my hands; a lot of that is pretty much into the doctors' and the experts' and the medical team and stuff like that.
Early returns
Early-season games between USC and Stanford have become a staple of the Pac-12 schedule. That won't change this fall, with the teams meeting Sept. 8 in Palo Alto.
While the matchup generates plenty of excitement, it also leaves one the conference's perennial powers with a loss before fans can even begin to dream of a national championship run.
USC and Stanford have been forced into this spot because both play Notre Dame during the later part of the schedule when the rest of the league is exclusively playing Pac-12 opponents.
Shaw said there have been discussions about making changes.
"We've talked about maybe loosening our mantra of having all of our nonconference games early in the year and maybe having later-in-the-season nonconference games so there is more fluidity of our conference going in and out of conference play," he said. "So it has been a constant conversation. But for me, I think with [USC coach] Clay [Helton] also, we'd love to see that game happen later."
Follow @LAtimesWharton on Twitter
---
Get our high school sports newsletter
Prep Rally is devoted to the SoCal high school sports experience, bringing you scores, stories and a behind-the-scenes look at what makes prep sports so popular.
You may occasionally receive promotional content from the Los Angeles Times.