Bob Baffert is back in the winner's circle at Santa Anita Derby
Mike Smith rides 3-year-old to victory
Bob Baffert is no stranger to the winner's circle after the running of the Santa Anita Derby. Saturday was his ninth visit. But the question going into the $1 million race was which horse he would be greeting.
He almost met up with both of them. In a stirring stretch run, Roadster edged past Game Winner near the wire to win by half a length over Game Winner.
Even though there were only six horses it was a great test of promising 3-year-olds, including a $1.2 million purchase (Instagrand) and a $385,000 buy (Nolo Contesto), neither of whom is going to Louisville. Only Roadster and Game Winner will make it to the Kentucky Derby.
"At the eighth pole I knew I was going to win," Baffert said. "I just didn't know which one."
Instagrand, who won his first two races by more than a combined 20 lengths last year, set the pace in the 1 1/8-mile race and led by a half length into the stretch. Game Winner was pressing him and moved to the front early in the stretch. Roadster then came up alongside his stablemate and moved forward in the final strides.
The difference might have been the trip. Game Winner was caught wide most of the race and Roadster was able to save ground.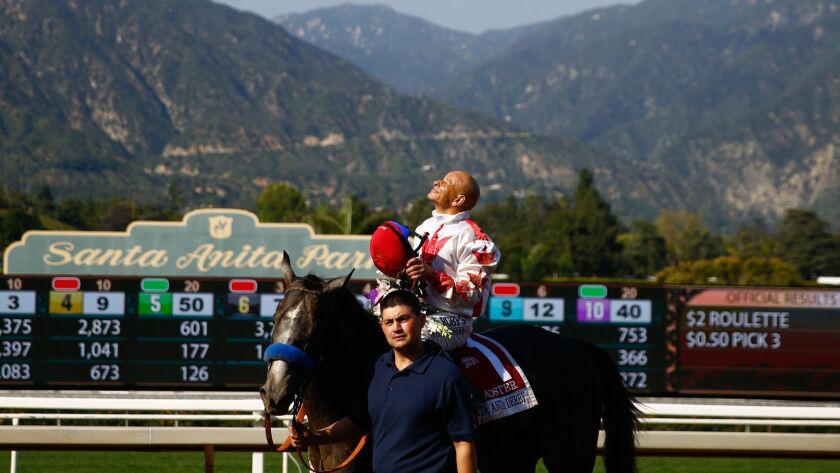 "[Roadster jockey] Mike Smith, he does things that are unbelievable," Baffert said. "And he did one of those [rides Saturday]. I left him alone [with no instructions] and he was on his own. … They should induct him into the hall of fame again."
The pair were the top two favorites. Roadster paid $8.20, $3.00 and $2.40. Instagrand was third followed by Nolo Contesto, Synthesis and More Ice.
"We got a good break and then we dropped back," Smith said. "He took a breather while the others were going out there quick. When I asked him again he was gone.
"We knew before he and Game Winner started running that they both had ability. They were breezing by the competition like this and putting them away. We weren't sure which was better."
The race was so evenly matched that you still don't know which one is better suited to the 1¼ mile Kentucky Derby.
"They'll both like 1¼ [miles, the Derby distance]," Baffert said. "Game Winner's the kind of horse that's going to get better. His next race will be even better. Roadster is a light horse that has always shown the brilliance.
Roadster was actually the top horse in Baffert's barn as a 2-year-old until Game Winner beat him in the Del Mar Futurity. There it was discovered he had a breathing problem and was sent to the farm for surgery to repair a throat obstruction. He was off for three months.
He came back to win an allowance March 1 as his only prep for Saturday's race. He had to finish at least second to qualify for the Kentucky Derby. Game Winner already had enough qualifying points.
Roadster is also known as Baffert's TMZ horse. Shortly after Justify won the Triple Crown last year, Baffert was cornered by a TMZ Sports reporter outside a restaurant who asked him who liked for the 2019 Triple Crown races. Baffert's response was Roadster.
The phrase "TMZ horse" comes up a lot.
Baffert's postrace euphoria over his exacta finish quickly turned to the seriousness that has hung over the track. Twenty-three horses have died either racing or training at Santa Anita since Dec. 26. Saturday's racing went without incident.
"The fans (30,713) didn't let us down given what they've been reading," Baffert said. "They showed up. They love racing. They brought their families. They'll always remember the Santa Anita Derby. It was so comforting to see all these fans show up. They know at the end of the day we love our horses. We wake up worrying about them and go to sleep worrying about them. To me that's what made it a great day.
"It was getting to the point where there was nobody out there defending us. You don't have to burn the house down because the pipes are bad. We can work through this."
About 100 animal rights protesters were outside the gate shouting at people entering the track although it did not seem to overly deter the crowd.
It's still not clear what caused the sudden spike in deaths, although good weather is one theory as the rate of fatalities has slowed. There has been one death in the last 23 days of training and six days of racing.
There is a nine-race card Sunday and then Santa Anita goes to a previously planned three-day race week for the next two weeks.
---
Get our high school sports newsletter
Prep Rally is devoted to the SoCal high school sports experience, bringing you scores, stories and a behind-the-scenes look at what makes prep sports so popular.
You may occasionally receive promotional content from the Los Angeles Times.