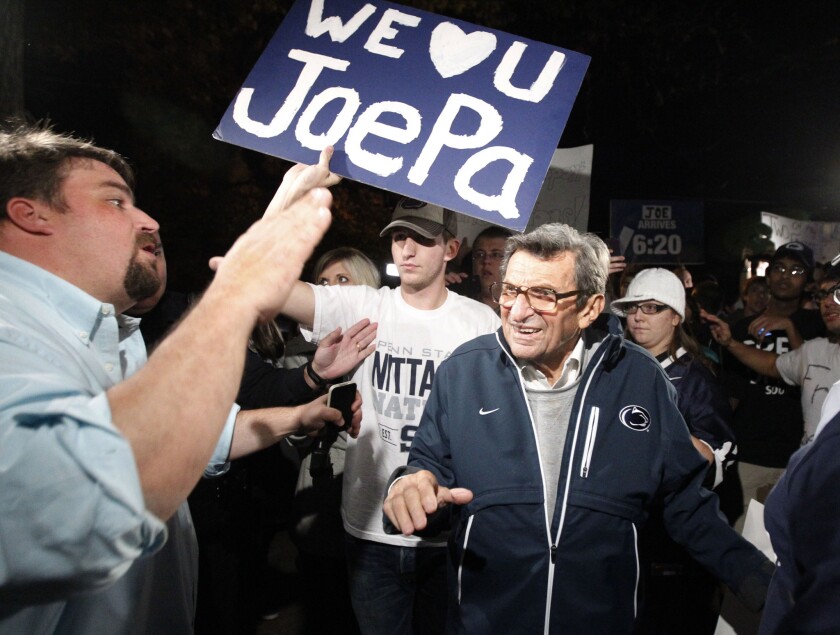 Amid continued backlash from across the nation, Penn State officials have released further details about their plan to honor controversial former coach Joe Paterno.
The tribute will take place during Saturday's game against Temple, marking 50 years since Paterno debuted as the Nittany Lions coach.
The school will "focus on the commitment he had to student-athletes and academics, as well as highlights of the 1966 game," Athletic Director Sandy Barbour said in a statement Thursday.
The press release made no mention of the fact that Paterno's career ended in controversy, the school abruptly firing him in 2011 after his longtime defensive coordinator, Jerry Sandusky, was arrested on charges of child sexual abuse.
Though Paterno was never charged, court documents showed that at least one alleged victim said the coach had been told about Sandusky's behavior and failed to take action.
Paterno died of lung cancer in 2012.
In recent weeks, Penn State has drawn heavy criticism for honoring Paterno a few years after Sandusky was convicted and sentenced to at least 30 years in prison.
Players from past teams will be introduced during Saturday's game and videos will be shown inside the stadium.
"Coach Paterno wanted academic success not only for his players but also for every student who came through Penn State," Barbour said.
---