Tre Boston is more than a safety net while competing for a starting job with Chargers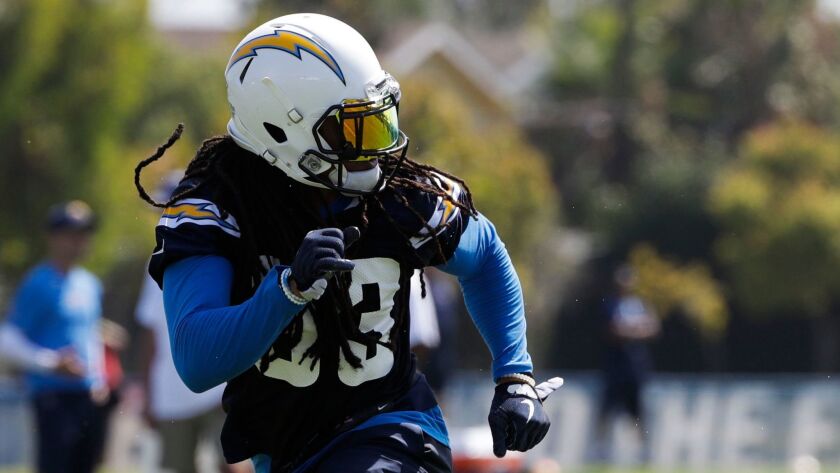 It's pretty easy to spot free safety Tre Boston at a Chargers practice. He's the guy with the dreadlocks flowing from his helmet to the No. 33 on the back of his jersey, and who is usually break-dancing to the hip-hop music blaring from the speakers surrounding the practice field in Costa Mesa.
"That's just kind of his personality, and it's contagious," coach Anthony Lynn said. "Tre has a lot of energy. You need a few guys like that."
Boston, a former Carolina Panthers defensive back who is competing with Dwight Lowery for the starting free safety job, is a human espresso shot, a three-year NFL veteran who has a knack for knowing when his team needs a lift.
Take the team's first practice this week. As the Chargers stretched under gloomy skies, Boston sensed some players were having a case of the Mondays. So he started moving and grooving to the music and chirping at his teammates.
"I've always been that loose," Boston, 24, said. "It was overcast, and guys didn't feel like practicing. When I come out, I want to bring the juice, I energize my guys, let them know it's a great day to be alive, a great day to come out and do something you love."
The 6-foot-1, 205-pound Boston, who grew up in Fort Myers, Fla., and played college ball at North Carolina, was a fourth-round pick of the Panthers in 2014. He played in 11 games, with five starts, as a rookie, posting 24 tackles and one interception.
He played in 16 games with one start in 2015, a season that ended with Carolina losing to Denver 24-10 in Super Bowl 50. Boston had four tackles, one sack and a fumble recovery in three postseason games.
Boston played in 15 games with 10 starts last season, accumulating 50 tackles, two sacks, five passes defended and two interceptions, but he was released in a cost-cutting move.
His decision to sign with the Chargers was a leap of faith. Literally.
Three teams — the Chargers, Buffalo Bills and Pittsburgh Steelers — pursued Boston. On his flight home to Charlotte, N.C., from his last recruiting trip in May, Boston prayed for clarity. On the drive home from the airport, Boston stopped for gas.
There, a man with three kids asked Boston for some change. Boston gave him $20. The man thanked Boston profusely and introduced himself. "He said his name was Mike Daniels," Boston said, "but people call me L.A."
To Boston, this was divine intervention, a sign he should sign with the Chargers.
"I felt like God was telling me where to go," Boston said. "No one can take away my testament. I'm here, and I'm loving it. It's crazy how God can take you from being uncomfortable to being comfortable again."
In new defensive coordinator Gus Bradley's 4-3 cover-3 scheme, the free safety is like a center fielder, the last line of defense, so speed, instincts and closing ability are key. It's the position Earl Thomas fills so well for Seattle's defense, which Bradley led from 2009 to 2012.
Lowery, 31, is a nine-year veteran who played in Jacksonville in 2013, when Bradley started a three-year stint there as coach, so that experience could give him a slight edge over Boston.
I felt like God was telling me where to go
Chargers free safety Tre Boston
But both free safeties are expected to get plenty of playing time, and they could play together in a big-nickel package, which features three safeties and two cornerbacks.
"Me and Dwight Lowery are going at it right now, we're two competitive guys who are getting better each day," said Boston, who picked off a pass by Philip Rivers in the end zone during a red-zone drill Tuesday.
"When you're helping each other and don't have that animosity toward each other, that's how your team develops, how your team gets better. When you're one big family trying to egg each other on, you get better as a team."
Nuts and bolts
Cornerback Jason Verrett, who is returning from knee surgery, took part in full-padded team drills for the first time. "He was very competitive," Lynn said. "He was diving for balls, breaking up passes. It was good to see." … Among the practice highlights was a 70-yard tuck-and-run by reserve quarterback Cardale Jones and an acrobatic catch by Da'Ron Brown, with a defender draped over him, on a back-shoulder pass from Rivers. … First-round pick Mike Williams, the former Clemson receiver sidelined by a herniated disk in his lower back, started running Monday. "We just want him to keep progressing, to not have any setbacks, and we'll see what happens," Lynn said. … Chris McCain, a 6-5, 236-pound reserve defensive end from California, has impressed coaches early in camp. "He's very consistent," Lynn said. "His pass-rush is good, and he's a really good run-defender for a man his size. He's knocking guys back, making plays in the backfield. That was a surprise, because he looks like a basketball player." … Receiver Geremy Davis (hamstring) and defensive end Chris Landrum (shoulder) remain sidelined, but Lynn said Davis could return by Sunday. … Tight end Jeff Cumberland sat out practice to be with his wife, who delivered a boy.
---
Get the latest on L.A.'s teams in the daily Sports Report newsletter.
You may occasionally receive promotional content from the Los Angeles Times.