Bucks' Eric Bledsoe finds a home and contender in Milwaukee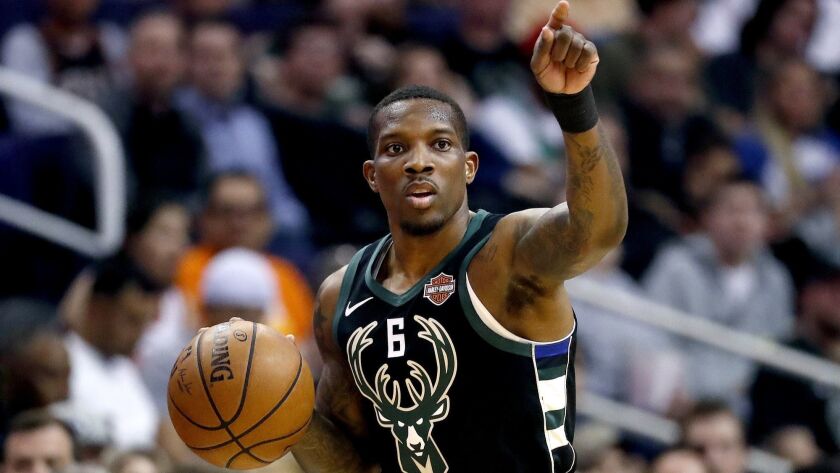 Eric Bledsoe pounded his chest, his right fist slamming into the muscles and bones covering his heart. After hitting a big three-point shot during the fourth quarter of a game at Staples Center, his heart was racing and emotions were flowing.
Bledsoe and his Milwaukee Bucks were very much alive the last time the team with the NBA's best record was in Los Angeles, leaving in their wake the last breaths of the Lakers' season.
For Bledsoe, the 31-point performance a week ago had to be a career high point. Once dubbed "Mini LeBron," this was Bledsoe all grown up, navigating his team and lifting it up against the desperate Lakers and LeBron James, a player whose model of shoes Bledsoe still wears.
In the final three-plus minutes of the game, he scored nine points to beat the Lakers 131-120. The 31 points were a season high.
As a sweetener, earlier that day he became $70 million richer.
Bledsoe earned the four-year contract extension from Milwaukee, one he signed hours before Milwaukee beat the Lakers on March 1, after proving that he can be a cornerstone on a top-line NBA team.
"It just feels like home," Bledsoe said.
The search for "home" has taken Bledsoe on multiple stops around the NBA, beginning in Los Angeles after the Clippers traded for the chance to take him No. 18 overall after his one season at Kentucky.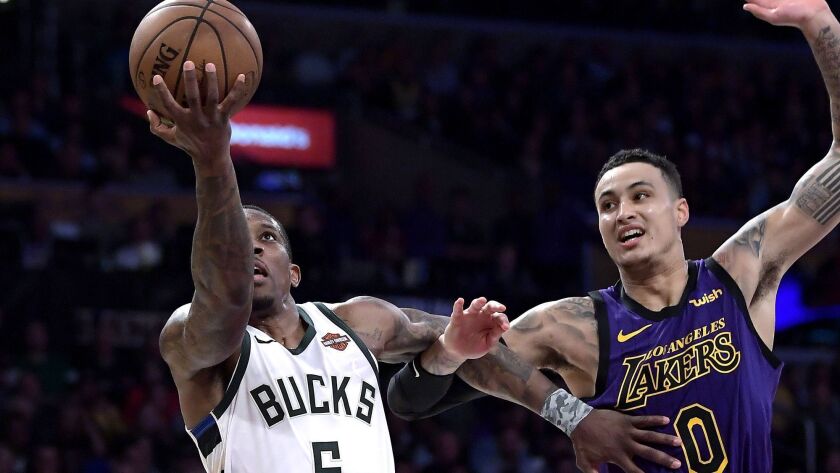 Viewed as part of the Clippers' future alongside Blake Griffin, Bledsoe quickly found himself with no clear path to becoming a starter after the team traded for Chris Paul.
Stuck in a back-up role, Bledsoe earned high praise from teammates for his intensity during practices and flashed enough in limited minutes to make a hard truth clear — he would be more valuable elsewhere than he was as a Clippers' reserve.
In one of his first moves as a basketball executive, Clippers coach and president of basketball operations Doc Rivers dealt Bledsoe to Phoenix as a part of a three-team deal that netted the Clippers JJ Redick and Jared Dudley.
Bledsoe again found himself in a bizarre time share in the Suns' backcourt, first with Goran Dragic, then with Isaiah Thomas and eventually with Brandon Knight before being sent to the Bucks for Greg Monroe and draft picks.
For the Bucks, it's been a steal.
"It starts on the defensive end. We want to be great there. I think he's really special and elite on that end," Bucks coach Mike Budenholzer said. "He's great to come to work with every day. Until you're around someone every day, you don't know. … I love his smile. I love his spirit."
Sign up for our daily sports newsletter »
Bledsoe has flourished as a lead guard with Milwaukee, helping the Bucks run out to the top record in the NBA at 49-16. With Giannis Antetokounmpo blossoming into one of the best players in the league and Khris Middleton, Brook Lopez and other Bucks spreading the floor, Bledsoe has put together a strong all-around season, averaging 15.9 points, 4.7 rebounds, 5.4 assists and 1.4 steals while only committing 2.1 turnovers in nearly 30 minutes a night.
"We're growing together," Bledsoe said of the Bucks. "We're seeing what it feels like to be in this position, but at the same time, still want to get better. I just want to win, be around a great group of guys, a great fan base and doing the things we're doing right now."
Bledsoe's contract extension has put the Bucks in as strong of a place as it has been in more than a decade. They have the transcendent star in Antetokounmpo, the have a brand new arena in the center of a new downtown entertainment district, they have a well-regarded young executive in general manager Jon Horst and the probable coach of the year in Budenholzer.
Bledsoe's bond with the Bucks' new head coach has to be considered one of the reasons the team could win 60 or more games for the first time since the 1980-81 season. When asked by one of the Bucks' beat writers about Budenholzer's hard coaching at times, Bledsoe started to laugh.
"Talking to me about him, I can just see his eyes fire red when he's mad," Bledsoe said.
Those moments haven't been too frequent, though. Budenholzer said he's never given a player as much defensive freedom as he's given Bledsoe this season.
"When you find guys that are special and can do things on that end of the court, you give them a little rope, a little leeway," Budenholzer said. "Usually it's a positive in the end."
The Bucks have been the hardest team to score against in the league this season — opponents are scoring a league-low 104.4 points per 100 possessions — while also owning the NBA's third-most efficient offense.
It's the recipe for title contention.
The only questions, when you talk to insiders around the league, is whether or not Milwaukee's supporting cast is up to the challenge come the postseason.
In last season's playoff loss to Boston, Bledsoe struggled to defend Boston back-up guard Terry Rozier, with the heated on-court feud ending with Rozier and the Celtics a clear winner after seven games.
"It was my fault we lost the Boston series," Bledsoe told ESPN earlier this year.
It was his play that helped the Bucks take the Lakers' best shot last week, a shot that didn't knock them down. That win showed the Bucks can operate under fire. They've done it — and Bledsoe's done it — all season.
That night, Bledsoe was the Bucks' heartbeat — and he'll need to be as good if the team wants to get through the Eastern Conference to the NBA Finals
"He's definitely playing amazing," Antetokounmpo said after the Bucks beat the Lakers. "In Phoenix, he was playing good, but he wasn't winning. But when he came here, he showed what it takes to win games. And his confidence is really high. He's playing at a really high level right now, and that's what we need from him, to be in attack mode and keep leading this team.
"That's what he's been doing all year, and that's why he got what he got today."
Twitter: @DanWoikeSports
---
Get our high school sports newsletter
Prep Rally is devoted to the SoCal high school sports experience, bringing you scores, stories and a behind-the-scenes look at what makes prep sports so popular.
You may occasionally receive promotional content from the Los Angeles Times.