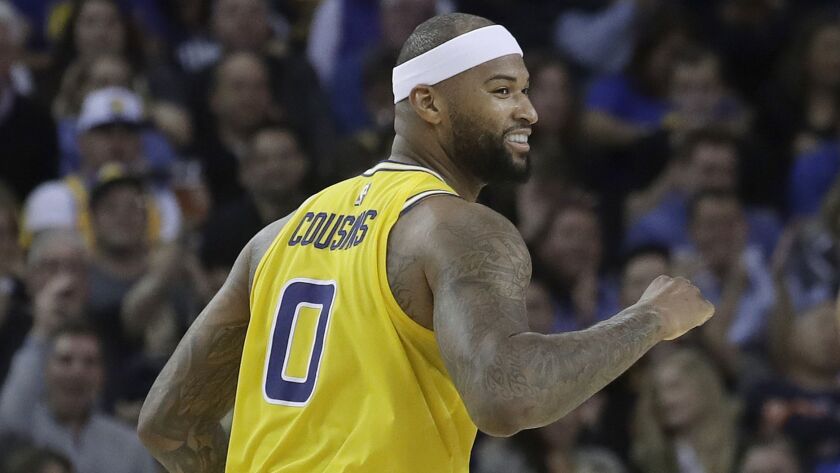 The room 20-plus stories above downtown Los Angeles is filled with memorabilia. There are jerseys, deflated basketballs, pictures and markers — so many markers.
DeMarcus Cousins, the Golden State Warriors' 28-year-old starting center, has to write his name on each item — maybe 500 total — in one of the more mundane ways an NBA player can spend an off night in Los Angeles.
Like an automated press, he writes while someone slides the next item under his marker — swirl the 'D,' curl the 'C' and next. Swirl the 'D,' curl the 'C' and next. Over and over.
It's a process — certainly not an exciting one — but Cousins moves through the jerseys and the basketballs one at a time, each step moving him closer to the finish line.
This approach is nothing new — Cousins knows the best way to conquer a mountain is to climb one step at a time. After all, that's how he saved his career after tearing an Achilles tendon last season.
"I was so focused on each step," Cousins said of a year's worth of rehab he just underwent. "Once I would hit a milestone, for me, it was onto the next. I never really took a breath. That was my way of just pushing through. I felt like if I got stuck in a moment for too long, I'd just get stuck there."
Sign up for our daily sports newsletter »
The Golden State Warriors begin their quest for a third consecutive title Saturday in the first-round of the playoffs. And when Cousins walks on the court for his first playoff game ever, it'll have been 443 days since the worst night of his basketball life.
Cousins' playoff debut comes after that torn left Achilles tendon robbed him of a playoff appearance last season with the New Orleans Pelicans. It cost him a massive payday last summer when he would have been the most coveted free-agent center. It helped lead him to the defending champions on a one-year bargain contract.
Those events, from Cousins' rehab to his free agency to his return this season, are chronicled in "The Resurgence," a documentary that will air on Showtime at 5 p.m. Saturday, just as Cousins and the Warriors tipoff with the Clippers.
The film shows Cousins at his lowest, wrapped in depression and misery, as he grapples with one of the most serious injuries a basketball player can sustain. At one point in the film, Cousins' surgeon assures him everything will be fine, and it's clear that he doesn't believe him.
"Not one bit," Cousins said. "This was my first, outside of, like, rolling my ankle, my first injury ever. Like ever. For me, usually when I got injured, I just shook it off and bounced back, took one or two days off, and I'm right back at it. Having to just sit down and sit still… it wasn't registering for me."
That doubt can be a problem for some people. It's probably why, at times, Cousins didn't think everything would be fine.
"When you go to sleep at night, I think everyone has that thought in the back of their mind like, 'Damn, am I waking up tomorrow?' You know what I'm saying?" Cousins said.
"It's that small possibility it could happen. That, in itself, is enough."
Driven by a desire to show fans what life is like minus "the glam, the glory, the fame, the money, the cars," Cousins and his management team decided to turn what began as a personal project about his recovery into a full-fledged movie about his return.
Cousins flashes plenty of vulnerability and insecurity. His former coaches John Calipari (Kentucky) and Michael Malone (Sacramento) analyze his psyche, his desire for stability he lacked early in his career.
There was even more that either the cameras didn't catch or was cut in the editing process. They didn't show the late-night trips to the bathroom, with Cousins scrambling for his crutches, trying his best to balance his massive body. They didn't explain how he wasn't sleeping well because every time that was shown he'd be wide awake as he made it out of bed.
The film didn't show Cousins completely humbled because he needed help to shower since he couldn't risk getting his cast wet. It didn't capture how something as simple as needing to wear an orthotic lift pierced the armor of the physical invincibility he had previously worn.
"'This is … crazy,'" Cousins said he thought to himself. "'This is my life?'"
That darkness has cleared. Cousins is rounding into form at the right time, with the Warriors the favorites to win another championship. He'll be a free agent this summer, and by averaging 16.3 points and 8.2 rebounds in limited minutes, he's shown that he's on his way back.
"I think things could not have worked out any better to this point," Warriors coach Steve Kerr said. "He's playing at a really high level. To me, it looks like he's playing as well as he ever has. In a short amount of time, he's fit in. He doesn't glare at me any more when I take him out of the games, … I'm really happy for him. … This is exactly how we wanted this to happen."
If the Warriors manage to now win another title, some fingers might point at Cousins. He wasn't a piece the team actually needed to contend. His arrival was a luxury, a good fit because the Warriors could be patient as he worked his way into form.
There were steps he had to take to get here. The depression. The anger. The pain. The sweat. The stretching. The lifting. The conditioning. He had to make it through each one to get to the end — an ending he's waited for his whole life.
"I want to hit the game-winning shot to win it for us in the championship game. That's every player's dream," he said.
For the first time as a pro, that chance is a possibility.
Twitter: @DanWoikeSports
---