Column: How much will Raptors' playoff success matter to Kawhi Leonard's future?
Reporting from Toronto —
Their eyes are all looking up.
Three thousand Toronto Raptors fans, the faces that represent the city's cultural diversity, are almost pressed against one another outside the team's downtown arena, staring up at a 40-by-78-foot screen.
It's the first game of the 2019 playoffs. The sun is out. Breath isn't turning to fog on every exhale, but the air is still biting.
Made shots are met with cheers, misses with groans. In the playoffs, each second means so much, each make, each miss amplified in the public square that's been dubbed Jurassic Park for Raptors playoff games.
The eyes are all looking up at the screen, waiting to see what's next.
They're not alone.
Teams around the NBA, particularly the Los Angeles Clippers and the Raptors, want to know more about what forward Kawhi Leonard is thinking and wonder how much this postseason will factor in his future.
Sign up for our daily sports newsletter »
"Of course there is. There is," Raptors general manager Bobby Webster told the Los Angeles Times of postseason success correlating to Leonard's decision.
"… It's not all about what happens at the end of the season. It's about what's gone on to this point. From the day we acquired him, it's the ground work."
All season, people around the NBA have wondered about Leonard's future. The Clippers, at times, are widely considered to be the favorites to sign Leonard if he leaves Toronto, though other suitors could certainly emerge, including the Lakers.
The Raptors hope that by acquiring Leonard a year before he hit the free-agent market, they could impress him with the culture they've created in the organization in recent years, when they've been one of the most successful teams during the regular season in the Eastern Conference, but only made the conference finals once.
This was the bet Toronto made when it traded DeMar DeRozan, probably the most beloved star in franchise history, 23-year-old center Jakob Poeltl and a 2019 first-round pick to San Antonio for Danny Green and Leonard.
"The Kawhi thought is simple — you're getting a top-five player in the NBA. It's as simple as that, in my opinion," Toronto president of basketball operations Masai Ujiri told The Times in October. "He's a championship player."
After the Raptors were stunned by a Game 1 loss to the seventh-seeded Orlando Magic, Leonard displayed his mastery Tuesday in Game 2, scoring 37 points on an efficient 22 shot attempts. He hardly wasted any possessions, attempting only three free throws in his 33 minutes, the 37 points his second most in his playoff career.
It was a victory for another reason — vindication for the way the team monitored Leonard's health after a quad injury limited him to just 12 games in his final season in San Antonio.
"He was a little bouncier," Raptors coach Nick Nurse said after Game 2.
Toronto's plan was to use this season before free agency to establish bonds with Leonard, to earn his trust, particularly when it came to his health. The Raptors severely limited his minutes — he played in only 60 games as the team held him out of back-to-back games and sidelined him when minor injuries occurred.
Nurse said before the series opener that the Raptors could've lessened some of Leonard's restrictions if they wanted, but there was no sense in doing so.
"We got ahead of the game," Nurse said. "We originally made a plan, no back-to-backs. That made sense early. We kind of stayed ahead most of the time. And the team played well enough to have a little more luxury to keep going.
"I think we've felt for the last couple of months that we were ahead of the game and that there was no sense jeopardizing that. I think that's where we find ourselves today."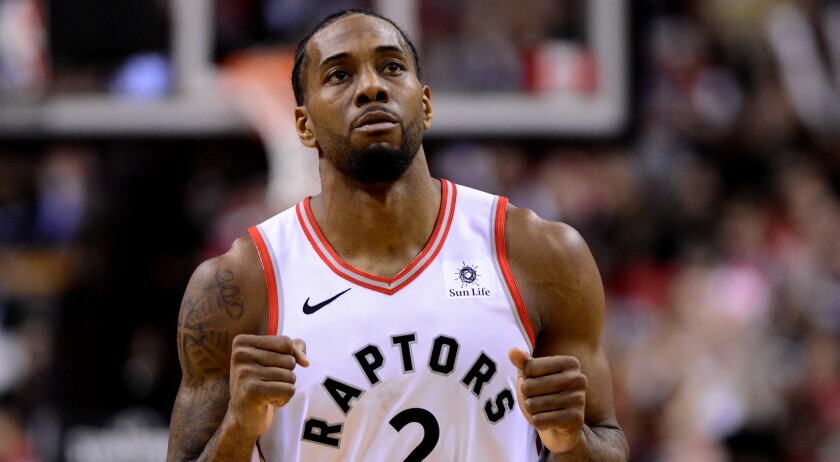 Team officials are confident in the relationships Leonard has built with the Raptors' medical staff, headed by former Lakers' performance trainer Alex McKechnie.
Leonard said he's ready to play as much as needed during the playoffs, and any of the minute restrictions that were adhered to in the regular season have vanished.
"I'm ready to play more minutes if need be," Leonard said. "… At the beginning of the season, I'd think about all the hard work I've put in and just being happy to be able to play that first game, feeling good — way better than I was."
While he's not the most expressive NBA superstar — he hasn't said what he wants to do this summer — Leonard said he came to Toronto "open-minded." The Raptors are counting on that and some other factors to work in their favor.
Leonard certainly seems like a creature of comfort. The man throwing him passes before games and in practices is Jeremy Castleberry. A former teammate of Leonard's in high school at Riverside King and at San Diego State, Castleberry was an assistant in San Antonio and followed Leonard to Toronto.
Some around the Raptors hope that Leonard might be resistant to playing for his third franchise in as many seasons, which would give them an inside track to re-signing him.
They know that's not necessarily enough. Maybe the postseason doesn't even matter. If Leonard wants to play in Southern California, they know they can't compete with that. It's closer to home — Leonard recently purchased a $13.3-million home in north San Diego County.
Reports during the course of the season said that Leonard wouldn't want to join LeBron James and the Lakers, but with the team in the middle of an organizational reset, that could change.
During Leonard's final meeting with the Lakers this season, cameras caught James telling Leonard: "We'll be in touch."
The Clippers' interest has been no secret.
Early this season, the team had a very strong presence at Raptors games, sending scouts and executives to Toronto. And while this season's rebuild has been a nice story, the Clippers have made their intentions known that they intend to go superstar shopping this summer.
The team rebuilt a lot of its reputation around the league in a short time, with Doc Rivers expected to finish in the top three of the league's voting for coach of the year. A robust front office and a strong commitment from ownership have helped the Clippers become a realistic landing spot for this summer's free agents.
Add in an eye-opening performance in a historic 31-point comeback in Oakland against the Warriors, and the Clippers have some momentum.
But no one knows enough right now to feel good about anything.
The one certainty is how crippling Leonard's departure could be for the Raptors and Toronto.
"The narrative of not wanting to come to this city is gone," Ujiri said before training camp opened. "I think that's old. And we should move past that. Believe in the city."
But the scars are still there from the stars who were supposed to represent the Raptors' future — Vince Carter, Tracy McGrady and Chris Bosh — who either chose to leave in free agency or forced a trade. All three players were mentioned in the in-arena video that played before the home opener, a video that encouraged fans not to fret over whether Leonard would leave too.
The sentiment was "enjoy the ride."
If that ride ends sooner than the Raptors want (and that's in the NBA Finals), the fretting can begin.
There will still be talent in Toronto — forward Pascal Siakam has emerged as a threat on both ends of the court and could certainly be a cornerstone of the Raptors' future. But without a star, without real hope, the Raptors will fade back into the pack.
Like those fans huddled together in Jurassic Park during the playoffs, all the eyes will be fixated on one singular place.
If Leonard stays, they'll cheer. And if he goes? It'll just be another groan.
Twitter: @DanWoikeSports
---
Get our high school sports newsletter
Prep Rally is devoted to the SoCal high school sports experience, bringing you scores, stories and a behind-the-scenes look at what makes prep sports so popular.
You may occasionally receive promotional content from the Los Angeles Times.