Column: Nick Nurse is right fit for Raptors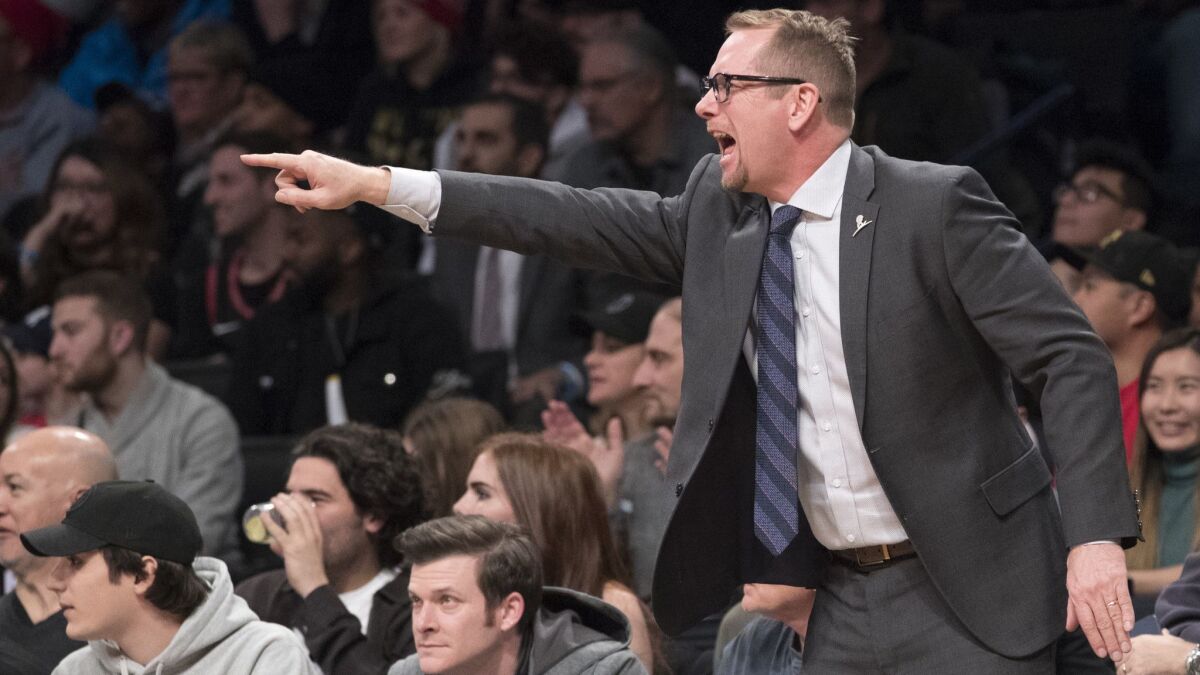 Toronto coach Nick Nurse didn't need to be in Los Angeles on Tuesday night; life, at its most painful, was happening half a country away.
Nurse's mother, Marcella, died Monday night in Iowa. He flew there when he found out and returned just in time for the Raptors to again prove that they're the class of the East, beating the Clippers 123-99 even though star Kawhi Leonard wasn't available.
"I'm here because my mother wouldn't want it any other way," he said.
In the way people know Hank Aaron hit 755 home runs, in the way they know Wilt Chamberlain scored 100 points in a game, Nurse rattled off his mother's stats: "Ninety-four years, nine kids and about 80,000 games watched."
Game 80,001, Tuesday in Los Angeles, cemented one of the few absolutes we've learned about the NBA 25% of the way through the season: Nurse is the right coach for the Raptors, the right man to lead the team through what is the most crucial season in the organization's history.
The Raptors traded their best player, DeMar DeRozan, for Leonard. They fired coach Dwane Casey. And with team President Masai Ujiri able to finally find his man to run the team, he chose Nurse, an assistant on Casey's staff.
It was a gamble since Nurse had never been the top man in the NBA. The high marks on his resume included two championships in the British Basketball League, where he coached four teams that temporarily or permanently ceased operation.
He grinded his way through the NBA's developmental league before working his way onto Casey's staff.
Now with a shot on basketball's biggest stage, Nurse has the Raptors in serious title contention. They've got a superstar in Leonard, whose hip injury isn't considered serious and who could return as early as Wednesday at Golden State, an established All-Star in Kyle Lowry and a rising talent in forward Pascal Siakam.
As they dismantled the Clippers, who looked practically helpless, the Raptors celebrated each basket and each L.A. turnover with equal joy while delivering a third-quarter blitzing.
It's not all Nurse. The Raptors are wildly talented and develop players, like Siakam for instance, better than anyone else in the league. But, it was Nurse who had to handle Leonard's integration, and it was Nurse who had to sell bench roles to starters like veteran center Jonas Valanciunas and guard OG Anunoby.
And although Leonard's pending free agency could be viewed as a burden by some people, Nurse has set the tone that it won't define the team during the regular season.
"I really don't think about many of those external things and I consider his contract situation to be an external thing. I just don't because, I don't man," he said. "It just seems like every day we're playing a game or getting ready for one or getting on a plane or here comes another."
Nurse will coach again Wednesday, against the Warriors, a possible preview of the 2019 NBA Finals, before flying back to Iowa to grieve with his family.
It's going to be hard — how could it not be? — but for one night, Nurse was able to escape into a relatively easy night of basketball, even ending things with a smile.
"It was a pretty relaxing game for me. Before the game, I told the team, 'There are a million ways to win a basketball game. We've got to find one,'" Nurse said. "After the game I said, 'There are a million ways to win a game and that's No. 1.'"
Twitter: @DanWoikeSports
Get our high school sports newsletter
Prep Rally is devoted to the SoCal high school sports experience, bringing you scores, stories and a behind-the-scenes look at what makes prep sports so popular.
You may occasionally receive promotional content from the Los Angeles Times.