Column: Lakers and Clippers have some decisions to make after exits before postseason
There were no balloons.
That's the first thing you noticed outside Staples Center on Wednesday afternoon, shortly before the NBA ended early in Los Angeles for the first time in 13 years.
There were no balloons. There was no music. There were none of the usual festivities that decorate Chick Hearn Court before a basketball game in April.
A sidewalk that was once teeming with hope was so empty, some kid was flying in front the Staples Center doors on a skateboard. Another kid was roaming the concrete dribbling a basketball.
Inside, the Lakers and Clippers were preparing to finish the first season since 2005 that neither team has made the playoffs.
No raucous Sunday afternoon games in late April. No late and loud Friday night games in May. A weird, empty, silent spring.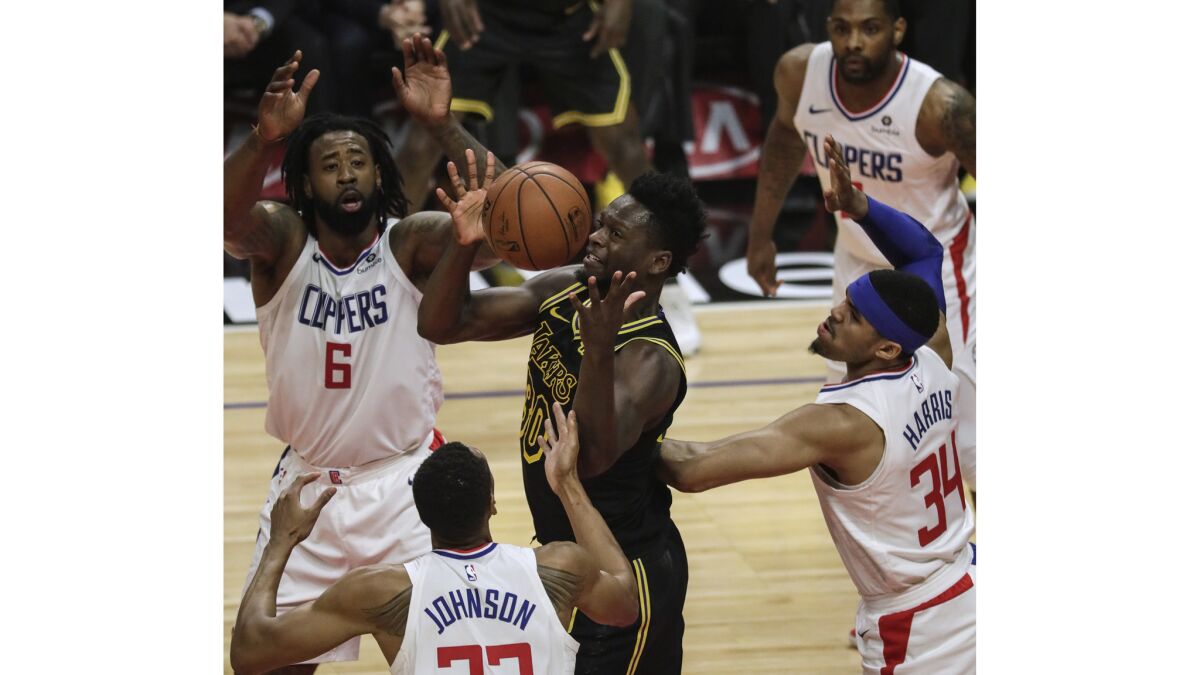 Said Lakers coach Luke Walton: "It's not a great feeling."
Said Clippers coach Doc Rivers: "It's not something I want to get used to. I don't even know what to do tomorrow."
For many tomorrows, you will read about excuses. Both team have them. Some are actually valid. None make it any easier to watch Los Angeles sitting while Western Conference teams from smaller markets like Minneapolis and Portland and New Orleans are still flying those balloons.
It doesn't matter how often these rebooting teams will say they're on the right track. In this city, with these payrolls, in front of these passionate fans, amid these skyrocketing ticket prices, both teams missing the playoffs is just wrong.
It's hard to see a Clippers team that had legitimate hopes of going deep during a half-dozen previous playoffs suddenly dismantled and disappeared. But at least they gave us those six years, and this season stayed in the race until the final week despite a depleted roster.
It's much, much harder to see a Lakers team miss the playoffs, badly, again, and again, and again, and again, and again.
Yes, they are young and growing and have a seemingly bright future. But they have now missed the postseason for a franchise-record fifth consecutive season. They have missed the playoffs as many times in the last five years as they have in the previous 60 years combined. For all the giddy kid talk, that still makes this the worst era in franchise history.
Lakers fans are famously loyal, and have been incredibly patient, even filling Staples Center with cheers at Wednesday's Clippers home game. But c'mon people. Can we agree this is getting ridiculous?
The last time both teams were sidelined for the playoffs, the Clippers were led by Elton Brand and Corey Maggette and the Lakers were being coach by Rudy Tomjanovich and Frank Hamblen.
It was that bad. It was that long ago. It feels that empty now.
But, yes, excuses. The Clippers have an excuse. Their best player walked away last summer. They traded their second-best player when it became clear he couldn't carry the team. Without Chris Paul and Blake Griffin — and also without the departed Jamal Crawford and J.J. Redick — nobody expected them to extend their consecutive postseason streak to seven. Yet with a league-high 37 different starting lineups, they nearly pulled it off anyway.
"I would challenge any other team to not have three or four starters a night throughout the whole year and come up with the record we have," Rivers said of his team's 42-40 finish. "I don't think anyone has done that this year."
The Lakers also have an excuse. They are still in post-Kobe rebuilding mode. They are clearing the deck for a LeBron James landing. Few expected them to win even 30 games, and they topped that number with 35, and played hard until the end, with Julius Randle and Kyle Kuzma being breakout revelations.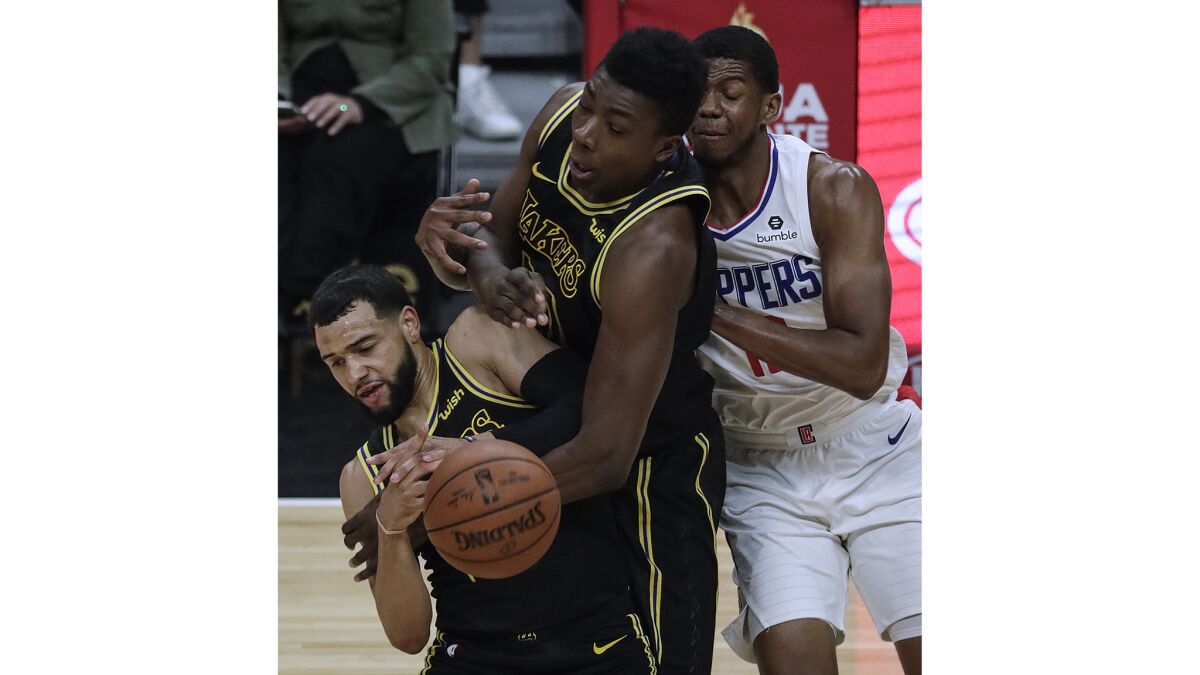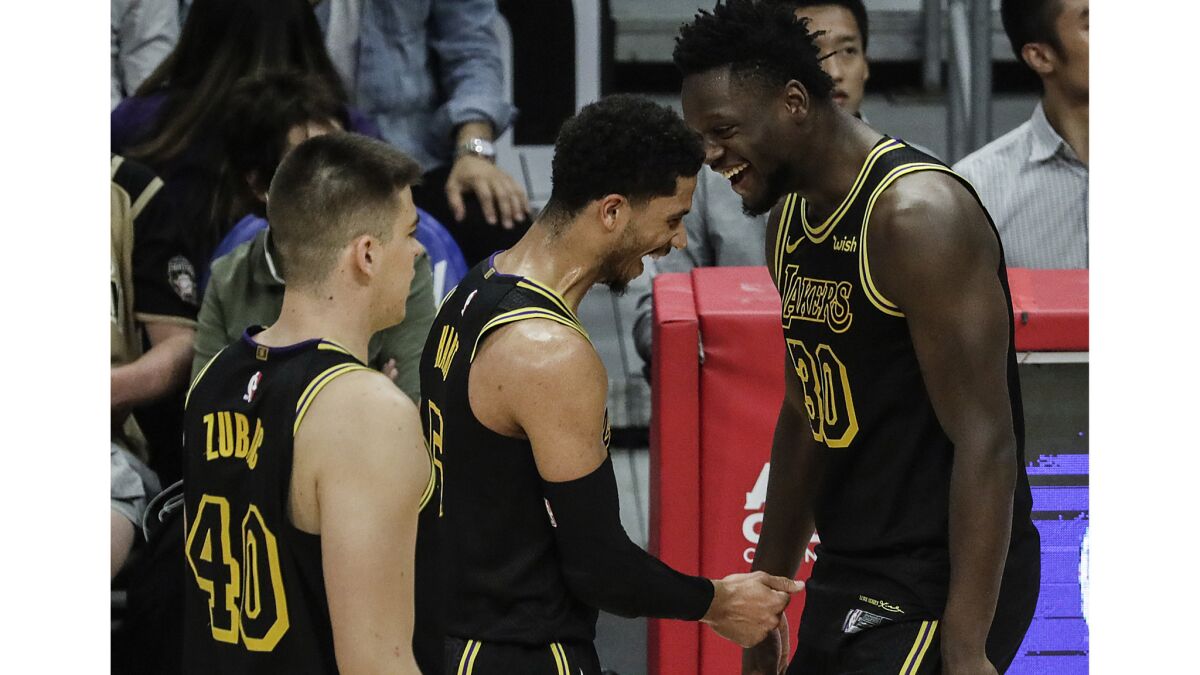 "That's pretty dang good," Lakers veteran Channing Frye said.
But it's not good enough, not for either team, it has to be better, the excuses have to end, and it has to happen with the two most powerful and charismatic basketball figures in this town — Steve Ballmer and Magic Johnson.
Ballmer has smartly started the post-Lob City rebuild, now he and his Lawrence Frank-led front office have to carry it through this summer. They have two lottery draft picks . They could have cap room to sign a big-name free agent. DeAndre Jordan could walk away as a free agent and give them more cap room.
"There's more things in motion this summer, by far, than any other summer," Ballmer said Wednesday.
There could also be a man in motion, as Rivers is entering the last year of his contract, which, in the NBA culture that shuns lame ducks, means he will either be given an extension or leave.
Despite the Wednesday night serenade from that fan screaming for the Clippers to fire him, Rivers did his best Clippers coaching job this year, and the guess here is that Ballmer would like him to return. But Rivers is built to coach contenders, and he may want to leave to coach somewhere with a roster that is closer to a championship. Here's guessing he will get offers. If the Clippers have a new coach next fall, it would not be an upset.
"I love what I do, but that doesn't mean you keep doing it every year, you know what I mean? You take breaks," Rivers said Wednesday.
While Ballmer will have do lots of different things, Johnson's task is one big thing.
He and general manager Rob Pelinka were hired last season to bring back the stars. This summer is their first big chance. Simply put, it's James, or Paul George, or both, or bust.
When Wednesday night's game ended, with the Lakers winning 115-100, an arena full of fans stood and cheered. They were fans of both teams. They were, it seemed, simply cheering the last joys of watching NBA basketball until next fall.
These fans deserve better. These fans deserve the playoffs. Here's hoping the Lakers and Clippers were listening.
Get more of Bill Plaschke's work and follow him on Twitter @BillPlaschke
Get our high school sports newsletter
Prep Rally is devoted to the SoCal high school sports experience, bringing you scores, stories and a behind-the-scenes look at what makes prep sports so popular.
You may occasionally receive promotional content from the Los Angeles Times.