Lakers' Brandon Ingram needs to focus on being a playmaker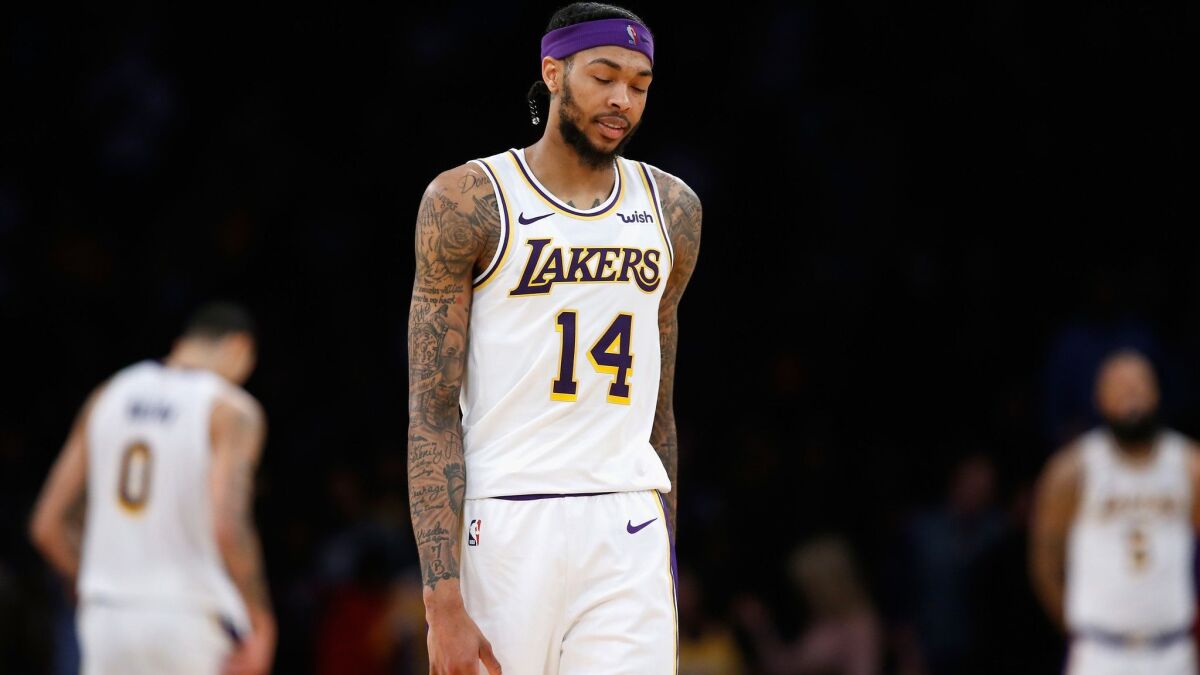 Reporting from Houston —
The answer seems so clear.
For Brandon Ingram to reach his full potential as an NBA player, for Brandon Ingram to be the piece that can fit seamlessly into the Lakers' future plans, for Brandon Ingram to be part of a winning team, he needs to stop worrying about putting the ball in the basket.
It's a tough sell — basketball players like to score. It's the single-most straightforward way to win games. Get more points, get more wins. But that's not what the Lakers need from Ingram, not with LeBron James out and most certainly not with LeBron James back healthy.
No, the Lakers need Ingram to touch the game in almost every other way — as a rebounder, as a long-armed defender who can deflect passes and, most importantly, as a playmaker with the basketball.
That need got even more exacerbated when point guard Lonzo Ball had to be literally carried off the floor by two of his teammates, his left ankle so sore that he couldn't put an ounce of pressure on it.
In a 138-134 overtime loss to the Houston Rockets on Saturday, Ingram gave the Lakers 21 points; it wasn't what they needed most. They needed a passer, an ignition for the offense.
Instead, they got someone looking to take care of things himself.
As the Rockets mounted their comeback from as many as 21 down, Ingram looked for his own offense on repeated possessions. He pounded the ball into the court like he was James Harden and got called for an offensive foul. He was whistled for a travel. Then he plowed into a Houston defender for a charge and a third turnover in less than three minutes.
During the span, the Lakers' lead went from 12 to two. The closest thing he had to an assist in the second half came when he had his shot blocked and tipped right into JaVale McGee's hands for a dunk.
This was when Ingram needed to settle down the Lakers in a moment of chaos. Ball had gone down. Coach Luke Walton had been ejected.
Earlier in the day, Walton had predicted what could happen in moments like this by noting what didn't happen in moments like this in the Lakers' win in Oklahoma City last week.
"We've been talking about that all year. It's been a struggle for us where if other teams go on runs or if things aren't going right then we kind of try to get it all back ourselves," Walton said, without singling Ingram out. "And I thought we had a really nice moment in Oklahoma City."
Not coincidentally in Oklahoma City, Ingram didn't make a basket until a dunk at the end of the game, something that was more than fine considering he had 11 assists and five rebounds.
Since James has been injured, Ingram has tried to assert himself into a bigger role. He's done it by taking 19 or more shots four times (the Lakers are 1-3 in those games). With James out, when Ingram's had six or more assists, the Lakers are 5-0.
Walton has insisted that Ingram doesn't have to be a player who scores 20 points a game to help the Lakers win. It's a message that hasn't sunk in.
Ingram can get his points in transition — he's long enough and an inventive finisher at the basket. He can stick the occasional mid-range jumper, even if it's becoming one of the least-favored shots in basketball. There are more points to be found at the foul line (he's just a 63.2% shooter), and even more if he can become an effective catch-and-shoot player.
Right now he's not — only Rajon Rondo and Michael Beasley shoot it worse from deep than Ingram in those situations (28.3% from three). And that's a wildly important skill for any player who wants to be effective alongside James.
Ingram scored nine points in the fourth quarter and overtime Saturday night, hitting a momentum-calming mid-range jumper and tying the score twice with jumpers, including a catch-and-shoot three (just his 18th catch-and-shoot make this season).
After the scoring, Ingram settled into the role he should be in.
He took control of the offense, calling plays, moving players around the court by pointing and shouting.
He called Lance Stephenson's number and Stephenson scored a bucket. He tied the score for the third time in overtime attacking Austin Rivers off the dribble in the normal flow of offense, hitting a clutch shot.
He finished with 11 points in overtime. The Lakers lost by four. He didn't have an assist in the second half and only one assist after the first quarter, when he had three (and the Lakers led by 13).
"I always try to be a playmaker at times," Ingram said. "But when I need to score the basketball, I know what spots I need to get to score."
He's not wrong for wanting that — every basketball player does.
But to be at his best, he doesn't need to be. There are other things the Lakers need more.
It just all seems so clear.
Sign up for our daily sports newsletter »
Twitter: @DanWoikeSports
---
Get our high school sports newsletter
Prep Rally is devoted to the SoCal high school sports experience, bringing you scores, stories and a behind-the-scenes look at what makes prep sports so popular.
You may occasionally receive promotional content from the Los Angeles Times.