Column: Scouts debate trade value of Lakers' young players as NBA deadline approaches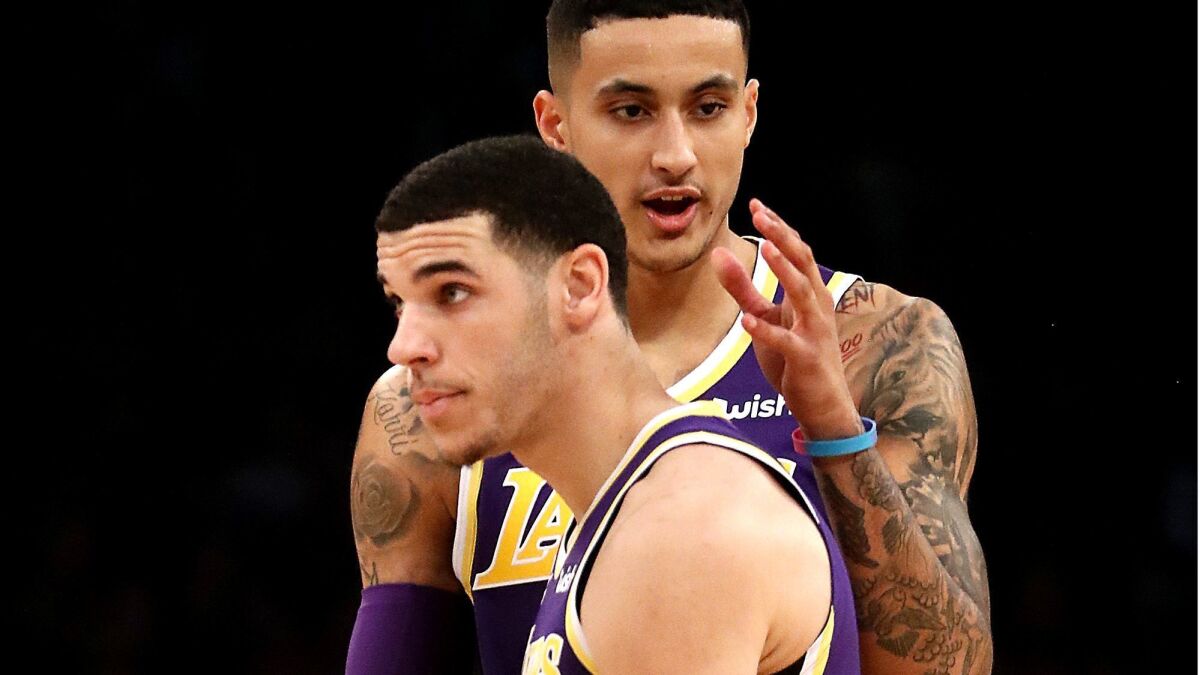 LeBron James is the best player in the NBA, a modern marvel of size, speed, strength, athleticism and skill. He transcends sports: He's involved in social causes and he's a media mogul.
He is also a giant disruptor, someone who took the Lakers' rebuild and put it into hyper speed. With a rapid acceleration like that comes more meaningful decisions earlier than the Lakers' front office might have wanted.
The organization essentially has two options after adding James to their young core. One, the team could try to flip their high-ceiling assets for more established talent — something they have not wanted to do to this point. Two, the Lakers could hold steadfast and hope their young core develops into players that are just as valuable to the franchise as they would be on the trade market.
Because of recent subpar play, big trades with Brandon Ingram, Kyle Kuzma or Lonzo Ball as centerpieces might not materialize as the team heads toward the Feb. 7 noon trade deadline.
"The aggregate value of their assets was much higher six months ago than it is today," one Western Conference executive told the Los Angeles Times on the condition of anonymity. "And, for all of them, with the exception of Kyle Kuzma, that value is worse."
In an effort to try to gauge what talent evaluators around the NBA think of the Lakers' young core, The Times spoke to five different scouts and front office people from the Eastern and Western Conferences, asking them to rank Ingram, Ball, Kuzma, Josh Hart and Ivica Zubac in terms of trade value.
Ingram, the Lakers' No. 2 pick in 2016, would've been atop the rankings had these interviews been conducted before the season, but some uneven play in his third season, combined with Kuzma's continued growth as a scorer has evaluators torn on the two.
"He has a higher ceiling," one Eastern Conference scout said of the 6-foot-9 Ingram. "Kuzma might be a better player today, but if someone wants an asset, it's Ingram."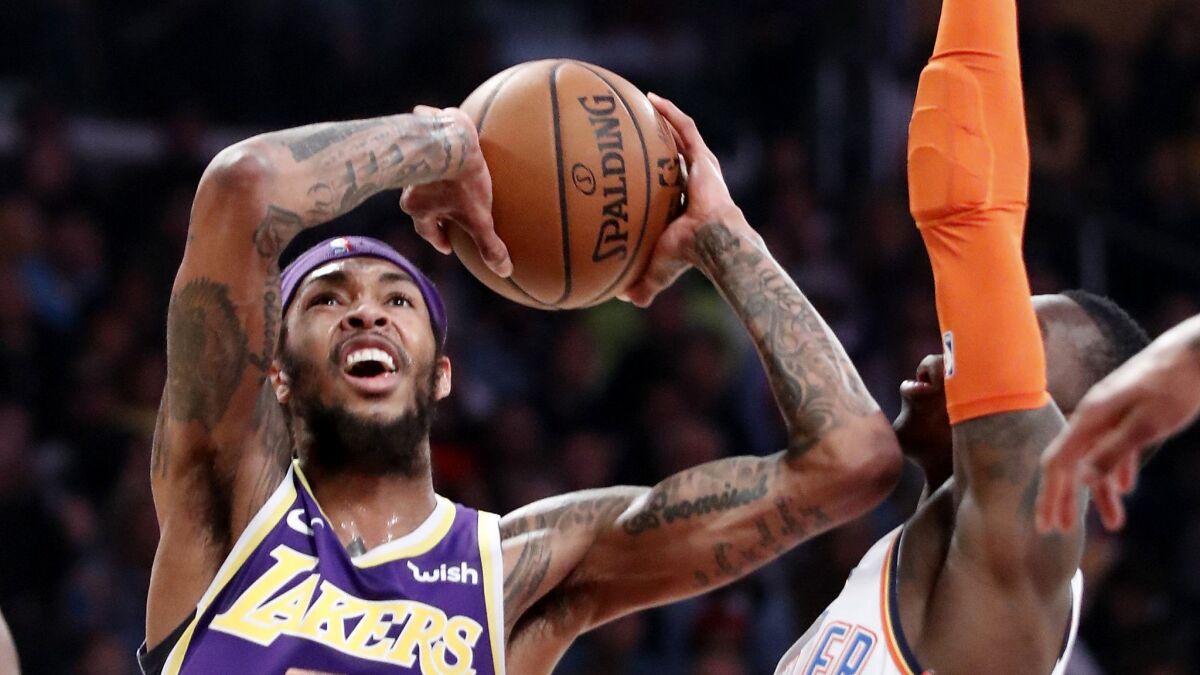 Another Ingram supporter from the Western Conference also pointed to his potential as the reason why he'd be the most coveted.
Ingram's detractors, of which there are some, have him as far down the list as third because of a combination of poor shooting, passivity and physical concerns.
"Average motor," said an Eastern Conference scout who ranked Ingram behind Kuzma and Ball. "His scores are too tough. It doesn't look as easy as it should at his size. [He's] not as tough as he needs to be, not a three-point shooter and an inefficient playmaker."
Kuzma's ability to score earns him points among scouts who think he'd fit in a wide array of situations.
"He's been the most consistent from what I've seen," said a longtime Western Conference scout who had the 6-10 Kuzma at the top of his list. "He's a legitimate scorer, he's shown the ability to defend, and I think his body will hold up better in the next few years."
No scout had Kuzma ranked lower than No. 2 and three had him at No. 1.
"I personally think Kuzma gets the most return because he has shown the most consistency and he has the most versatility," an Eastern Conference scout said. "He's shown he can have big scoring games as well. He's also on a great rookie contract."
The one scout who had Ball ahead of Ingram believes the 6-6 guard "will figure out his shot. His style of play is appealing and contagious. A change of scenery will do him wonders, I think."
The big knocks on Ball, predictably, are his inability to stay healthy and his offensive game outside of passing.
One executive said Ball didn't have the necessary personality to "run a team," and that his passing ability gets negated by the fact that opposing defenses don't view him as a threat to score.
Sign up for our Lakers newsletter »
Another Eastern Conference scout said Ball has the potential to "be a great piece" but he's been too passive. No one ranked Ball, the No. 2 pick in last year's draft, ahead of Kuzma, who was selected by the Lakers 25 picks later.
"His injuries have really hurt his value," a Western Conference scout said of Ball.
Hart's been a favorite of evaluators for his toughness and willingness to scrap and defend, but most view him well behind Kuzma, Ingram and Ball in terms of upside. Still, one Western Conference scout ranked Hart second among the Lakers' young pieces.
"I'm going with Hart because of his versatility on both ends, toughness and IQ. I think he fits any system because he's just a basketball player and can't be pigeonholed into one specific position," the scout said of Hart. "I don't think he necessarily needs to score to be efficient. He can impact the game in a variety of ways."
The 7-1 Zubac has intrigued scouts with his soft hands and effectiveness in pick-and-roll offense. The reviews go from "poor man's Marc Gasol" on offense because of his great feel for the game to "plays like a center should" to "just a fringe guy."
One theory on Zubac: He's precisely the kind of player a team could ask for late in trade talks — good enough and inexpensive enough for a team to acquire, yet not meaningful enough for the Lakers to kill a major trade.
The book has not been written on the Lakers' young core — they all should improve. Concerns over Ingram and Ball haven't been offset by gains made by Kuzma and Zubac.
It will be hard for the Lakers to build blockbuster deals without a package that includes most of them and future picks, the kind of trade that would rob the team of future assets and strip the Lakers of some depth.
Simply building a trade package around one of the players might not be an option in terms of getting someone special in return.
"Is there an All-Star in there?" one Western Conference executive asked. "Maybe. I just don't know."
Twitter: @DanWoikeSports
---
Get our high school sports newsletter
Prep Rally is devoted to the SoCal high school sports experience, bringing you scores, stories and a behind-the-scenes look at what makes prep sports so popular.
You may occasionally receive promotional content from the Los Angeles Times.