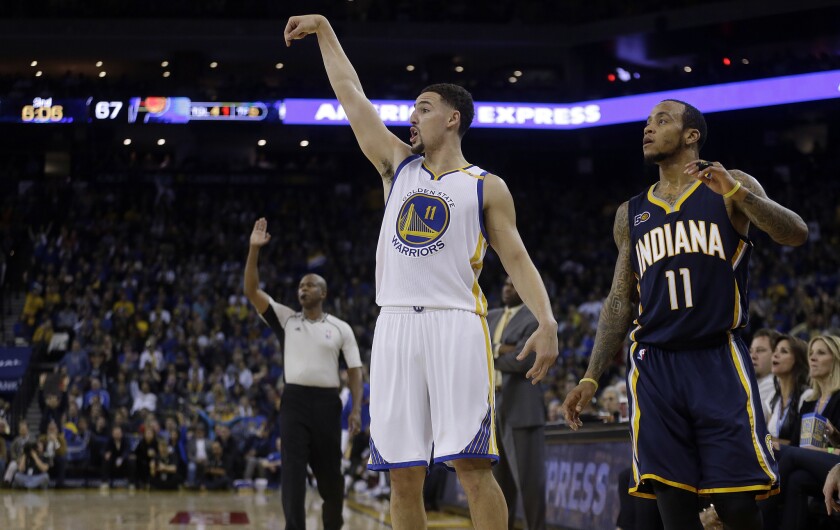 Klay Thompson had an NBA season-high and career-best 60 points for the highest-scoring performance by a Golden State player in more than 42 years, and the Warriors whipped the Indiana Pacers, 142-106, on Monday night at Oakland.
Thompson had 60 through three and called it a night, sitting down with 1 minute 22 seconds left in the period as fans gave him an extended standing ovation.
He joined Hall of Famers Wilt Chamberlain, Rick Barry and Joe Fulks as the only Warriors to score 60. Barry was the last to do so, with 64 points on March 26, 1974, against Portland.
Cleveland 116, at Toronto 112: LeBron James scored 34 points and the Cavaliers snapped a three-game skid . DeMar DeRozan had 31 points for the Raptors, whose six-game winning streak ended.
San Antonio 97, at Milwaukee 96: LaMarcus Aldridge was credited for the go-ahead basket with 21.2 seconds left after Giannis Antetokounmpo was whistled for goaltending, and the Spurs' season-opening road winning streak reached 12 games.
Memphis 110, at New Orleans 108 (2OT): Marc Gasol had a game-tying three-pointer with seven seconds left in regulation and a 17-foot jumper in the second overtime that wound up as the winning basket.
Oklahoma City 102, at Atlanta 99: Russell Westbrook (32 points, 13 rebounds, 12 assists) now has six triple-doubles in a row.
at Houston 107, Boston 106: James Harden scored 37 points for the Rockets, who held on to win when Al Horford's shot just before the buzzer rolled off the rim.
Portland 112, at Chicago 110: Damian Lillard had 30 points for the Trail Blazers, who went on a 11-0 run in the fourth quarter. Dwyane Wade scored 34 points for the Bulls, who played without Rajon Rondo, who was suspended one game for conduct detrimental to the team.
Washington 118, at Brooklyn 113: Bradley Beal's three-pointer gave the Wizards a 107-106 lead with 3:27 left and they held off the Nets.
Charlotte 109, at Dallas 101: The Hornets came back from an 11-point third-quarter deficit; Kemba Walker finished with 19 points.
Denver 106, at Philadelphia 98: Danilo Gallinari had 24 points for the Nuggets, who sent the 76ers to their seventh straight defeat.
Utah 107, at Lakers 101
---