NBA: Golden State Warriors start slow, romp Brooklyn Nets in second half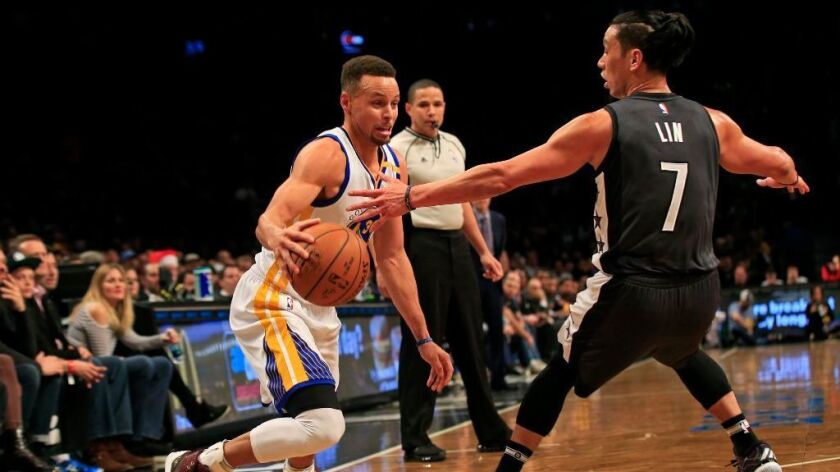 The Golden State Warriors knew they would need energy and were missing the guy who often provides it, so they weren't totally surprised by their poor first half.
"It's kind of what we expected," Coach Steve Kerr said Thursday night. "I don't know I expected to be down 16 at the half, but I knew that they would come out and give us a hell of a fight."
Early on, yes, but the Warriors ended up winning easily.
Behind Kevin Durant, who had 26 points, nine rebounds and seven assists, the Warriors turned an ugly start into an easy finish in a 117-101 victory over the Brooklyn Nets at Brooklyn.
Klay Thompson scored 23 points for the Warriors, who opened a three-game trip that leads into their NBA Finals rematch Sunday at Cleveland.
They didn't look ready while falling behind by 16 points at halftime but were back to their sometimes unstoppable selves while outscoring the Nets by 32 points over the final 24 minutes.
"I felt like we were all positive coming into the locker room," Durant said. "No pointing fingers. None of that stuff. We knew it was just a matter of time."
Stephen Curry and Zaza Pachulia each finished with 15 points for the Warriors, who played without Draymond Green, who returned to the Bay Area early Thursday after the birth of his son, Draymond Jamal Green Jr.
at New York 106, Orlando 95: Derrick Rose scored 19 points and Kyle O'Quinn had 14 points and a career-high 16 rebounds for the Knicks, who never trailed after the first quarter and have won two in a row after a three-game losing streak. Serge Ibaka led the Magic with 23 points and 10 rebounds and Evan Fournier scored 21 points.
Boston 109, at Indiana 102: Isaiah Thomas had 28 points and nine assists in leading the Celtics to their fourth consecutive victory. The Celtics outscored the Pacers, 29-9, in the second quarter, turning a nine-point deficit into a 51-40 halftime lead. The Pacers pulled within four late in the game but were unable to get any closer down the stretch. Jeff Teague led Indiana with 31 points and eight assists.
---
Get the latest on L.A.'s teams in the daily Sports Report newsletter.
You may occasionally receive promotional content from the Los Angeles Times.