Column: Boston Celtics making sacrifices to win it all — one maybe more than others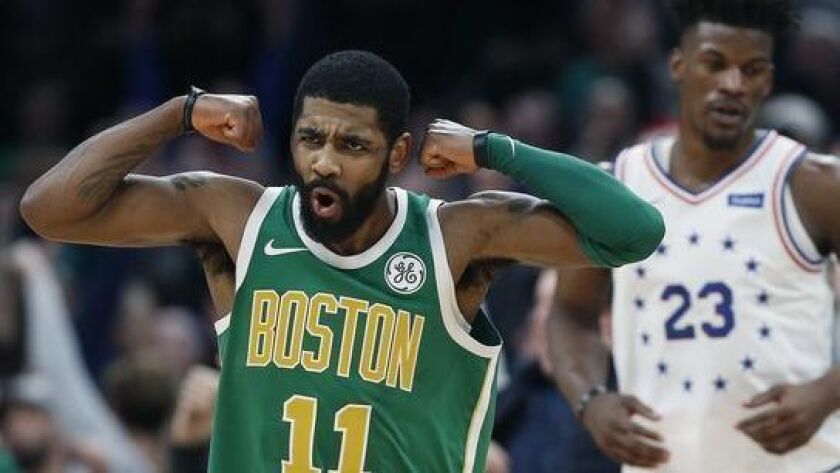 Reporting from Boston —
Kyrie Irving stood with his back against a wall in a relatively small Boston Celtics locker room, the stalls of his teammates all facing him.
If he had focused his gaze, he would've seen where five-time All-Star Al Horford gets ready for games. Across from Horford is onetime All-Star Gordon Hayward's locker. Between them are spaces for No. 3 picks Jayson Tatum and Jaylen Brown, for veteran Marcus Morris, for No. 6 pick Marcus Smart and for first-rounder Terry Rozier.
Along with Irving, it's a group of eight players deep enough to match up with any team in the NBA, a group with athleticism, length, skill, youth and experience.
"It's a situation where everyone is not going to be happy with their role," Brown told The Times after Thursday's loss to the Lakers at the buzzer. "But sacrifice is necessary."
As Irving was surrounded by the media, he downplayed the notion that clarity, routine and defined roles for players like Brown, Hayward, Morris, Smart and Rozier mattered much.
"I've figured out during the season that's a little overrated, having the coaches define roles. I really do believe that," Irving said. "As basketball players, there's no role a coach is going to give you that you're truly going to be comfortable with unless you get every shot. It's the truth of it."
Maybe Irving is right. Or maybe from where Irving is standing as the team leader in shots, minutes, scoring and usage rate, it's easier to dismiss the notion that clarity for a player is overrated.
Sign up for our daily sports newsletter »
It's an interesting time for Irving and the Celtics. He can become a free agent after the season if he declines the player option on his contract, something he'll almost certainly do. The best chance for Boston to keep Irving might be an offseason trade for Anthony Davis.
The Celtics could turn some of their talent — Tatum, Brown, Rozier or others — and healthy stash of draft picks into the 6-foot-10 superstar. They've long been rumored to covet Davis.
But for now, they've got to deal with their numbers and figure out how to maximize everyone's minutes. They've been on the right track.
Entering Saturday, Celtics coach Brad Stevens' team has won 10 of its last 12 games — the only defeats coming by four points at home against the Golden State Warriors and one point to the Lakers. There was some optimism that maybe the team turned a corner from an uneven first quarter of the season.
After 20 games, the Celtics were 10-10, a disappointing start for one of the favorites in the Eastern Conference. Since then, Boston had won 25 of 35, putting together an eight-game winning streak and two five-game streaks.
For Stevens, part of the success was figuring out the recipe for his top eight players — who would play, how much, and who would play together. He knew his team, which reached the conference finals last season, would need to figure out how to integrate Hayward, who missed the whole season, and Irving, who missed the playoffs, to the young group that carried the postseason.
Stevens believes defining roles is "really important."
"We had to take time to see who would fit best together. And that would ultimately impact some of the individual roles," Stevens said. "I think our guys have done a pretty good job, whether we've been fully healthy or not, the last couple of months, playing those [roles] to the best of their abilities.
"It's not easy going from being a starter, like Terry and Jaylen were in the playoffs, to not. It's not easy to be a starter and an All-Star the last time he played, like Gordon was, and not be in the starting lineup. But ultimately, that's what's best for all of us."
Stevens has asked more from Hayward than maybe anyone else — by asking him to do a lot less.
After signing a four-year, $128-million deal in 2017, Hayward sustained a horrific leg injury five minutes into the Celtics' season opener. When he returned, it was like waking up from a coma and entering a world that was new and unfamiliar. While Hayward was out, Tatum developed into one the most promising young wings in the NBA. Brown and Rozier had bigger roles in the postseason and were ascending too.
"It's definitely a mental adjustment," Hayward told The Times of coming off the bench. "… Coming from Utah to here, I was expecting to maybe do some different things. Then getting injured and working through that as well as other guys developing — this team doesn't need me to score to be successful. They need me to make winning plays."
Hayward's taken six or fewer shots 13 times in 50 games this season. In his last four seasons in Utah, he took six or fewer shots only four times in 317 games. He's started just once since moving to the bench in mid-November.
Hayward is quick to point out that he never was a score-first player, but he's also probably never played on a team that's asked him to score so infrequently.
"It's definitely been an adjustment," he said. "Winning plays are getting rebounds, boxing out, cutting through the lane to open up a corner three for someone else. It's different things. And, some nights, the scoring is there. I just try to focus on trying to help us win instead of looking at box scores."
His rebounding is as effective as ever and he's still a good playmaker. Brown, Rozier and Smart also are adjusting — all three are playing and scoring less than a year ago.
Brown said better communication and clearer roles might help. Athletes have routines and appreciate clarity. But it's also not realistic, not with the Celtics needing all of their talent to survive the East and make a run at the NBA Finals.
"Those things are very important," Brown said of clarity and routine. "We can do better in those aspects. But at that end of the day, we're all men. We're all doing a job and we've all got one goal."
And, sacrifice is necessary.
Twitter: @DanWoikeSports
---
Get our high school sports newsletter
Prep Rally is devoted to the SoCal high school sports experience, bringing you scores, stories and a behind-the-scenes look at what makes prep sports so popular.
You may occasionally receive promotional content from the Los Angeles Times.