Warriors assistant Jarron Collins might be fighting a bias against big men coaching in the NBA
Reporting from Houston —
"Is it really a story?"
Golden State Warriors assistant Jarron Collins had just finished a practice the day before Game 2 of the NBA's Western Conference finals and wasn't sure the topic needed to be addressed.
Collins, a former star at Harvard-Westlake High and Stanford, twin brother of Jason Collins and a former NBA player, seems in line to follow Lakers coach Luke Walton from the Warriors bench into the big chair.
But there's just one unavoidable problem: Jarron Collins is tall. Like really tall. Even by NBA standards tall.
At 6 feet 11, Collins would easily be the tallest active head coach if he got hired. And he'd be the only former center.
Is it really a story?
"It's a fair question," Warriors general manager Bob Myers said. "I'm not sure the 'why' of it because I hadn't really thought about it. But certainly, in a sport where there are a lot of big guys that are in coaching, maybe they're not getting opportunities."
A thorough skim of coaches with more than a season's worth of NBA coaching experience shows only a small handful of centers have ever gotten tabbed for jobs.
The tallest coach was Bill Cartwright at 7-1. He went 51-100 over three seasons with the Chicago Bulls before being canned nearly 15 years ago. Bill Russell, an inch shorter than Collins, won two NBA championships coaching the Boston Celtics, but he was still playing at the time.
In modern NBA history, 6-8 Phil Jackson and 6-10 Kevin McHale are the two most successful big men to coach, though both were power forwards.
Walton and Portland Trail Blazers coach Terry Stotts at 6-8 are the two tallest active NBA coaches.
"It would be different," Golden State veteran guard Shaun Livingston said of a former center coaching. "It's not the norm. It's more guards — if you played in the league as a guard, you can kind of coach, right?"
Livingston touched on one of the more widely held beliefs as to why more big men aren't coaching in the league. The logic goes that shorter players play basketball because they love it, they're in the middle of all the action and they run the show on the court.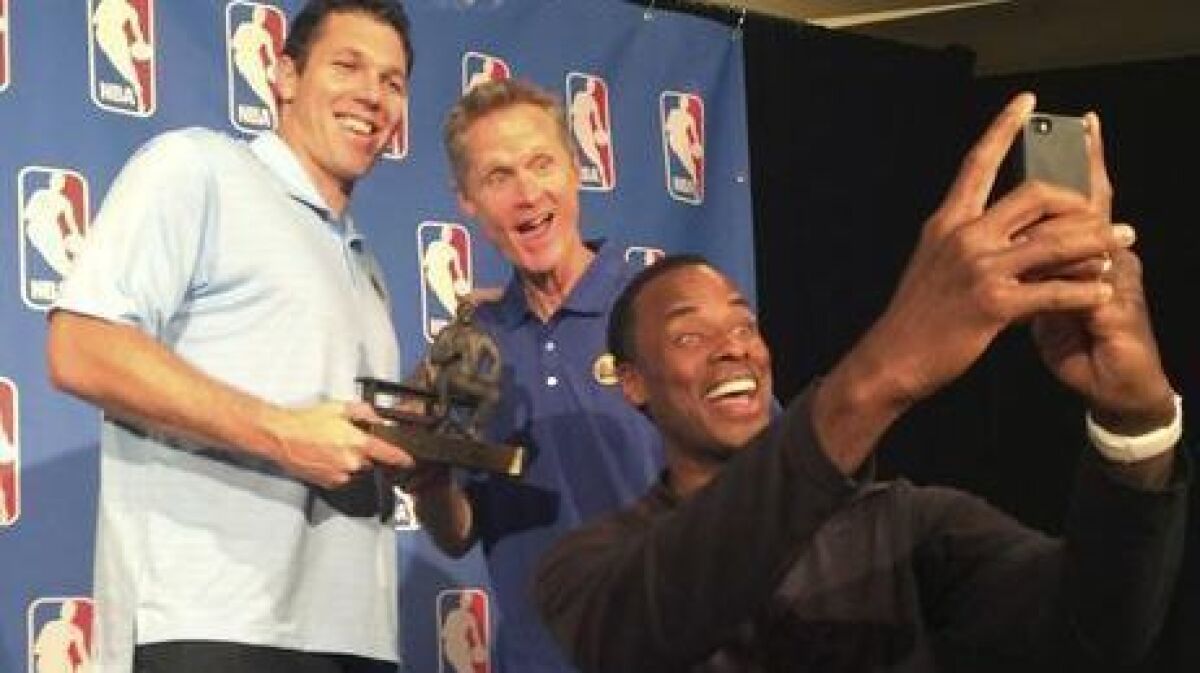 And big men? They play because they're tall — not because they truly love basketball.
"That's kind of ridiculous," Collins said. "I think all of us that are involved in it fell in love with the sport and love the competition. Love the grind. Love the process of getting better. Love the hard work, the sacrifices, the dedication that all go into making us better players, better coaches or better executives. That all starts with the love of the game. 'He loves it more because he's smaller?' That doesn't even make any sense to me."
It does seem clear that people around the league view guards and big men differently.
Before Game 2 on Wednesday, Kerr remembered how Jackson treated the two parts of the Bulls, breaking them apart for a yearly Thanksgiving scrimmage.
"He called it 'Goons versus Fairies,' bigs against the smalls," Kerr said with a smile. "He used to call us fairies, which tells you everything you need to know about Phil's view of guards. But Phil really understood the mindset of a big guy. I think he picked on big guys more than he did on guards.
"And, I pick on guards more than I do on big guys."
There might be another reason why NBA front offices prefer guards to big men when hiring former players to coach.
Guard and wing play — perimeter play — has eclipsed post play in the NBA. In theory, someone like Collins might not be able to connect with a guard in the same way as someone like Kerr, who played the position as a pro.
But Collins, who interviewed with the Atlanta Hawks before they hired Lloyd Pierce, has a plan to answer anyone's doubts about his size impacting his coaching.
He played alongside John Stockton in Utah, worked with Steve Nash in Phoenix and worked for Kerr as the team built the foundation for Stephen Curry and the Warriors' offense to explode.
"I'm a sponge," Collins said.
And he's willing to adjust.
Collins entered the NBA as a second-round pick after being a star in high school and college. Even though he quickly found himself in the Jazz starting lineup, he soon learned he was no longer going to be a star.
"When I was a rookie, I ended up starting alongside Karl Malone," Collins said. "He said, 'You don't have to help me. Just don't hurt me.' It wasn't the most uplifting comment. But … there's truth to that."
Collins learned how to not hurt a team as a player before eventually learning how to help.
"My brother and I weren't the most athletically gifted guys out there," he said. "How we were going to be effective, myself to play 10 years, [Jason] to play 13 years, we had to be able to follow a game plan. We had to be able to understand guys' tendencies. We had to think through the game.
"We had to do the little things."
Tall or not, people around the Warriors organization expect Collins will get his chance to try to teach those little things too.
"I think he's really found his voice, and that's big key as a coach," Kerr said. "You've got to find your voice within your personality. It's got to be authentic. You can't overdo it. But you also can't be the quiet guy. You have to get your message out. … I think he's terrific."
"He'll get a shot," Myers said. "I think he will get a job. "
Twitter: @DanWoikeSports
Get our high school sports newsletter
Prep Rally is devoted to the SoCal high school sports experience, bringing you scores, stories and a behind-the-scenes look at what makes prep sports so popular.
You may occasionally receive promotional content from the Los Angeles Times.