Nikola Vucevic is making his mark in the NBA, and it's not just on the Lakers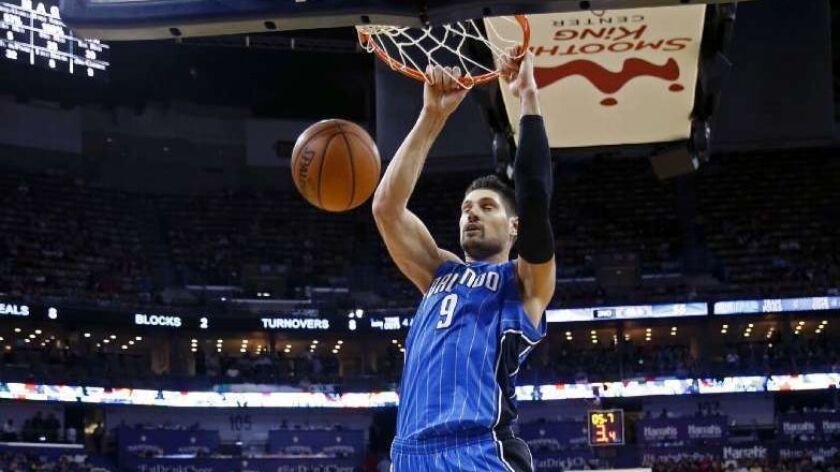 Late in the third quarter of what would be a Lakers loss to the Orlando Magic, LeBron James tried to guard Magic center Nikola Vucevic in the post.
As soon as the ball was entered on the left block, Vucevic spun toward the baseline and dunked on James, getting revenge for all the other big men who have ended up on the wrong end of James' posters.
It was a highlight for Vucevic, 28, a former USC star making a big play in a big win at Staples Center. But it was far from an isolated instance.
All game, Vucevic was a problem for the Lakers, hitting three-point shots in JaVale McGee's face just as easily as he operated in the post, a perfect embodiment of how you'd want your center to score points in the modern NBA.
"He's probably a little bit overlooked," Lakers coach Luke Walton said before Vucevic torched his defense for 31 points. "He's a very, very good player. From coaches, players who have to play against him, when you watch tape on him, he can score all over the floor on you. And he's a nightmare to match up with."
Vucevic is building a strong case to make his first All-Star Game, averaging a career-best 20.4 points, more than 11 rebounds and three assists a game. But, with his contract expiring at the end of the season, no one, Vucevic included, can be sure how much more time he's got in Orlando.
With a relatively modest $12.75 million salary, he could be one of the league's most attractive players once the trade season starts to kick into high gear Dec. 15, when most players who signed free-agent deals last summer can be dealt.
It's hard to imagine a team not being interested in Vucevic, even as a rental, if the Magic falter in the East. The Lakers, for instance, could use a floor-spacing big man to pair with James, easing the burden on McGee and Tyson Chandler.
."All I can control is my play on the court and trying to help the team win," Vucevic said. "I really don't think about. If I did, it wouldn't allow me to play freely.
"To be honest, the last two or three years I've been in so many trade talks and rumors, people always asking me about it. I just shut it off."
But even if he's not thinking about it, other teams around the league should be.
Like so many other big men, Vucevic has stretched his offense beyond the three-point arc, something that came fairly easy to him once he got over some resistance to it.
"It definitely fits to what I can do on the floor," he said. "I've been able to shoot from the mid-range really, really well, playing inside-out. Now, the only adjustment was to work more from the three.
"I knew I was capable. I knew I'd be able to make the adjustment. I just needed to work on it, get reps and mentally train in my head that this is something I do. Before, it was almost forbidden for a big to shoot."
Some centers are stretching to extremes.
This month at Staples Center, in a game against the Clippers, 7-foot Brook Lopez of the Milwaukee Bucks made NBA history by taking 12 three-point shots without a two-point attempt, becoming the tallest player in league history to try that many threes without even accidentally taking a two. It's not the kind of record that leads to the game ball being sent to the Hall of Fame at Springfield, Mass., but it's a record nonetheless.
"That's crazy," he said as he walked out of the locker room that day. "But it shows where the game is headed."
Lopez has reinvented himself. He never made a three-point shot until his seventh season in the league. Yet this season he has taken almost three times as many three-point shots as two-point shots. That's bonkers considering that six seasons ago, when Lopez was an All-Star, that ratio was 1,093-to-1 in favor of two-point attempts.
Vucevic's transition has been less drastic. He has tried almost one fewer three-pointer a game this season than last, but long-distance shooting has still become a more than viable part of his offense.
"Last year," he said, "I felt like I was a little too much on the perimeter, trying to space the floor. It was fine. But now, at the same time, it makes it so much more difficult for the other team because it gives them a different look and I get some easy ones in the paint."
According to Basketball-Reference.com, Vucevic is among seven players listed at 7 feet or taller to average at least 2.5 three-point attempts a game this season — a list that includes Lopez, the Philadelphia 76ers' Joel Embiid, the Memphis Grizzlies' Marc Gasol and the Minnesota Timberwolves' Karl-Anthony Towns.
Vucevic and Gasol will be free agents next summer, and if Orlando stumbles Vucevic could become available even sooner, providing a contender with a matchup "nightmare," as Walton called it.
And for teams such as the Lakers that could use secondary scoring power adding Vucevic either via trade or free agency could be a dream, though he won't be easy to pry away from Orlando.
"Listen, you never know a guy until you coach him, and I never liked coaching against him," first-year Magic coach Steve Clifford said Sunday. "But, I mean, he brings inside-outside decision-making. And he's a far better defender than anyone has ever given him credit for. He's playing at a very high level with a really terrific all-around game."
Twitter: @DanWoikeSports
---
Get the latest on L.A.'s teams in the daily Sports Report newsletter.
You may occasionally receive promotional content from the Los Angeles Times.