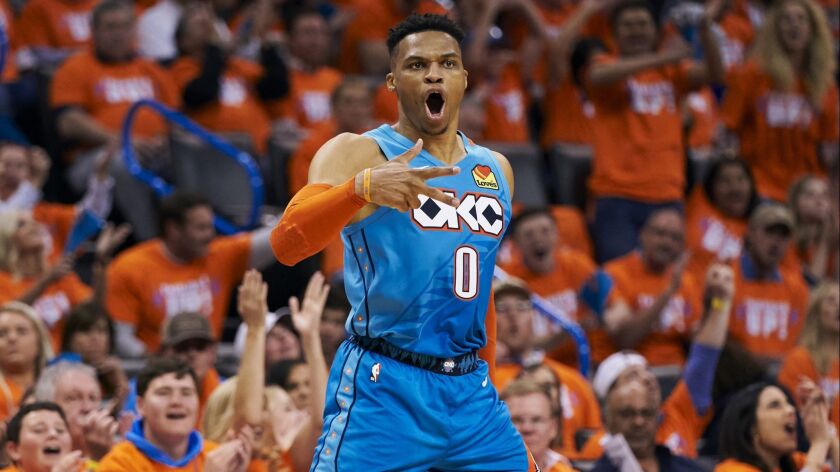 Reporting from OKLAHOMA CITY —
The Thunder's communications head, Matt Tumbleson, turned around from his seat courtside with a big grin during the first timeout Friday night. A fan had just drilled a half-court shot for a $20,000 prize.
He knew what that meant.
"I think we're undefeated when that happens," Tumbleson said.
And there might not be a team in the NBA playoffs that needed to see a shot from long range more than Oklahoma City.
In the first two games of one of the most anticipated first-round playoff series, the Thunder were awful from behind the three-point line, making just 10 of 61 attempts (16.4 percent) in a pair of losses in Portland.
But back home Friday night, the rims were a lot friendlier. A second fan won an additional $20,000 after he too made a half-court shot.
The Thunder were just as hot, making 15 of 29 from three-point range in a critical 120-108 win over Portland in Game 3, avoiding a 3-0 series deficit thanks to some much-needed shotmaking.
Russell Westbrook, Jerami Grant, Terrance Ferguson and Dennis Schroeder combined to make 13 of their 18 three-point shots.
Of the four, Westbrook is the outlier, one of just six players to attempt 400 three-point shots in a season and make less than 30 percent of them.
The hot shooting was enough to overcome a big second half from Damian Lillard, who scored 25 of his 32 points in a third-quarter barrage.
"Three-point shooting was one of our priorities," Portland coach Terry Stotts said.
It's everyone's priority every night — or at least it should be. The days of NBA pundits sitting behind desks in television studios disparaging teams that look for outside shots first should be wrapping up.
After Oklahoma City made 15 three-point shots to Portland's 12, teams that have hit more from deep are now 17-5 through the first week of the playoffs.
It might be overly simplistic to say the NBA has evolved into a race to the three-point line — basketball is more than just one singular play.
"It's not like the end all, be all to me. I say that respectfully because it is really, really important," Thunder coach Billy Donovan said. "The most important thing to me is really sharing the ball, playing unselfishly, getting good shots. …But the three-point line is a factor."
Two guys left the arena with $20,000 each because of the long ball. And the Thunder, they left with the series one step closer to being tied.
Siakam is magical
From the first few weeks of the season, it's been clear that Toronto third-year forward Pascal Siakam was the NBA's most improved player. How improved? Just ask Orlando.
Friday night in a pivotal Game3 in Orlando, it was Siakam — not Kawhi Leonard, not Kyle Lowry, not Marc Gasol — who did the most damage to the Magic's upset attempt.
Siakam, 25, scored 30 points to go along with 11 rebounds and four assists, but maybe more impressive than that, he hit three of four attempts from deep, a sign of his continued evolution from defensive Swiss Army knife to one of the NBA's best all-around prospects.
Since Jan.1, Siakam hit 38.8 percent from three-point range, numbers that would suggest his 0-for-7 start this postseason from deep was more of the anomaly than Friday night.
Even when he's not hit shots, he's been Toronto' s second-best player this postseason. He's scored at least 19 in each of the first three games of the Raptors' series with Orlando, grabbing at least nine rebounds. He's shooting better than 50 percent from the field, and he's committed just one turnover in a little more than 120 minutes of court time.
When the end of season awards are announced, Siakam will almost certainly be named the NBA's most improved player. But, based on his start in the postseason, he's nowhere close to being done with his improving.
Embiid doubtful
The Philadelphia 76ers have listed All-Star center Joel Embiid as "doubtful" for Game 4 on Saturday in Brooklyn with a sore left knee.
Embiid appeared in just 10 games after the All-Star break, and after playing in the first two against the Nets, he missed Game 3, in which Greg Monroe started in his place.
Sign up for our daily sports newsletter »
Twitter: @DanWoikeSports
---