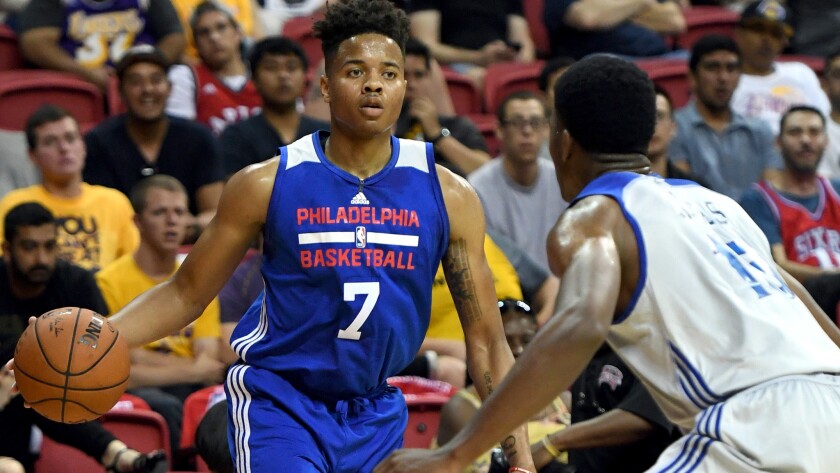 No. 1 overall pick Markelle Fultz needed to be helped off the court with an injury to his left ankle in the Philadelphia 76ers' summer league game Saturday night against Golden State.
Fultz appeared to roll his ankle in the second half and was helped to the locker room by two teammates. The team's Summer league coach, Lloyd Pierce, said Fultz has been diagnosed with a sprained left ankle and "will be treated accordingly."
Fultz will not play Sunday and there is no timetable for his return to action.
"We'll be as cautious as we can, making sure he's healthy," Pierce said.
It was the last thing the 76ers wanted to see just when they appeared to be ready to put years of misery behind them. They have dealt with significant injuries to center Joel Embiid and last year's No. 1 pick, Ben Simmons, over the last three years.
"Oh no no no," Embiid tweeted, "don't do this to us."
Fultz, who signed his contract earlier in the day, was taken for X-rays. The former Washington star had eight points in 15 minutes.
"I'm a little bit punch-drunk with the injuries that we've had with our first players selected over the years," 76ers coach Brett Brown said during the ESPN telecast.
But Pierce said he was trying not to look at it that way.
"It's easy to put that on the history that we've gone through, but no, it's just part of the game," Pierce said.
The 76ers pulled off a trade with Boston before the draft in June to move up from No. 3 to No. 1 to take Fultz, the dynamic scoring point guard that GM Bryan Colangelo felt was the perfect piece to put with Simmons and Embiid.
The move energized a fan base that had been worn down by years of tanking under previous GM Sam Hinkie, though his oft-criticized strategy was finally starting to pay off with the accumulation of talent in Philly.
The Sixers also added veterans J.J. Redick and Amir Johnson to supplement the young core and appeared poised to get rolling in the wide-open Eastern Conference.
In other NBA news:
-- Raptors GM Masai Ujiri is moving swiftly to get Toronto below the luxury tax line while keeping his team competitive in the wide-open Eastern Conference when he pulled off two trades in about 12 hours, sending veteran forward DeMarre Carroll to Brooklyn in a salary dump and landing C.J. Miles in a sign-and-trade with Indiana for Cory Joseph, three people with knowledge of the dealings told the Associated Press. The Raptors and Nets agreed to the Carroll deal late Saturday night, with Toronto sending a future first- and second-round pick to Brooklyn with Carroll and getting Justin Hamilton in return.
The deal allowed Toronto to offload Carroll's remaining two years and $30 million from its books, which helped the Raptors dip below the punitive luxury tax line in a summer when they re-signed point guard Kyle Lowry to a three-year, $100 million deal. Carroll was coming off a disappointing season in which he averaged 8.9 points on 34% shooting in 72 games. Ujiri moved quickly to plug the hole, agreeing to terms with Miles on a three-year, $25-million contract. The 30-year-old Miles is coming off one of the best seasons of his career. He shot 41% from three-point range and is an accomplished defender as well.
-- Chris Bosh has written an open letter to Miami, thanking the city for supporting him for the past seven years. Bosh published the letter on Sunday, without any mention of his current health or plans for his future. He was waived by the Heat last week, and hasn't been able to play in an NBA game since February 2016. Bosh's career has been interrupted by blood clots; one shut him down at the All-Star break in the 2014-15 season, another shut him down at the All-Star break again a year later. He failed his preseason physical with the Heat last September and missed all of last season, and it is unclear if he will pursue a return to the court elsewhere. Under league rules, he cannot play for the Heat again.
---
UPDATES:
1:35 p.m.: This article has been updated with news of the Toronto Raptors' trades.
This article was originally published at 11:35 a.m.
---