Column: Anthony Davis' trade request reminds us every team is speeding; the Lakers might be the only one going 95 mph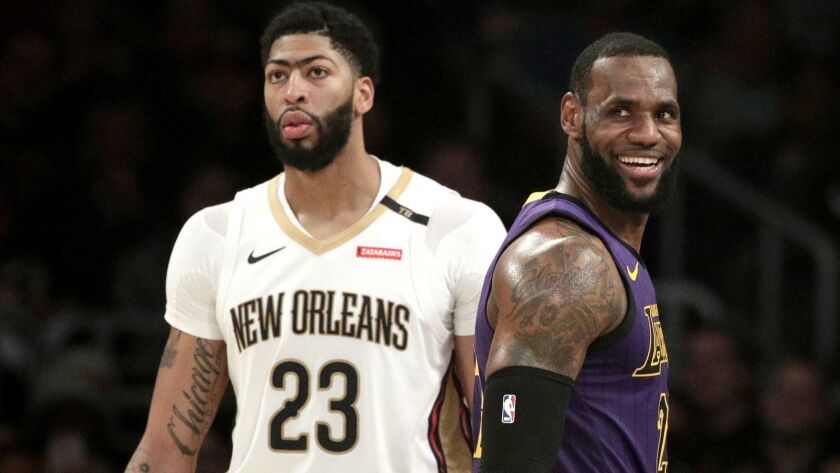 The agent, Rich Paul, sat courtside to watch his top client, LeBron James, return after the longest absence of his professional career. While James needed more than a month to recover from a strained groin, the Lakers slipped out of the top eight in the Western Conference.
After scoring late in an overtime win Thursday, James backpedaled down the floor, his palms facing down, reminding everyone that "all is calm."
Except it's not — the stakes are too high.
The Lakers are engaged in a very public trade negotiation for superstar big man Anthony Davis, one that could alter the balance of power in the NBA for a decade. The talks are public, seemingly, because Paul (and by proxy, James) wants them to be.
Paul went on the record with reporters, including one from the Times, to say that Davis wouldn't sign a "max extension" contract in New Orleans and that his preference was to be traded. It was bold — not because no one expected it (everyone did), but because it came with Paul's name attached to it.
The comments, which violated NBA rules, cost Davis $50,000 because, the league said, it was "an intentional effort to undermine the contractual relationship between Davis and the Pelicans."
It was the latest occasion of the NBA speaking up for a small-market team whose superstar was being eyed by a bigger team — and lately, it seems like the Lakers are always in the conversation when that happens.
In less than two years, the Lakers' basketball decision-makers, president Magic Johnson and general manager Rob Pelinka, have been hit with tampering fines totaling $550,000.
Sign up for our daily sports newsletter »
Conversations Pelinka, a former agent, had with Paul George's agent cost the Lakers $500,000 — one of the steepest fines in NBA history. That fine came after Johnson was warned for comments he made about George on "Jimmy Kimmel Live!"
That seemed fairly cut and dried — the Lakers broke league rules and were punished. But a later fine, $50,000 for Johnson praising the Milwaukee Bucks' Giannis Antetokounmpo, showed the problem with the NBA's rules against tampering. As did James' admission that, of course, he'd like to play with Davis, which caused an uproar and triggered a leaguewide memo about the NBA's rules against tampering.
The general rule is this — executives are prohibited from talking about players under contract with other teams in any way that ignores the sanctity of the contract.
It's a fine rule and a noble cause — but totally impossible to police. This is how the NBA works.
The NBA is a breeding ground for conflicts of interest. You have James, a player with more influence than any other in the NBA. It's hard to separate him from Paul, a guy whom James made part of his inner circle, which makes it hard to separate him from other clients of Paul — including Davis.
James' relationship with Phoenix Suns general manager (and former teammate) James Jones was a topic among league insiders and executives after the Suns gifted the Lakers the big man they needed when Tyson Chandler was bought out of his contract, making him a free agent.
Before Chandler even cleared waivers, he had an agreement in place with the Lakers.
James' comments about Davis were direct; a recent Instagram video in which he sang "Rewind" to former teammate and free agent-to-be Kyrie Irving of the Boston Celtics was a little more subtle.
"We've made a decision that when a player is talking to another player and saying 'I'd love to play with you,' and that's not done at the behest of the team, we accept that," NBA commissioner Adam Silver said in 2015. "I think it's not ideal. I mean, because preferably you wouldn't want a player to be doing what a team couldn't otherwise do. But I think there is a practical reality that the notion that we'd try to restrict players from having private conversations with each other, or even frankly social media conversations with each other, just doesn't make sense. So I think it's part of the world."
Not everyone likes that. Rival teams scoffed when Chandler was released. They've bristled at the Lakers' relationship with Paul and the power he and James wield. NBA officials have joked about the team's loose following of the rules. But there's not a lot of room for self-righteousness either.
When it comes to tampering, NBA teams are like cars on an empty Los Angeles freeway. Everyone is speeding (the Lakers might just be the only one going 95 mph). And the NBA, the tampering police, can't pull everyone over.
Paul's comments would've escaped a fine had he simply made them as a "source close to Davis." Johnson's comments about Antetokounmpo also would've gone unnoticed had he simply been identified as a "rival executive."
A lot of what James, Paul and Johnson have said is stuff the rest of the league already knows or believes. The Lakers and Davis had been paired since long before the public trade request.
In a league where agents, players, coaches and general managers are all so intertwined, these kinds of conversations are inevitable. The NBA has to try to stop them, but it'll probably become more difficult.
The league is at a moment when players have harnessed their power and are using it to better control their destinies. Last week, Kristaps Porzingis, unhappy with the direction the New York Knicks are taking, forced a trade.
The team that acquired him, the Dallas Mavericks, sent a second-year guard who also had requested a trade.
People are talking — players, agents, executives. And stopping it, with players' power only getting stronger, seemingly will be harder than ever.
Twitter: @DanWoikeSports
---
Get the latest on L.A.'s teams in the daily Sports Report newsletter.
You may occasionally receive promotional content from the Los Angeles Times.