With help from pass-happy U.S. teammates, Kyle Kuzma stuffs stat sheet in Rising Stars game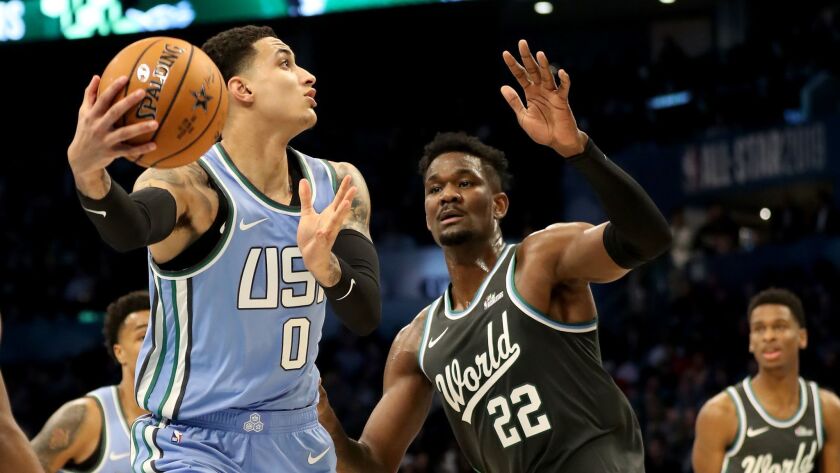 Reporting from Charlotte, N.C. —
In the weeks leading up to Friday night's Rising Stars game between the top rookies and second-year players in the league, Utah's Donovan Mitchell had an idea.
Yeah, the first major event of NBA All-Star Weekend is a glorified pick-up basketball game. Yeah, no one plays with anything resembling typical defensive intensity. Yeah, the game can devolve into an impromptu dunk contest.
But Mitchell still wanted to win — so he made some calls.
The second-year Jazz star FaceTimed with Atlanta rookie Trae Young and Sacramento sophomore De'Aaron Fox and shared his secret vision. To win the game, the three guards would need to, gulp, pass.
"That was the biggest thing," Mitchell said after the USA team beat the World 161-144. "I was like, 'Look. We're all significant scorers in our roles for our teams. But if we come together… Last year, we lost by (26). I took that personal. I think a lot of us did.
"I called pretty much everybody and was like, 'Let's win this.'"
The three point guards combined for 35 assists with Fox leading both teams with 16 assists.
Lakers forward Kyle Kuzma was named the game's most valuable player, scoring 35 points on 15-of-27 shots. He scored 23 in the first half, possibly inspired by what Fox said to him pregame.
"I told him before the game, 'Every time I pass it to you, you shoot it,'" Fox said. "He got hot in the first quarter and just kept it going throughout the game. But that's what he is, a great scorer."
Nine different players scored in double figures for Team World, led by 28 points from Philadelphia guard Ben Simmons. Dallas rookie sensation Luka Doncic scored 13 points. Jayson Tatum had 30 for Team USA, but no one was hotter than Kuzma.
Sign up for our daily sports newsletter »
"I played in this game last year, and I was really lackadaisical, and I didn't want to do that again. That was one of the main reasons," Kuzma said. "…You know, there are a lot of great players out there, all-stars, and we're all young rising stars in this league. Obviously, it's an exhibition, like you said, but it's always better to have bragging rights any time you can."
In his first All-Star weekend, Clippers rookie Shai Gilgeous-Alexander had 15 points, five rebounds and six assists including a few one-on-one battles with Fox.
"It's always fun playing with guys that you went to school with or that you went to the same school as," Gilgeous-Alexander, who like Fox attended Kentucky. "We're closer because of that. It's always fun."
Dallas' Dirk Nowitzki served as an assistant coach for Team World, and Boston All-Star Kyrie Irving helped coach Team USA.
Earlier Friday night, former Division II player and viral comedian Famous Los (real name Carlos Sanford) scored 22 points in his team's 82-80 win in the NBA's annual Celebrity All-Star Game. Former NBA All-Star Ray Allen scored 24 points in the game, which featured a four-point line.
Twitter: @DanWoikeSports
---
Get the latest on L.A.'s teams in the daily Sports Report newsletter.
You may occasionally receive promotional content from the Los Angeles Times.