Western Conference preview: Rockets, Chris Paul let last season's disappointment fuel new run
Reporting from Houston —
The diameter of the orange rims inside the Toyota Center in Houston is big enough that two regulation-sized basketballs can slip through the hoop at the same time.
It's a fact taught to shooters to remind them about the basket's size and how easy it is to make a shot, but last year on a Monday night in the final week of May, it seemed to be complete and total nonsense.
No one on the Rockets saw a rim that size, not in the biggest game of their season — Game 7 of the Western Conference finals — with the basket seemingly shrinking in size to the eye of a needle as the possessions got more and more important.
Twenty-seven times Houston tried to make a three-point shot and 27 consecutive times the ball did not go in. Some of the shots were short, some long, some close and some way off. While they missed shot after shot, their opponents, the Golden State Warriors, made up a double-digit deficit and pulled away to move into the NBA Finals, where they would win their third title in four years.
While the Rockets went colder than a Minnesota winter, three of the biggest reasons they had even made it that far were washed over in total helplessness, unaware that Houston was in the midst of setting the NBA record for most missed three-pointers in a row.
The team's architect, general manager Daryl Morey, was "shocked" when he found out. Coach Mike D'Antoni found it to be incredible, an unlikely feat. One of the Rockets' leaders and best players, an injured Chris Paul, was too filled with disappointment and rage to notice until later.
And with the team set to try again, the Rockets that were there, the men who couldn't do anything about that final outcome, haven't been freed from the disappointments of Game 7.
"Would you be?" Paul said.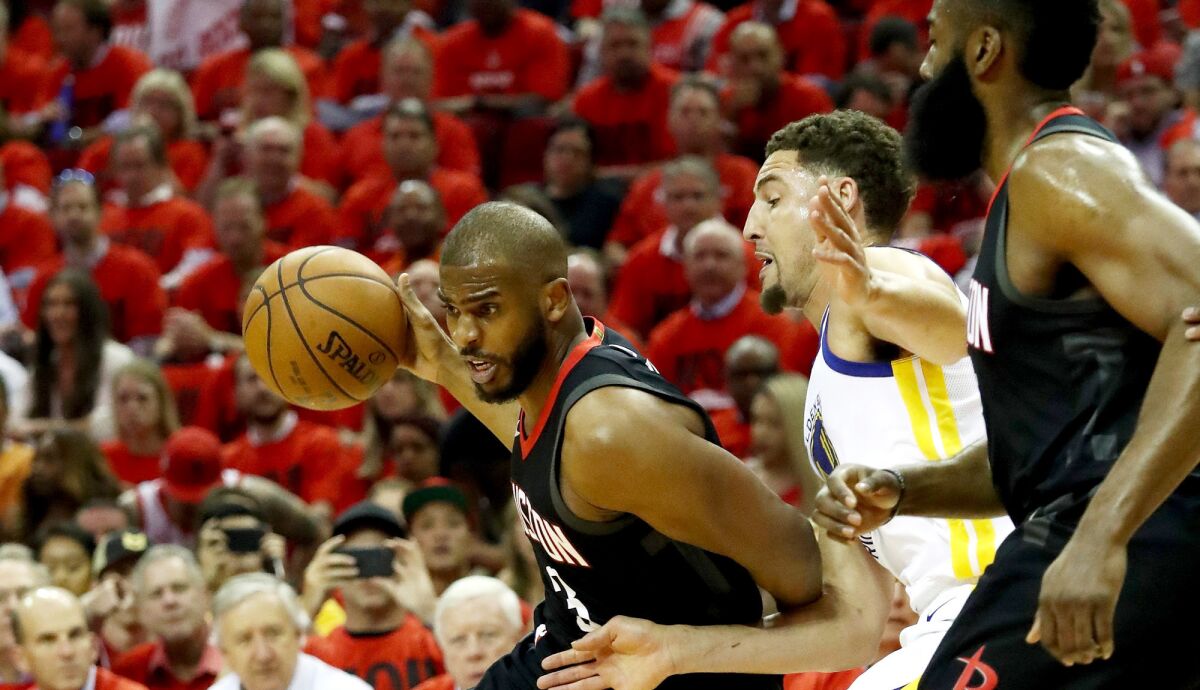 No one in Houston is trying to erase last season's pain. If anything, they've embraced it. Billboards around town feature the phrase "Run it Back." The sting from losing key veterans Trevor Ariza and Luc Mbah a Moute has been erased by the excitement over adding Carmelo Anthony and role players James Ennis and Michael Carter-Williams.
"Being new, I wasn't on the team last year, but I see that animosity. I see the edge that they have," Carter-Williams said. "They want to get back and prove to people that they can win in the Finals. I picked that up as soon as I got here."
Paul's the most obvious holder of this attitude, a player dogged by a "never-won-a-championship" narrative who had his hamstring go out on him in Game 5 against the Warriors, minutes before his team would go up 3-2 on the defending champions.
Though the team didn't rule him out until the hours before Game 7, no one in the organization had real hopes that Paul would be able to be on the court for the most important game of his career.
Morey said staffers held on to the hope that maybe, in a best-case scenario, Paul could hobble onto the court to take a symbolic free throw or something before exiting the game. The hamstring strain was that bad.
"He, for sure, had it the toughest," Morey said of Paul. "I'm used to having no impact on the game. He's not. And just watching, knowing that he's probably the difference-maker, that's tough. It has to be really hard."
It was. Some of the people around Paul, people who witnessed him run into heartbreak after heartbreak with the Clippers, said not being able to play in Games 6 and 7 against the Warriors hit him harder than anything else in his pro career.
Healthy heading into his 14th season, Paul approached the preseason with a different level of intensity and energy, reinforcing the idea that he might be the league's most competitive player. That fire Paul carried into the offseason is easy to see burn when he's argued fouls and out-of-bounds calls this preseason with playoff zeal.
Morey's anger is a little more subdued.
The Rockets' general manager, the man who helped the team become dependent on three-point shooting, can't talk about those 27 misses without noting that the NBA admitted to missing a couple of calls during the Game 7.
"That's my bitterness," he said.
There wasn't much downtime in the summer. His team played deep into the postseason and then there was draft preparation and then free agency and then Summer League and then training camp. It was between those "and then" times when he really stewed.
"It was bad. When it got quiet, I just got really angry," he said. "I don't think that's a good process. I hope nothing really, really bad ever happens to me because I probably won't handle it very well. Whenever I got off the phone and just thought about things, I just got really angry.
"And I'm still there."
To try to topple the Warriors, and hold off LeBron James, the rising Utah Jazz, the star-led Oklahoma City Thunder and the rest of a loaded Western Conference, Morey added Anthony, who the Rockets hope can fit alongside James Harden and Paul better than he did next to Russell Westbrook and Paul George.
Anthony and D'Antoni have history — a rocky one at that — from a stretch together with the New York Knicks, but D'Antoni was quick to say that this is a much better fit for the offensive-minded forward.
"I never had a problem with him personally; it was just our styles and the pressure of winning. I wanted him to play a different way and he wanted to play a different way," D'Antoni said.
"He's shooting threes here. We don't [isolate] much here for two-point shots. We don't do that. I don't mind [isolations], but you have to either get to the rim, shoot a three or kick out for a three. It's a little different. But he's a great player and he's going to adapt."
Compared with Paul and Morey, D'Antoni seems completely at peace with how last season ended for his team, the bizarre misses and the injuries viewed as uncontrollable acts.
"Mike is very Zen," Morey said.
"It just happened," D'Antoni said with a bit of a shrug. "We wouldn't change anything up."
He was stung too. He didn't watch the game all summer until he got back to work for the upcoming season. But there's calm in D'Antoni, an understanding of his team and his players.
He hopes that new acquisitions such as Ennis and Carter-Williams will help push the pace a little, getting the Rockets to look more like the Phoenix Suns teams D'Antoni coached more than a decade ago. But the changes will be subtle, with his philosophy taking a back seat to the strengths of the team's top players, Harden and Paul.
"If I had my druthers and we can play really fast, I'd rather do that," D'Antoni admitted. "But I'm not going to do it at the detriment of some of my best guys. …
"I trust my guys. And, they've thought, nothing's changed — in our minds. Now we've still got to prove it, but we think we're one of the top teams."
As D'Antoni talks about his team, the run-it-back Rockets, his pregame Spotify playlist shuffles to Jefferson Starship's "Miracles."
"If only you believe like I believe, baby, we'd get by," Marty Balin sings. "If only you believed in miracles, so would I."
You can tell D'Antoni, Morey and the Rockets need no evidence of miracles — they experienced one last season. It wasn't the 65-win regular season or Harden's MVP effort. But those 27 shots that all managed to miss, that was the shocker.
That they had the Warriors down to their final punches, that they controlled the bulk of the series before Paul's injury, that they were set to go to the NBA Finals? That was no miracle.
And the Rockets are ready to bet another season on it.
Twitter: @DanWoikeSports
Get our high school sports newsletter
Prep Rally is devoted to the SoCal high school sports experience, bringing you scores, stories and a behind-the-scenes look at what makes prep sports so popular.
You may occasionally receive promotional content from the Los Angeles Times.