As NFL teams open camps, questions abound about NFC clubs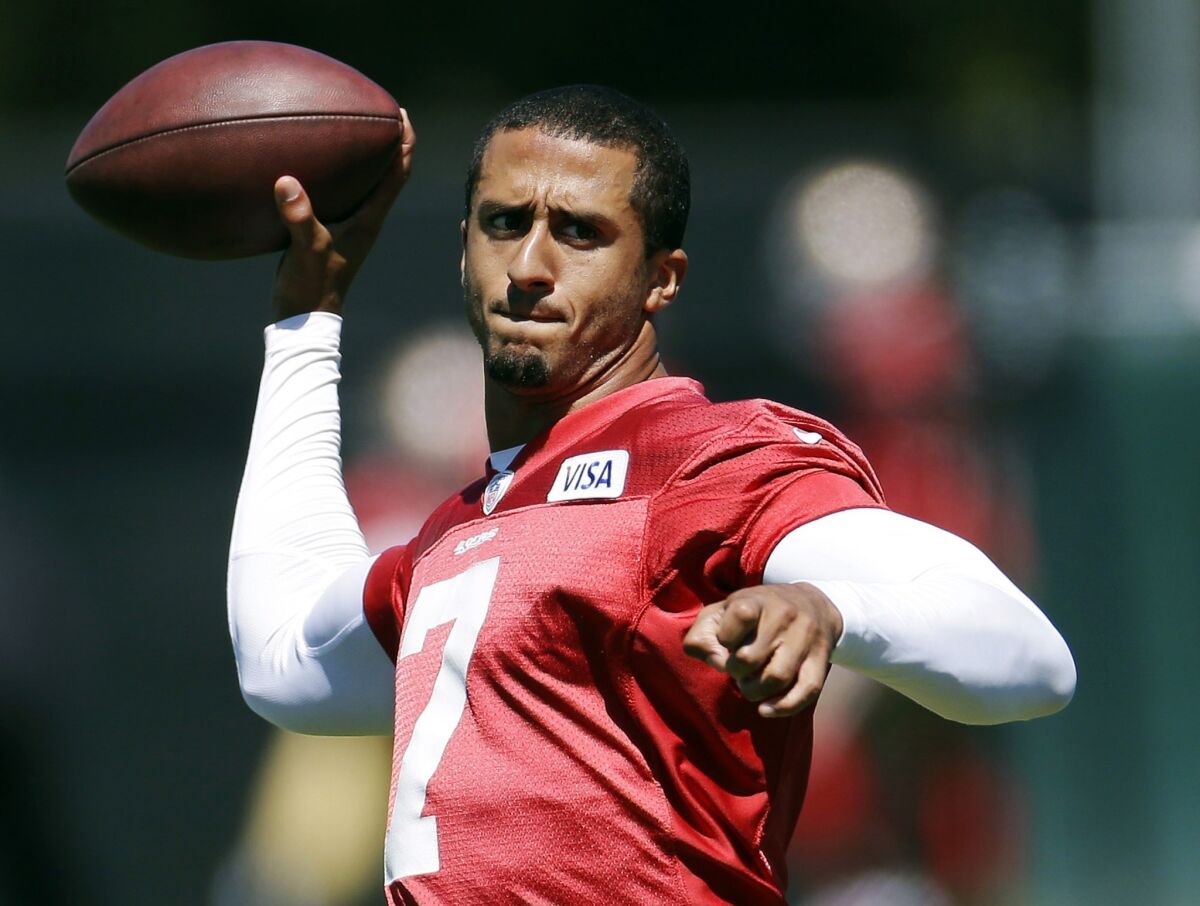 The AFC has the Lombardi Trophy.
The NFC has everything else.
That is, the NFC boasts last season's most valuable player, Minnesota's Adrian Peterson; offensive rookie of the year, Washington's Robert Griffin III; defensive rookie of the year, Carolina's Luke Kuechly; and the majority of the league's best teams.
There are always surprise teams in the NFL. Who could have predicted that Indianapolis would go from 2-14 to reaching the playoffs with a rookie coach and quarterback at the helm? Or that Baltimore would win the Super Bowl despite ending the regular season with four losses in five games?
But with training camps kicking off all over the league in the next week, it's the NFC that has more championship-caliber teams and a 39-25 record against the AFC last season, with those victories by an average of 15.1 points.
Whereas the AFC has Denver and Houston — along with question marks hovering over perennial contenders New England, Baltimore and Pittsburgh — the NFC has San Francisco, Atlanta, Seattle, Green Bay, the New York Giants. Any of those teams could rise and make a Super Bowl run.
A look at the big questions for the NFC teams, ranked by predicted power:
Seattle: Can the Seahawks get out of their own way?
No one wanted to face this team at the end of last season, and that includes San Francisco, which lost to Seattle, 42-13, in December. But the Seahawks need to get a handle on the failed drug tests. In May, defensive end Bruce Irvin was slapped with a four-game suspension for violating the NFL's policy on performance-enhancing drugs. He's the fifth Seahawks player to test positive in the last three seasons. That's a big blow to a team with an already thin defensive line, and it means Irvin will sit out the Week 2 game against the 49ers.
San Francisco: Who will Colin Kaepernick throw to?
With Michael Crabtree out for at least most of the season because of a torn Achilles' tendon, the 49ers are painfully thin at receiver. It's Anquan Boldin, tight end Vernon Davis and a lot of unproven guys. (There's no indication the team will re-sign Randy Moss.) Davis wasn't targeted much in Kaepernick's first several starts. He finished the regular season with six catches in the last six games. But Davis was a big part of the passing offense in the NFC title game and Super Bowl, and probably will continue to be.
Green Bay: What's that ringing sound?
It's an alarm — the Packers are running a fire drill on their offensive line. Their starting center is staying put, but the four other starters are switching spots. Coach Mike McCarthy wants to have his best linemen on the left side, and moving tackle Bryan Bulaga and guard Josh Sitton there might help. Aaron Rodgers was sacked 51 times last season, and the Packers haven't been better than 20th in rushing since 2009.
Atlanta: Are the Falcons swinging for the fences?
Every team tries to win the Super Bowl every year, but the Falcons look especially intent on making one big push. They signed running back Steven Jackson, who will be 30 this season, along withveteran defensive end Osi Umenyiora, and they convinced Tony Gonzalez, a likely future Hall of Fame member, to stick around for one more year. They also addressed a glaring need by using their first two draft picks on cornerbacks Desmond Trufant and Robert Alford. This could be Atlanta's year.
New York: Why do the Giants have their fingers crossed?
All teams have to contend with injuries, but the Giants are dealing with pivotal hobbled players on offense and defense. Receiver Hakeem Nicks is coming off a knee injury, and defensive end Jason Pierre-Paul is recovering from off-season back surgery. Losing either of those players could deal a serious blow to the team's season. Nicks participated in a June minicamp and probably will be limited in training camp. If there are no hiccups in Pierre-Paul's recovery, he should be back for the season opener.
Dallas: Can Bill Callahan transition from the "dumbest team" to America's team?
Offensive coordinator Callahan will call plays for the Cowboys this season, the first time he has been the play caller since 2003, when he was fired as Oakland's head coach. He famously called those Raiders "the dumbest team in America in terms of playing the game." Callahan got the Cowboys assignment when owner Jerry Jones stripped the responsibility from Coach Jason Garrett, who had called plays for the team since 2007.
Tampa Bay: Is Revis Island still on the map?
The Buccaneers sure hope it is, as they are hinging their hopes on cornerback Darrelle Revis and his reconstructed knee. Tampa Bay traded for the former Jets star in April and added former San Francisco safety Dashon Goldson to a backfield that lost Ronde Barber to retirement. A stout pass defense is essential in a division that includes Drew Brees, Matt Ryan and Cam Newton.
St. Louis: Do the Rams have the league's top offensive rookie?
Receiver Tavon Austin is a superstar in the making, and just might be the second Rams player in four years to win offensive rookie-of-the-year honors, following quarterback Sam Bradford in 2010. Austin has blistering speed and reminds many people of Percy Harvin, who now happens to be in the division too, as a key addition to Seattle's offense.
Minnesota: Can the Vikings play catch?
Peterson is Peterson. We know this team will be able to run. But Christian Ponder needs to move the ball through the air to create some semblance of balance. Hence, the addition of receivers Greg Jennings, first-round pick Cordarrelle Patterson, and, in a must-watch experiment, converted quarterback Joe Webb. The bar for improvement is low; the Vikings finished 31st in passing last season, worse than every team but Kansas City.
New Orleans: What's the next record to fall?
Two years ago, the Saints rolled up 7,474 yards to set the NFL's single-season record. New Orleans left the wrong kind of mark on the record books last season, giving up 7,042 yards, the most in league history. So what's next, special teams? Something to watch is the Saints defense, now led by coordinator Rob Ryan, which is switching to a 3-4 for the first time since the "Dome Patrol" units of the late 1980s and early 1990s.
Washington: Griffin can score, but how well does he rebound?
The fortunes of the Redskins rest on the reconstructed knee of their star second-year quarterback, last season's offensive rookie of the year. Even if Griffin is back for the opener — and don't bet against it — Coach Mike Shanahan has to be deeply concerned about letting Griffin run with the kind of abandon he displayed in his debut season.
Chicago: Is the offense ready to pull its weight?
The Bears' defense scored nine touchdowns last season, second-most in NFL history, but their offense was ranked 28th in total yards. Jay Cutler is 30 and in the final year of his contract, and it's essential that he clicks with new Coach Marc Trestman. It helps that Cutler now has a solid left tackle in Jermon Bushrod and a capable tight end in Martellus Bennett. With Brandon Marshall at receiver and Matt Forte at running back, the Bears figure to give teams problems.
Detroit: Do the Lions finally have a running game again?
Reggie Bush isn't Barry Sanders, but the former USC star finally gives the Lions the kind of backfield threat they've wanted. Matthew Stafford throws for a lot of yards and Calvin Johnson catches a lot of passes, but Detroit needs to have a ground game for any lasting renaissance. The last two seasons in Miami, Bush ran for a total of 2,072 yards and caught 78 passes.
Philadelphia: First things first, who's the quarterback?
Coach Chip Kelly wants to know where a quarterback's eyes are in live action. But to this point, no one can tell where Kelly is looking. Eagles players seem to be assuming Michael Vick will be the starter, although it's possible Nick Foles could be a better fit for what Kelly wants to do. And rookie Matt Barkley, polished and poised so far, is lurking in the background as a potential down-the-road starter.
Arizona: Can Carson be Kurt?
Quarterback Carson Palmer would love to close out his career in Arizona the way Kurt Warner did. Warner is the only quarterback to lead the Cardinals to a Super Bowl appearance. If there's any coach who can get the best out of Palmer, it's first-year Cardinals Coach Bruce Arians, who worked with Peyton Manning, Ben Roethlisberger, Andrew Luck and others. Palmer is heading into the toughest defensive division in football. Then again, those AFC North opponents were no pushovers when he was playing in Cincinnati.
Carolina: Are the Panthers lightweights?
Newton is 12 pounds lighter, and the playbook is slimmer too. Offensive coordinator Mike Shula has replaced Rob Chudzinski, now coach of the Cleveland Browns, and he has simplified the terminology. Newton figures that will streamline the process in the huddle and potentially create less confusion. "We don't want to trick ourselves," Newton said. "We're trying to trick the defense."
Get our high school sports newsletter
Prep Rally is devoted to the SoCal high school sports experience, bringing you scores, stories and a behind-the-scenes look at what makes prep sports so popular.
You may occasionally receive promotional content from the Los Angeles Times.