For one day, Occidental quarterback Bryan Scott gets to perform like a Division I player at USC's pro day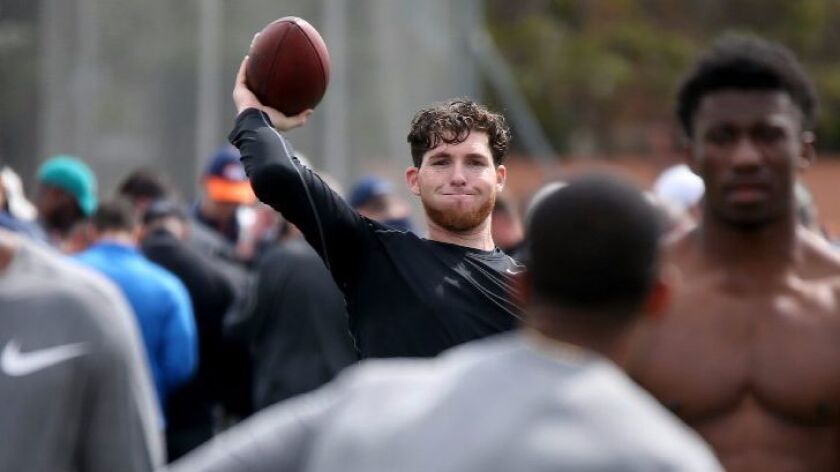 Occidental College is nine miles from USC.
In football terms, the schools are galaxies apart.
Somehow, quarterback Bryan Scott bridged that divide. The four-year starter from Occidental handled the throwing duties Wednesday at USC's pro day. He deftly distributed the football to a collection of talented Trojans, while displaying his own skills for scouts, coaches and executives from all 32 NFL teams.
"We were in the weight room doing our measurements, and all of a sudden I look to my left and it's Pete Carroll — whoa, Pete Carroll," said Scott, who threw for 9,073 yards in his career, breaking the Southern California Intercollegiate Athletic Conference record and earning the nickname the Aaron Rodgers of Division III.
Scott, who wants to continue playing as long as he can, has been working under the tutelage of longtime quarterback guru Norm Chow, and is represented by Chow's son, Carter. They helped him get the gig as the designated thrower at pro day, and Scott has been working out with the former USC skill-position players for the past few months.
"It's a blessing," Scott said. "Being a small-school guy and being able to come out here to perform before all 32 teams, it's just crazy."
Adjusting to the speed of Division I football wasn't easy.
"The first couple times I was throwing with them, I was just throwing it so late," he said. "I'd get to my fifth step and I'd be like, `Holy crap! They're already there!' I got used to it, but they're just so talented."
Scott's path to this point was far from traditional. He started just one season at Palos Verdes High, helping his team to a Southern Section championship in 2012. A late bloomer, he stands 6 feet 1 now, but was 5-2 as a high school freshman and by his junior year had only grown three more inches. For most of his high school years, the thought of playing college football was a mere fantasy.
But after that senior season, Occidental Coach Doug Semones saw Scott at an all-star game and recruited him to the school. Once there, Scott flourished in the pass-oriented system of offensive coordinator Darnell Arceneaux. Both Semones and Arceneaux were watching USC's pro day Wednesday, sitting in the stands with Scott's parents, sister and girlfriend.
"Coach Arceneaux just developed me, fixed my arm," Scott said. "I credit who I am as a player to him."
There is some NFL tradition at Occidental. Jack Kemp was a quarterback there, going on to play for the Chargers and Buffalo Bills. He went to school with Jim Mora, who went on to become a head coach in New Orleans and Indianapolis. Future NFL officials Jim Tunney and Ron Botchan (also an NFL player) were Occidental classmates, too.
More recently, Occidental running back Vance Mueller was a fourth-round pick of the Los Angeles Raiders in 1986, and Sae Woon Jo is currently a scout for the Atlanta Falcons who helped conduct some of the drills Wednesday.
Scott looked completely at ease throwing to the USC players, completing 62 of 64 passes with one drop, and finishing the workout by hitting JuJu Smith-Schuster on a deep post corner that drew loud applause from the gathering of invited spectators in the stands, mostly family members of participants.
"He's one of those guys who's like, 'Whatever you need, I got you,' " Smith-Schuster said. "He's really good at putting the ball where only you can get it."
Said USC tight end Taylor McNamara: "He adjusted really well from playing with guys who probably don't move quite as fast. Heck of a day for him."
Making it to an NFL camp would be an uphill climb for Scott, and surviving the cuts would be like winning the lottery. Still, as he can attest, crazier things have happened. For example, Wednesday.
Follow Sam Farmer on Twitter @LATimesfarmer
---
Get our high school sports newsletter
Prep Rally is devoted to the SoCal high school sports experience, bringing you scores, stories and a behind-the-scenes look at what makes prep sports so popular.
You may occasionally receive promotional content from the Los Angeles Times.