Adrian Phillips brings safety in numbers of positions for tenacious Chargers defense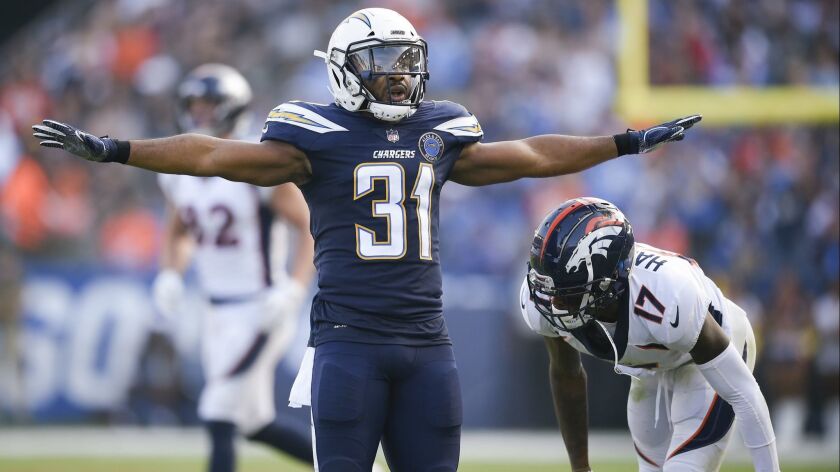 The Chargers see Adrian Phillips as a versatile defender who is nimble enough to blanket a receiver in man-to-man coverage, stout enough to shed the block of a massive lineman and tackle a running back, and smart enough to anticipate plays from a multitude of positions.
Phillips sees himself as a somewhat insecure safety who, despite the praise of coaches and teammates and his prominent role on one of the NFL's better defenses, is still struggling to make it in a cut-throat league in which security is elusive for so many.
"I'm definitely at a different level this season, but I don't feel like I've arrived, like I'm a staple on this team, like I'm here for good," Phillips, 26, said. "I don't think that's a feeling I'll ever have, because I know what it feels like to get cut, to get released. I have to keep going, keep getting better."
Phillips' drive, determination and complete lack of complacency are rooted in his resumé. Signed as an undrafted free agent out of Texas in 2014, the 5-foot-11, 210-pound Phillips was waived or released by the Chargers eight times in his first two seasons before he finally stuck in 2016.
"The path he's taken, just having to battle, scratch and claw every year just to make the roster, is incredible," said Jahleel Addae, a fellow safety and undrafted free agent. "As an undrafted player you have to prove yourself. You don't get as much leeway as the guys who are drafted.
"For two years, he was on and off the practice squad, and now, he's doing a great job of proving his worth. His story is one you can really appreciate. He's a guy you're going to pull for all the time."
Phillips cut his teeth on special teams and as a part-time defensive back on passing downs in 2015 and 2016. He emerged as a regular in the wake of linebacker Denzel Perryman's ankle injury in 2017, racking up 60 tackles, two interceptions and six pass breakups in 15 games.
With Perryman and rookie linebacker Kyzir White out with knee injuries this season and NFL defenses trying to neutralize passing games with more nickel and dime packages, Phillips has expanded his hybrid role.
Lining up most often as a box safety — essentially a middle linebacker spot that he seems woefully undersized for against the run — Phillips has accumulated 63 tackles, one interception and eight pass breakups for the Chargers, who are 10-3 entering Thursday night's AFC West showdown game at Kansas City.
After playing 68 of 255 defensive snaps (27%) in the first four games, Phillips has played 439 of 580 defensive snaps (76%) in the last nine, all while maintaining roles on every special-teams unit.
He's been a sure-handed tackler against the run and a fleet-footed asset against the pass. In a 20-19 victory over Tennessee in London on Oct. 21, Phillips tipped a Marcus Mariota pass intended for receiver Taywan Taylor in the back of the end zone, denying the Titans a two-point conversion with 31 seconds left.
Phillips, who is making $1.5 million this season, has teamed with cornerbacks Casey Hayward and Michael Davis, safeties Derwin James and Addae and slot corner Desmond King to help limit opponents to 224.8 yards passing and 20.8 points a game, both the seventh-best marks in the NFL.
"A.P. is our jack-of-all-trades, man," Addae said. "He can play strong safety, free safety, nickel and dime. He's on every special teams unit. He's definitely one of the most valuable players on the team."
And one of the smartest. Chargers defensive coordinator Gus Bradley, who spent four years as Jacksonville's head coach and four as Seattle's defensive coordinator, cited Phillips' "extreme intelligence" as a reason Phillips can play — and thrive in — so many positions.
"He's got a football IQ that I would compare to anybody," Bradley said. "He's just one of the most elite guys in that area that I've ever been around."
Phillips' eyes lighted up when told of Bradley's comments.
"To hear that from somebody with as much prestige as coach Gus means a lot," Phillips said. "It means that everything I'm working for … I'm heading in the right direction."
Phillips played receiver and quarterback at Garland (Texas) High School but said he didn't get serious about defensive film study until college.
"That's when I took it to the next level," he said.
Phillips' instincts and anticipation, along with his speed and quickness, have helped him slip by bigger offensive linemen and get to ball carriers.
"The real challenge for me playing this position is finding ways to get off blocks and beat offensive linemen with my legs because I know each week the team is going to attack me in the run game," Phillips said. "Before Denzel got hurt, they'd look at him, look at me, and it's like, 'We're running at No. 31.'
"Now it's [linebacker] Jatavis Brown. They look at No. 57, look at me, and it's like, 'We're running straight at 31.' They've been doing it week in and week out, and we've won more times than not."
Perryman is 5-11, 240 pounds. Brown is 5-11, 221 pounds. What Phillips may lack in size, he has always made up for in heart.
"I've always had that chip on my shoulder," Phillips said of going undrafted. "It's a tag you never forget because the way you came up is different. They love the draft picks. Free agents, it's like, 'Yeah, whatever.' You were always on that side of it, so you knew how it felt.
"But I wouldn't change any of that because it made me the player and person I am right now. Going through that struggle, even if it was self-inflicted sometimes, it made me a better person, a better player overall. You can use rejection as motivation or a reason to stop. I used it as a reason to keep going harder."
---
Get our high school sports newsletter
Prep Rally is devoted to the SoCal high school sports experience, bringing you scores, stories and a behind-the-scenes look at what makes prep sports so popular.
You may occasionally receive promotional content from the Los Angeles Times.