Baker Mayfield has upstart Cleveland lit up in Browns
The Cleveland Browns aren't just turning around the ship, they're raising the Titanic.
The franchise that went 1-31 over the last two seasons is 2-2-1, improbably revived by No. 1 pick Baker Mayfield and a defense that leads the NFL with 15 takeaways.
The city, still reeling from the loss of LeBron James to the Lakers and its baseball club being unceremoniously swept from the playoffs, is giddy over a team that has gone to overtime in three of five games, and, with a couple of favorable bounces, could be 5-0.
"It's very, very exciting," said Mayfield, who will be at quarterback when the Browns play host to the Chargers on Sunday. "The energy in the stadium after a win, and with this team being so much different than it has been in years past, the city can feel that and they deserve that."
Terminal Tower, an iconic feature of the Cleveland skyline, will be lit orange Sunday, just as it is for every Browns home game. The 52-floor landmark was the world's second-tallest building when constructed in the 1930s, but — like the long-ago-dominant Browns — was eventually surpassed and dwarfed by the competition.
Lately, that glowing edifice has been the backdrop for too many selfies to count.
"Everyone is thrilled," said Matt Rinker, Terminal Tower's assistant property manager, of the mood in the city. "I'm 38, so I was a kid when the Browns last hosted a playoff game [in 1995]. I remember going to that game."
With the regular season just past the quarter point, it's premature to talk about the postseason. But the Browns, whose last playoff game was a road loss in 2003, certainly have created a buzz — and not just in Cleveland but around the league.
Their 12-9 victory over Baltimore last Sunday was their third overtime game of the season, tying them with the 2002 Buffalo Bills, 1995 Indianapolis Colts, and 1987 Green Bay Packers for the most such games in the first five games of a season since the overtime rule was instituted in 1974.
"We had just come back from an overtime game in Oakland, flew back, and here we are in an overtime game again," Browns coach Hue Jackson said. "The team could have said, 'Wait a minute, this is our third overtime game in five games.' If anything, their resolve was even stronger. It was like, 'Let's go find a way to win this.' Beating that team, getting that division win which we haven't done since 2015, was really rewarding to our guys.
"It's a signal to them that we are turning a corner. Is the corner turned yet? No, because we haven't done anything, we haven't qualified for anything, we've won nothing. But I think they know that if we keep working, if they do what we're asking them to do, that we'll walk out there every week with a sound plan offensively and defensively to give them a chance to go win. As a player, that's all you want."
Mayfield embodies the Cleveland resurgence. The former college walk-on rose through the ranks by constantly proving himself. He remains in that mode, because many people thought the Browns reached by choosing him first overall.
"It's been brick by brick for us, and it's been brick by brick for him," Jackson said. "At every turn, he's had to stack hard work on top of hard work to get where he wanted to be. I think our organization is doing the same. We've kind of put the past behind, and we're just trying to stack good days, good opportunities on Sundays or Mondays or Thursdays, whenever they come for our team."
In leading the Browns to victory last Sunday, Mayfield became the sixth quarterback drafted No. 1 overall to win his first career home start, joining New England's Jim Plunkett, Atlanta's Michael Vick, Houston's David Carr, Cincinnati's Carson Palmer and Indianapolis' Andrew Luck.
"My mentality was always you've got to work for it, no matter what the situation is," Mayfield said. "It doesn't matter if the situation is good or it's really ugly. You have to come to work every day. You've got to be that same person every day and just outwork the competition. That can go a long way.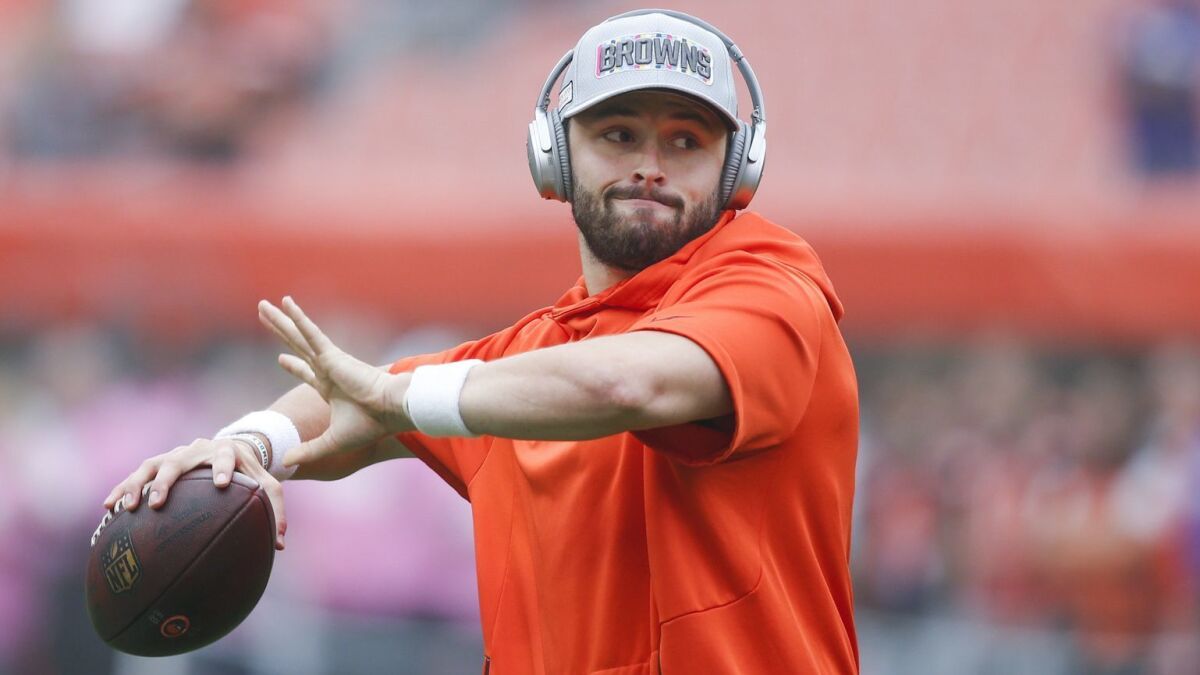 "In our situation here in Cleveland, it was about changing the culture. Making sure that everybody's on that same mind-set is very important."
The culture is changing with the team, and the city is changing with it.
"The last couple of seasons, I couldn't give away my Browns tickets," said Gus Angelone, who goes by "Pumpkinhead" and wears to games a maniacal jack-o'-lantern painted like a Browns helmet. "I sit in the front row, and I have probably some of the best seats in the house. Couldn't give them away. Now, I have people calling me, asking, 'When can I go to the game?'"
If the Browns keep rolling, that may be a long wait. At Terminal Tower, the lights are on. And at the football stadium below, there's finally somebody home.
Follow Sam Farmer on Twitter @LATimesfarmer
---
Get our high school sports newsletter
Prep Rally is devoted to the SoCal high school sports experience, bringing you scores, stories and a behind-the-scenes look at what makes prep sports so popular.
You may occasionally receive promotional content from the Los Angeles Times.