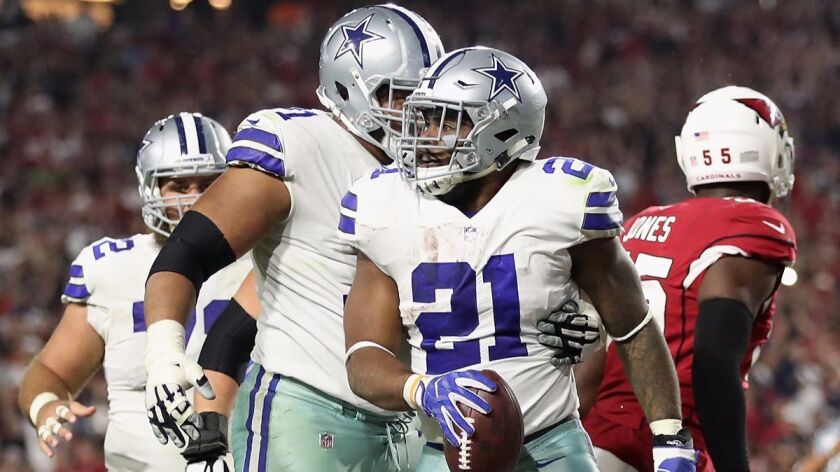 The meandering legal saga of Ezekiel Elliott took another turn Tuesday evening when the courts again cleared the way for the Dallas Cowboys running back to continue to play.
A federal judge in the Southern District of New York granted Elliott another temporary restraining order against his six-game suspension, meaning he can play Sunday at San Francisco.
It was the second temporary restraining order that worked in the favor of Elliott, the subject of a yearlong investigation by the NFL into domestic violence accusations. The decision comes five days after the 5th Circuit ruled 2-1 in favor of the NFL's appeal of a lawsuit by the NFL Players Assn.
The back and forth between the league and players' union began in August when NFL Commissioner Roger Goodell imposed a six-game suspension amid league findings that Elliott used physical force against former girlfriend Tiffany Thompson three times in a span of five days in July 2016.
The NFLPA then challenged the league's process in suspending Elliott and hearing his subsequent appeal. Elliott has played in the Cowboys' first five games while fighting the suspension, rushing for 393 yards and two touchdowns.
Said Tulane law professor Gabe Feldman, director of the university's sports law program: "The legal ping-pong continues. This is now the second federal district court judge who concluded that there are enough questions about the fairness of the NFL's disciplinary process to temporarily halt Ezekiel Elliott's suspension pending a more complete review of the case."
Feldman said the suspension could be reinstated after the originally assigned judge in New York has an opportunity to hear the case or eventually overturned on appeal.
"So Elliott isn't out of the woods yet," he said. "But the chances are growing that he may avoid serving his suspension."
Follow Sam Farmer on Twitter @LATimesfarmer
---