Eagles and Falcons square off in season opener after their playoff game left Falcons' fans asking 'what if?'
Reporting from philadelphia —
Seven months after the Super Bowl victory and Philadelphia Eagles fans are still painting the town.
In Center City, at toe-tingling heights, artist Meg Saligman is painting a 2,500-square-foot "Bringing It Home" mural featuring the team's Eagles logo.
Saligman and her team of four, hoisted into position by a massive crane that lifted them 100 feet up the side of a historic brick building, were about 70% finished with the mural as of Wednesday evening. They planned to use mining helmets to work through the night and all the way up to the start of the NFL's Kickoff Opener, when the Eagles play host to the Atlanta Falcons on Thursday night.
"Winning a Super Bowl has brought a heck of a lot of joy and pride to this city," said Saligman, a lifelong Eagles fan. "It's something that most everybody can share. It has an unbelievable, miraculous feel to it."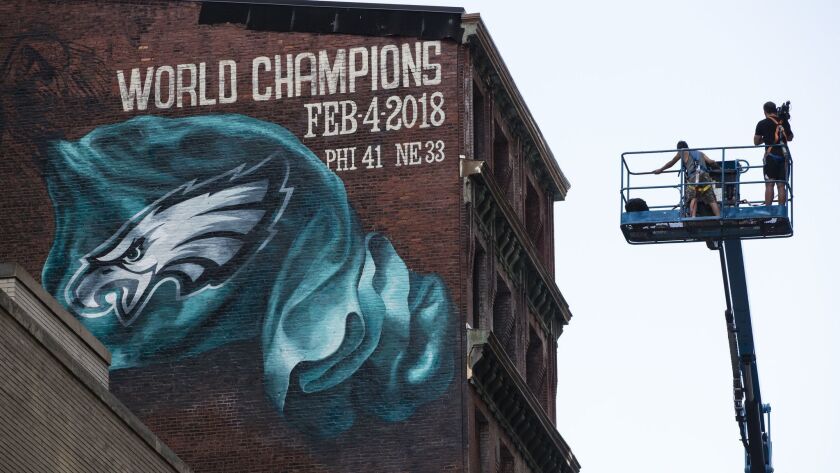 Some might forget that the entire season came down to a do-or-die play against the very opponent that's back in town. The Falcons, trailing by five in the waning moments of a divisional playoff game at Lincoln Financial Field, were two yards from the end zone but missed on a high fourth-down pass from Matt Ryan to All-Pro receiver Julio Jones, who had slipped on the play.
Philadelphia's dream could have died on the spot. No beating Minnesota in the NFC title game. No toppling New England in the Super Bowl. No Kickoff Opener. No mural.
"If this were the Kentucky Derby and you were looking for a sleeper in this race, it would be the Atlanta Falcons," said NBC's Cris Collinsworth, who will be in the broadcast booth for this game. "Not many people are talking about them, and yet they were so close to being the one that moved on against the Minnesota Vikings in the championship game."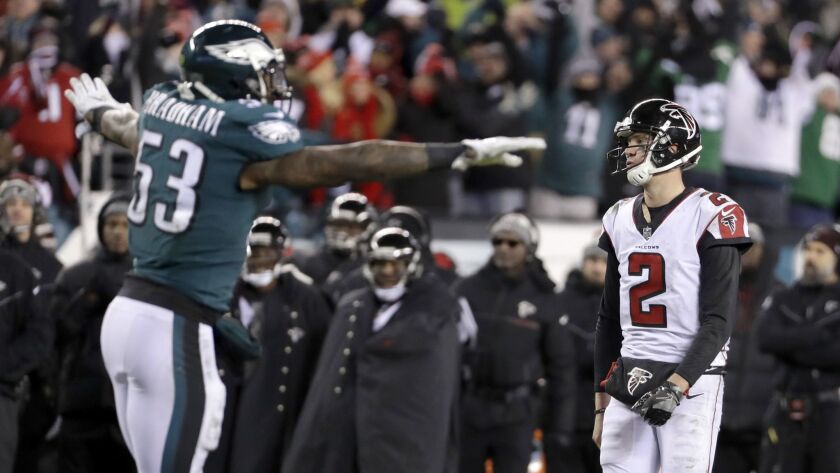 The midnight-green afterglow of victory is evident everywhere you turn, from the Super Bowl cups at Dunkin' Donuts to the Eagles posters on the lampposts (which read "Every fall we rise") to the giant championship banner that will be unfurled at Thursday's game.
"It's going to be great for the banner to be dropped," coach Doug Pederson said.
"I think with this football team, though, they understand this is a different season, it's a new team, new year. We're sitting here 0-0 with a great opportunity against a great opponent — a playoff, Super Bowl-caliber team coming in here. Quite honestly, that's their focus.
"They have moved on. It seems like these events sort of keep popping up for us to sort of reflect, which are great, I love them, because we're all part of it. But here's still a bunch of guys on this roster that didn't go through that."
This much hasn't changed: Nick Foles is still at quarterback while Carson Wentz continues to recover from the knee injury that cut short his season last December.
Recent history is on Philadelphia's side. The Eagles have won eight of their last 10 season openers, and six of seven. Ryan will be under more pressure from an Eagles pass rush that now includes Michael Bennett, the only NFL player to record a sack in each of his last four season openers. Teammate Fletcher Cox has recorded a sack in three consecutive openers.
The Eagles are an NFL-best 15-3 at home since the start of the 2016 season (counting playoffs).
The Falcons are in the second year of Steve Sarkisian's offense, with the former USC coach replacing offensive coordinator Kyle Shanahan. He helped get Atlanta to the Super Bowl two years ago before taking over last season as San Francisco's coach.
The team will be looking to get Jones more involved since the star receiver had just three touchdown catches last season.
Neither Jones nor star running back Devonta Freeman played in exhibition games, as Jones has a history of soft-tissue injuries, and Freeman had a bum knee at the end of last season.
Ryan, who attended high school at Philadelphia's William Penn Charter, is 1-5 against the Eagles in his old hometown.
Follow Sam Farmer on Twitter @LATimesfarmer
---
Get the latest on L.A.'s teams in the daily Sports Report newsletter.
You may occasionally receive promotional content from the Los Angeles Times.