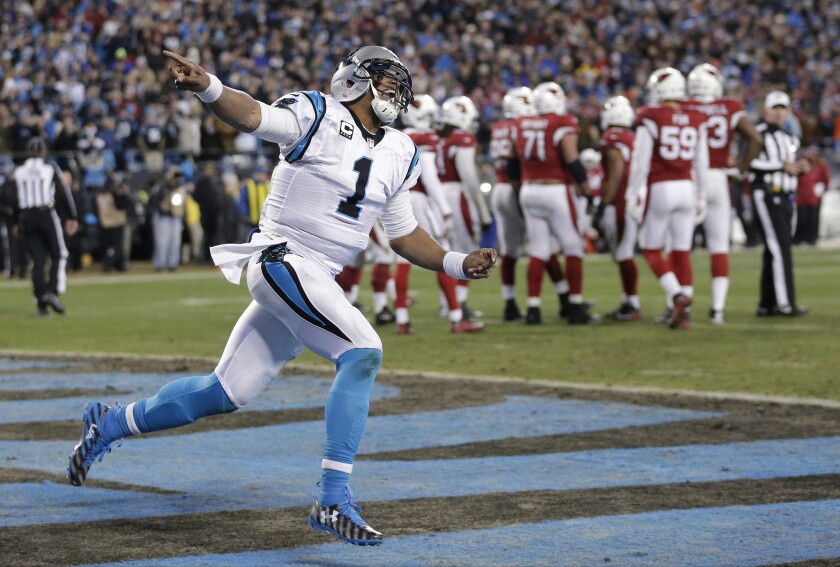 REPORTING FROM SAN FRANCISCO —
The Denver Broncos' biggest challenge, and key to a possible victory, in Super Bowl 50 will be their ability to stop or control Carolina Panthers quarterback Cam Newton.
At 6 feet 5 and 245 pounds, the fifth-year pro from Auburn produced a transformational season by combining pinpoint passing from the pocket and on the run, along with the ability to gain yardage on designed runs and scrambles.
If Newton continues to play the way he has while leading the Panthers to a 17-1 record, he could not only win a Super Bowl title but also eventually be on his way to the Pro Football Hall of Fame.
See the most-read stories in Sports this hour>>
The Times surveyed several Hall of Famers to find out how they would attempt to stop Newton.
Bobby Bell, linebacker/defensive end, 1963-74, Hall of Fame Class of 1983: "We've got to put somebody on him. You have to have somebody to say, 'Hey, that's your man. I don't care where he goes. He goes into the bathroom, you go with him.' …. He's like a little kid out there. He loves the game…. A lot of fans are saying, 'He's showboating. He's showing off.' He's not doing that. The fans love him, the players love him. He's not doing anything that [Hall of Fame quarterback] Joe Namath didn't do. He put on stockings and stuff like that and said, 'I tell you, I'm going to do this.' Same stuff."
Elvin Bethea, defensive end, 1968-83, Hall of Fame Class of 2003: "Keep him inside. That's how they have to operate…. That defensive line that Denver has? They're a great defensive line, but we're going to find out. They're No. 1. We'll find out if they're really No. 1 because those guys up front can make things happen. You have to keep Cam inside and the defensive backs have to play the game of their lives in order to force him to do things he doesn't want to."
Curley Culp, defensive tackle, 1968-81, Hall of Fame Class of 2013: "It's more about stopping the Carolina Panthers as opposed to stopping Cam Newton because it's a team sport.… If I'm playing in a three-man front, I'm over the center. You have to put pressure on Cam and try to keep him in the pocket…. I played against Fran Tarkenton running around and a strong big guy that sits in the pocket like a Joe Kapp. But nobody with the athleticism that Cam possesses. He's just a fantastic athlete."
Dan Fouts, quarterback, 1973-87, Hall of Fame Class of 1993: "You've got to pressure him. You have to pressure every quarterback. He's no different than anyone else, but when you get pressure on you've got to get him down ... (laughing). That's the problem."
Mike Haynes, cornerback, 1976-89, Hall of Fame Class of 1997: "If he throws his balls on time, I can cover, defensive backs can cover their guy and do a good job. But if he's outside the pocket and now the receiver can go anywhere to get open, that's a nightmare for DBs. He's been able to do that effectively, he's a great athlete. It's going to be tough to contain him. … As a defensive back, you're only as good as your pass rush. … They might be blitzing him a lot and really being aggressive. If they lay back and just let him run around, they're in trouble."
Willie Lanier, linebacker, 1967-77, Hall of Fame Class of 1986: "Anyone who is in the Hall of Fame looks at everybody else with reality: That it's not about how they might stop him. It was how they would deal with us. That's the reality. It doesn't take anything away from someone's experience or skill or ability. But the game is played by competitors, and competitors look at no one with any question about who the victor's going to be."
Dave Robinson, linebacker, 1963-74, Hall of Fame Class of 2013: "I'd try to spy him. Have someone spy on him because he's going to run and the most dangerous time is when it's third and 11, third and eight. … I'd tell the guys, 'If you think he's got the ball and he fakes it, hit him…. Don't get fooled. Maintain your outside position and keep driving him back to the middle and hit him.' …You've got to remember, when they start running, coming out wide, they're not a quarterback. They're not protected. They're runners. And you've got to treat them like a runner. That's hard to do because [officials] throw a flag in a heartbeat for a quarterback. But remember: treat them like runners."
Deion Sanders, cornerback, 1989-2000 and 2004-05, Hall of Fame Class of 2011: "Cam would have to beat me with his arm. He's not going to run out of there and beat me. … I'm going to double [tight end Greg] Olsen and I'm going to make these receivers earn this check… They're going to have to beat me, and [the Broncos] have two really good corners, three really good corners, so you're going to have to earn it."
Follow Gary Klein on Twitter @latimesklein
---