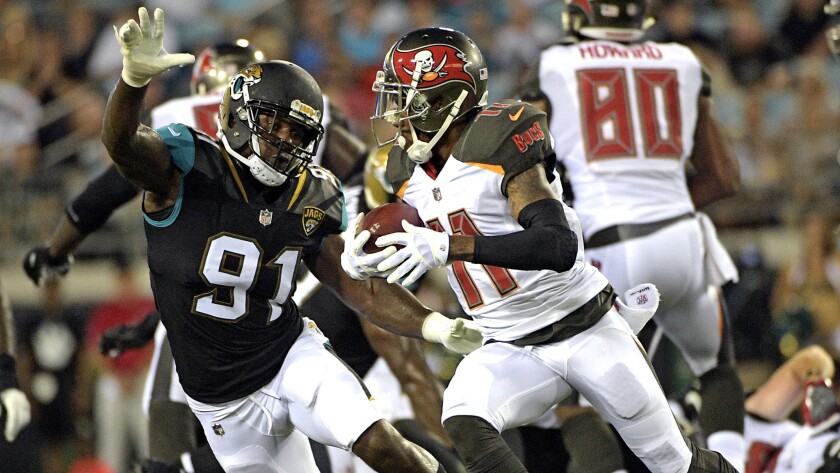 The Times' Eric Sondheimer selects an NFL All-Star team made up of players who did their high school apprenticeships in Southern California.
OFFENSE
Carson Palmer, quarterback Arizona Cardinals (Santa Margarita High)
The 2002 Heisman Trophy winner from USC is a three-time Pro Bowl honoree and will turn 38 during the final week of the regular season.
Shane Vereen, running back New York Giants (Valencia High)
Vereen helped the Patriots win Super Bowl XLIX in 2015 and will try to regain his health in his third season playing for the Giants.
DeSean Jackson, wide receiver Tampa Bay Bucaneers (Long Beach Poly High)
The three-time Pro Bowl selection moves from the Redskins empowered by a lucrative $33.5 million, three-year contract. He had 56 receptions last season for 1,005 yards.
Robert Woods, wide receiver Los Angeles Rams (Gardena Serra High)
It's a homecoming for Woods, who starred at USC and will return to the Coliseum after playing for the Bills since 2013. His speed and pass catching ability are supposed to help ignite the Rams' offense.
Marqise Lee, wide receiver Jacksonville Jaguars (Gardena Serra High)
Lee caught 63 passes and three touchdowns last season in his third year in the NFL when he was healthy. The former USC star is on the rise.
Marcedes Lewis, tight end Jacksonville Jaguars (Long Beach Poly)
Lewis is in his 12th season with the Jaguars and still catching passes and still making big blocks. The former UCLA standout exudes consistency and dependability.
Tyron Smith, offensive lineman Dallas Cowboys (Rancho Verde High)
He was the best offensive lineman in the nation at USC and nothing has changed in the NFL, where he sets the standard for excellence playing left tackle for the Cowboys.
Mitchell Schwartz, offensive lineman Kansas City Chiefs (Palisades High)
Known for his pass blocking skills and physical toughness, Schwartz has become a reliable blocker in the NFL after starting out with the Cleveland Browns in 2012.
Ryan Kalil, center Carolina Panthers (Servite High)
A five-time Pro Bowl selection, Kalil has been an NFL standout since taking over as the full-time starter at Carolina in 2008.
Matt Kalil, offensive lineman Carolina Panthers (Servite High)
Kalil signed a five-year, $55.5 million contract to join his brother on the Panthers' offensive line. When healthy, he's a Pro Bowl blocker. Was the fourth pick in the 2012 draft.
Kyle Murphy, offensive lineman Green Bay Packers (San Clemente High)
In his second year after being a standout blocker at Stanford, Murphy is ready to make an impact blocking for quarterback Aaron Rodgers.
Nick Folk, kicker Tampa Bay Bucaneers (Sherman Oaks Notre Dame High)
In his 11th season, Folk has made 81.3% of his career field goals. Last season, he was 27 of 31.
DEFENSE
Malik Jackson, defensive lineman Jacksonville Jaguars (Birmingham High)
Jackson became a standout with the Denver Broncos, making five tackles and falling on a fumble in the end zone during the 24-10 Super Bowl victory in 2016. Then he signed a $90 million, six-year contract with the Jaguars.
Brandon Mebane, defensive lineman Los Angeles Chargers (Crenshaw High)
Mebane was one of the Chargers' captains last season after spending 2007-2015 with the Seattle Seahawks. He fills holes up the middle on defense.
Jurrell Casey, defensive lineman Tennessee Titans (Long Beach Poly High)
Casey has 33 sacks since joining the Titans out of USC in 2011. He's a major representative of the more than 60 players from Long Beach Poly who made it to the NFL.
Datone Jones, defensive lineman Minnesota Vikings (Compton High)
After playing for the Packers since 2013, Jones joins the Vikings this season. He's known for his pass rush and hustle.
Clay Matthews, linebacker Green Bay Packers (Agoura High)
One of the league's best and most visible defensive players, Matthews enters his ninth season. He has 72 1/2 sacks in his NFL career.
Anthony Barr, linebacker Minnesota Vikings (Loyola High)
In his fourth season out of UCLA, Barr is becoming a much respected tackler and pass rusher in the NFL. He was once a running back in high school and uses his speed and versatility to create mismatches.
Malcolm Smith, linebacker San Francisco 49ers (Taft High)
After earning MVP honors in the 2014 Super Bowl with the Seahawks, Smith spent the last two seasons with the Raiders before signing a five-year deal with the 49ers. He knows how to cover receivers and make tackles.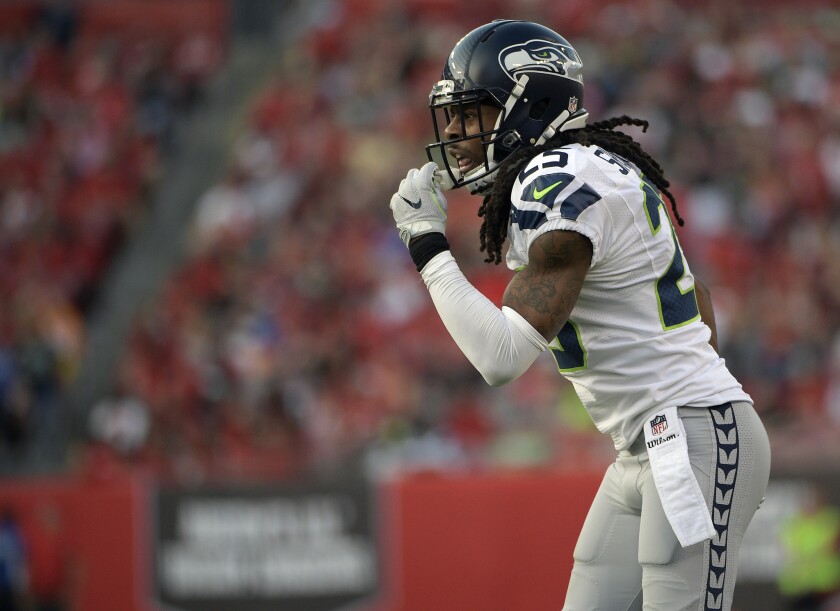 Richard Sherman, cornerback Seattle Seahawks (Dominguez High)
A four-time Pro Bowl selection, Sherman is the players receivers get to deal with to find out just how good they really are. His intelligence and toughness has earned him universal respect.
Orlando Scandrick, cornerback Dallas Cowboys (Los Alamitos High)
After missing the 2015 season with torn ligaments in his knee, Scandrick is back trying to give a boost to the Cowbys. He's in his 10th season
Chris Conte, strong safety Tampa Bay Buccaneers (Loyola High)
A third-round draft pick by the Bears in 2011 out of Cal, Conte has been making steady progress each season. He had 59 tackles last season and has 13 interceptions in his career.
Eric Weddle, free safety Baltimore Ravens (Alta Loma High)
A four-time Pro Bowl selection, Weddle spent 2007-15 with the Chargers before moving on to the Ravens and making four interceptions last season.
Bryan Anger, punter Tampa Bay Buccaneers (Camarillo High)
Anger signed a new five-year contract with the Buccaneers after averaging 45.9 yards per punt. He joined the NFL out of Cal in 2012.
---