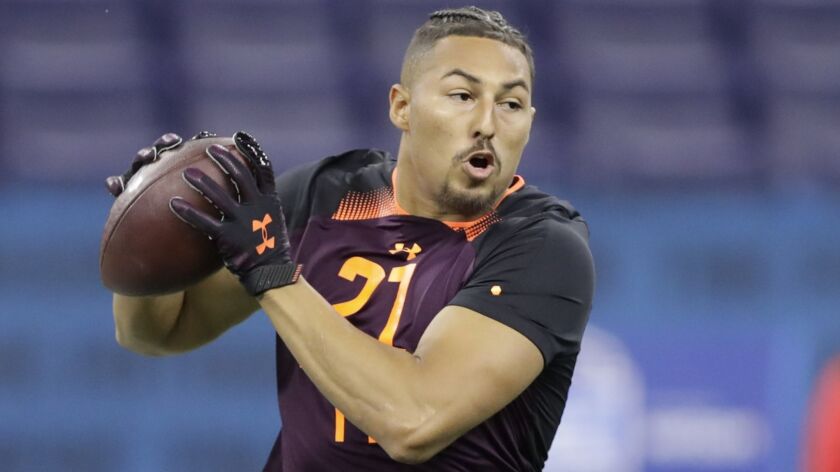 Reporting from NASHVILLE —
For USC and UCLA, the first NFL draft in Music City could make them feel like they're the subject of a forlorn country song.
Lonely, unwanted and without a dog in the hunt.
A year after quarterbacks Sam Darnold and Josh Rosen were among the first 10 players selected, their schools figure to be largely passed over in the early rounds.
This could be the first year in the Super Bowl era in which no players from USC or UCLA are taken in the first two rounds. The last time that happened was 1965.
That's not to suggest the cupboards are entirely bare of Bruins and Trojans prospects — the schools will be represented in later rounds — but this is nothing like 2018, when for the first time quarterbacks from both schools were taken in the same first round.
"I can't remember a year where both schools have been down this far, talent-wise," an NFL team personnel executive texted, communicating on condition of anonymity because he's not authorized to speak on behalf of his team.
"Scouts always look forward to visiting the California schools, knowing they will evaluate several players who can come in and immediately upgrade their current roster. This year is one of the rare exceptions."
There are several reasons for the simultaneous dips. Both schools have been through coaching changes, and that affects recruiting. There's the looming issue of players leaving early for the pros, which occurs everywhere. Then, there's the cyclical nature of it all, the ebbs and flows of talent.
It would be a significant surprise if someone from either school were selected in the first round, but the second round isn't entirely out of the question.
Among the players to watch are former USC tackle Chuma Edoga and linebacker Porter Gustin, and former UCLA tight end Caleb Wilson.
During last season, an NFL evaluator told The Times that Edoga has all the physical tools to be an outstanding tackle but left scouts wanting more — more consistency, more finish to his blocks.
"He probably won't be drafted as high as he should," the scout said. "He's a mid-round talent who might not go as high."
But Edoga was named lineman of the week at the Senior Bowl, despite switching from his familiar spot on the right side to left tackle at the request of scouts. Later, at the scouting combine, he addressed concerns about his maturity, including getting ejected from a game because of contact with an official.
"I just tell [NFL scouts], 'I was a young kid, I let my emotions get the best of me, I made mistakes,' " Edoga said. "But moving forward, I can't let them affect my future or who I am growing to be. So I am just taking that as a learning experience, chalking it as an 'L,' and keeping it in the back of my mind as I grow into a better man."
Scouts have heaped praise on Gustin for his desire and work ethic, but they're cautious because of injuries that derailed his last two USC seasons. It was a torn biceps and broken toe in 2017, and an ankle injury last season.
"A lot of people, for a decent reason, probably think I get hurt a lot and am kind of fragile," Gustin said at the combine. "When it comes down to it, it's really only two injuries — two really unfortunate injuries. … Bones just take a long time to heal. That's what happens, you miss a lot of games. It is what it is."
A lot of scouts see the 6-foot-4, 235-pound Wilson as a mid-round pick, with good size and skills but with his share of dropped passes in college.
USC safety Marvell Tell has sparked interest as well. Whereas some scouts see him going in an early round, others see him as a mid-rounder.
Among the more intriguing UCLA players in this class is one unlikely to be drafted. Punter Stefan Flintoft is regarded widely as a priority free agent, meaning he's likely to field multiple offers from teams in the immediate aftermath of the draft. His 45.8-yard average last season was fourth in school history, and he had a 70-yard punt against Fresno State.
Sign up for our daily sports newsletter »
Flintoft, who attended Los Angeles Loyola High, made the UCLA team as a walk-on and became a reliable performer. He will draw on that experience, he said, in starting the next chapter of his career. After all, it's not necessarily where you're selected in the draft, but what you do when you get to your new team.
"I like to say that because of my journey in college," he said, "I wouldn't be intimidated by having to compete against a veteran for a job on an NFL team. Everybody is counting you out, and you just have yourself and that drive to keep you going."
USC AND UCLA TOP PROSPECTS
TROJANS
Chuma Edoga, OT — Has the physical tools to be an NFL tackle. Needs to prove he has the dedication to get the job done. (Projection: Rounds 3-4).
Cameron Smith, LB — Scouts see him as a hard-nosed, two-down linebacker who can make a roster but needs to get better in coverage. (Projection: Rounds 3-5).
Marvell Tell, S — Although he wasn't quite as sharp last season as in 2017, he could go in an early round. He's got NFL potential and fluidity, but needs to get stronger. (Projection: Rounds 3-5).
Porter Gustin, LB — NFL teams love his heart and intensity, but a series of injuries in college push down his draft stock. (Projection: Rounds 4-7).
Iman Marshall, CB — Some scouts have questioned if he has enough speed to play man corner in the pros, project him as more of a safety or zone corner. (Projection: Rounds 4-5).
Toa Lobendahn, C — Has experience in four spots along the offensive line. That kind of versatility is appealing to NFL teams. (Projection: Round 7-free agent)
BRUINS
Caleb Wilson, TE — Good size and speed. Scouts like him but aren't blown away. He had some drops in college that give pause to NFL teams. (Projection: Rounds 3-5).
Andre James, OT — Made 32 consecutive starts for the Bruins, and has a good chance to make an NFL roster even if he's a third-day pick. (Projection: Rounds 4-6).
Adarius Pickett, S — One of the best tacklers in the Pac-12 Conference, Pickett figures to be a late-round pick or free agent. Special teams will help him make an NFL roster. (Projection: Round 7-free agent).
Stefan Flintoft, P — Went from walk-on to outstanding college punter. He'll be looking to climb that same ladder in the pros. (Projection: free agent)
Follow Sam Farmer on Twitter @LATimesfarmer
---