NFL steps back, says no agreement on new drug policy, HGH testing yet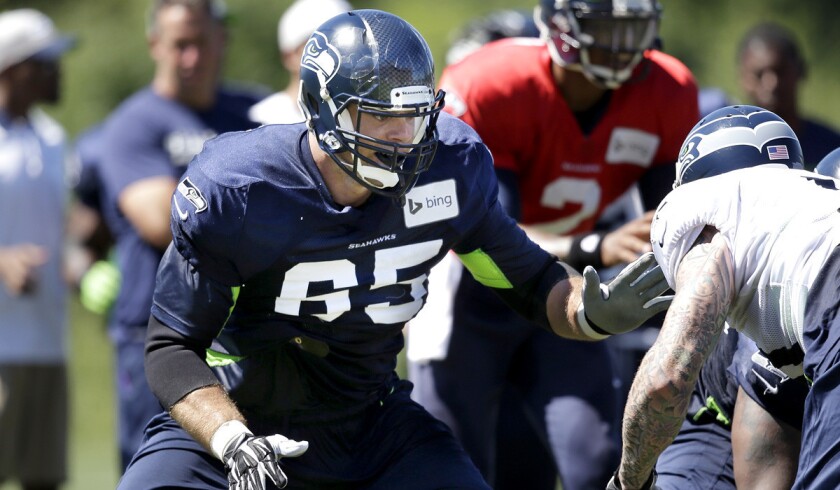 The long-awaited agreement on human-growth-hormone testing in the NFL …
Turned out to be a false start.
Hours after the NFL Players Assn. voted in favor of new testing rules, including for HGH, the NFL said the deal isn't done.
"We have not yet reached an agreement with the union," league spokesman Greg Aiello said in an email. "There continue to be significant unresolved issues."
Earlier Friday, the NFLPA announced in a news release that its board of representatives voted to approve new policies for both substances of abuse and performance-enhancing drugs.
If approved, the proposed drug policy would allow for retroactive reduction of some suspensions, among them those of Denver receiver Wes Welker (amphetamines), Dallas cornerback Orlando Scandrick (amphetamines), and Cleveland receiver Josh Gordon (marijuana).
Welker and Scandrick, both originally suspended for four games, would be eligible to return as soon as a new deal was approved. Gordon's suspension would be reduced from a full season to 10 games.
Players and the league originally agreed to HGH testing as part of the collective bargaining agreement signed in 2011, and they promised to work out the details as soon as possible. It remains unresolved, however, as players have balked at the science in the testing and the appeals process for positive tests.
In prematurely announcing the deal was done Friday, NFLPA President Eric Winston called the accord a "historic moment" for the players and the league.
"We have collectively bargained drug policies that will keep the game clean and safe, but also provide our players with an unprecedented level of fairness and transparency," Winston said in a written statement. "Players should be proud of their union for standing up for what was best for the game."
The proposed deal would mean an independent arbitrator would hear appeals for positive tests, with the league and the union jointly selecting, approving and paying for three to five arbitrators.
Players would have the right to challenge any aspect of the science of the HGH isoforms test, and the collection of blood specimens would be prohibited on game day.
Former NFL player Christian Fauria told The Times in 2013 that HGH use was a fact of life in the NFL, although he didn't say whether it was rampant or rare.
"I didn't realize it until my sixth year," said Fauria, who was playing for the Seattle Seahawks at the time. "Before that, everybody was taking ephedrine and creatine, stuff like that. Everything was legal, vitamins, supplements.
"But the HGH, I didn't really become aware of it until my ankles were jacked up. I started seeing guys like Olympic coaches, people who were training Olympic athletes. When I went to that elite level, I was like, 'Whoa! There's another world out here.' I was like, 'This is what they do? Holy cow!'"
It was then, he said, that he became aware of HGH use by fellow players.
"I know guys who did it, and I remember saying, 'This guy is going to the Pro Bowl! He's shredded! Massive!'" he said. "Sure enough, they'd get hurt the next year. It had something to do with guys' muscles getting so big that their tendons couldn't hold them. They were pulling their hamstrings, tearing their muscles. It was a train wreck.
"I was one of those guys who said, 'No way. Nobody's doing it.' And then I just remember playing against some guys who will remain nameless, and I remember going, 'This is a joke.' Because I remember working my tail off, harder than I ever did before. My energy wasn't as high. My strength — which I thought was high — wasn't. And I remember sitting there going, 'I am running uphill in a snowstorm with no shoes.' That's what I felt like."
HGH testing wouldn't be the only aspect of the proposed new rules. Under the new policy, if a player were to test positive for amphetamines during the off-season — as Welker and Scandrick did — those infractions would be evaluated under the substances-of-abuse policy (as opposed to performance-enhancing drugs) and carry no suspension for first-time offenders. During the season, those are considered performance-enhancing drugs with the associated suspensions.
The proposed policy also would raise the threshold for a positive marijuana test. Some players have complained it is currently so low that anyone in the vicinity of people smoking marijuana could test positive.
Under the current rules, a third violation of the substance-abuse policy resulted in an indefinite ban, with the chance to apply for reinstatement after a year.
But the proposed rules — which would retroactively apply to players such as Gordon — impose a two-week fine for a first violation, a four-week fine for a second, a four-game suspension for a third, and a 10-game ban for a fourth. Gordon has tested positive for marijuana on multiple occasions.
Follow me on Twitter: @LATimesfarmer
---
Get our high school sports newsletter
Prep Rally is devoted to the SoCal high school sports experience, bringing you scores, stories and a behind-the-scenes look at what makes prep sports so popular.
You may occasionally receive promotional content from the Los Angeles Times.