Jersey swapping has become a thing at the end of NFL games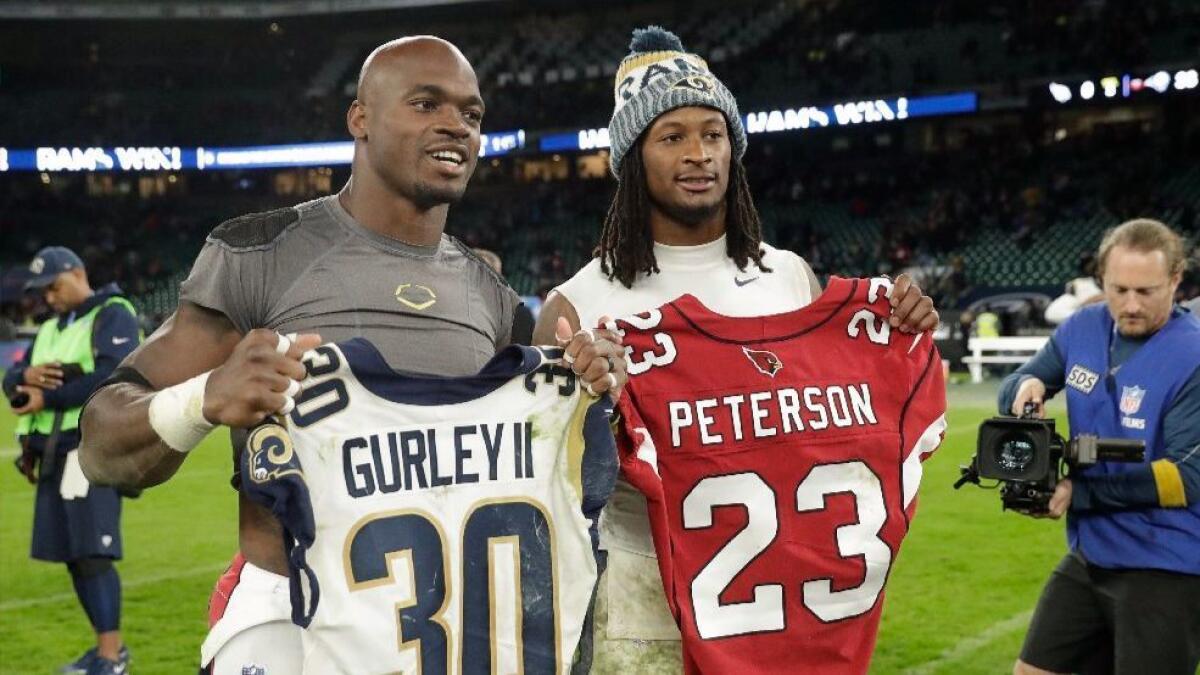 Two opposing NFL players will battle for four quarters, mortal enemies going from snap to whistle in an effort to upstage and upend each other. Then, when the game ends, they'll peel off their jerseys and exchange them.
Are they traitors or merely traders?
Depends on whom you ask.
"Even if fans don't want to hear it that way, it shows the mutual respect players across the league have for each other," Rams tackle Andrew Whitworth said after a recent game at Jacksonville. "We know how special it is, what we get to do for a job."
On this particular Sunday, Whitworth swapped jerseys with Jacksonville Jaguars offensive lineman Cam Robinson. The two attended the same high school in Monroe, La., even though they're separated in age by 13 years. Imagine that, two left tackles playing in the same NFL game with the same tiny alma mater.
That's a common reason that prompts players to do a jersey swap. They went to the same high school or college, or sometimes they were pals on the same NFL team. It's a relatively new phenomenon, this postgame switcheroo, a ritual probably co-opted from the other "futbol" world, where soccer players have been exchanging jerseys for decades.
Different NFL teams have different policies about the practice. Some clubs require players to pay for their extra jerseys, which can cost roughly $300 each, and want them to give the equipment staff a heads up if they are going to swap. The Jaguars, for instance, prefer a player order extra jerseys before the start of the season so he has a stockpile to distribute.
"If you don't tell them you're going to do it, they get kind of upset because they only have one extra jersey for you in case something happens," said Jaguars defensive lineman Calais Campbell, who made the switch with Rams running back Todd Gurley.
"I wanted to get Todd Gurley's jersey when he's still young and I can still get it," he explained. "After a while, it's going to be worth too much."
A week later, Gurley would swap with Arizona Cardinals running back Adrian Peterson.
These aren't the kind of jerseys you can buy off the rack at a sporting goods store. They're typically specialized and fitted. The Baltimore Ravens, for instance, have six seamstresses on retainer, and it can take 10-12 hours to get a jersey for quarterback Joe Flacco tailored. In many cases, a player might have two jerseys in each color — home, away, alternate style and color rush.
Naturally, some pelts are very much in demand. Denver Broncos linebacker Von Miller's jersey is coveted and, the story goes, he has so many framed jerseys from around the league that he has to rotate them gallery-style at his home.
Rams defensive tackle Aaron Donald collected a bunch of opposing jerseys during his first two years in the league, so many that he has pumped the brakes now and doesn't swap nearly as much.
Donald is one of those players who often fields multiple requests from opponents before, during and after games. Of course, he has but one jersey to give.
'Sometimes guys will ask for your jersey but you've already given it to somebody else," he said. "So you have to send them one."
But for most players, it's key to get a game-worn jersey, and the best way to do that is to collect it on the field after the clock expires and before heading to the locker room. That's an issue that hounded New York Giants quarterback Eli Manning the last few years, with a lawsuit filed in 2014 accusing him of trying to pass off phony game-worn gear as real.
Rams defensive lineman Michael Brockers said he'd like to swap jerseys more often, but half-jokingly said he can't find anybody who wants his.
"When people want your jersey it's easy to swap, but when nobody wants yours it's like 'Uh, uh, uh… OK,' " Brockers said with a laugh, mimicking a man unsuccessfully trying to hail a taxi cab.
When they talk about finding a jersey-swap partner, some players sound like nervous teenagers in search of a homecoming date.
"I always want to swap, but I'm one of those guys that's kind of scared to ask," Jaguars linebacker Myles Jack said. "I'd ask the question but maybe they might not want to swap with me, and if they said no …"
One player who knew the routine well was All-Pro receiver Steve Smith Sr., who played 16 seasons with the Carolina Panthers and Ravens, amassing Hall of Fame-worthy credentials. Opponents didn't just ask for his jersey, but any memorabilia he had.
"I would have three or four guys asking me for stuff throughout the game," said Smith, now an NFL Network analyst. "It was very psychological for me. I felt like guys were doing that to soften me up when I'd go against them.
"I had a guy one time on the second play of the game ask me for my gloves. It actually threw me off, and it actually worked. There were a few times when I could have blown him up, and I didn't because I kind of felt bad if I did. He had just told me I was his favorite player, a guy he looked up to."
Then again, they might not have gotten a hand on him, but at least they wouldn't go home empty-handed.
Follow Sam Farmer on Twitter @LATimesfarmer
Get our high school sports newsletter
Prep Rally is devoted to the SoCal high school sports experience, bringing you scores, stories and a behind-the-scenes look at what makes prep sports so popular.
You may occasionally receive promotional content from the Los Angeles Times.