NFL owners vote to allow cross-ownership in cities with football teams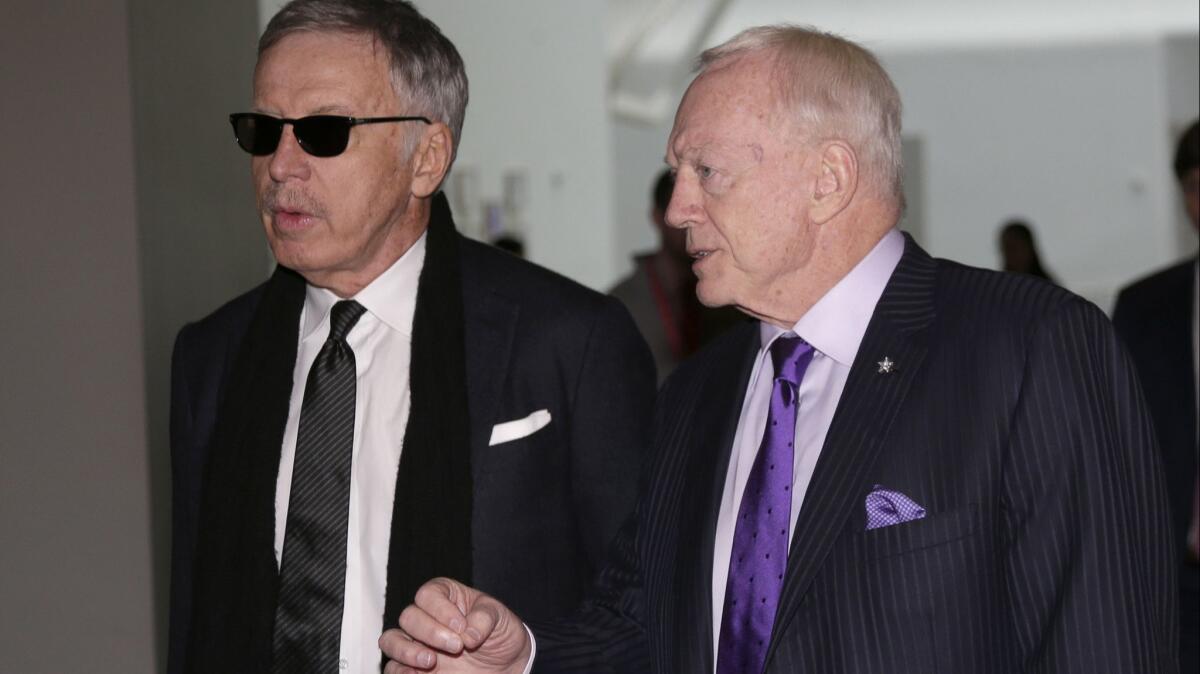 Reporting from new york —
NFL owners voted Tuesday to lift the longstanding cross-ownership prohibition, meaning they are now free to own a different professional sports team in cities that have an NFL team. That change, approved at the league's annual fall meeting, could have a significant impact on the sports landscape.
The rule, in place for decades, prohibits owners of NFL teams from owning professional baseball, basketball, or hockey teams in other NFL markets. A big reason it was put in place was so that fellow NFL owners, partners in the league, were not pitted against each other and competing for the same sports dollar.
It's why, for instance, Rams owner Stan Kroenke had to put the Denver Nuggets and Colorado Avalanche in a family trust rather than run those franchises himself. The NFL didn't want him going head to head with Denver Broncos owner Pat Bowlen in that city, elbowing each other for the loyalty of fans.
But it was acceptable to the NFL that, say, the late Paul Allen owned both the Seattle Seahawks and Portland Trail Blazers, because those teams are in what the NFL considers to be the same market.
"It was long coming, and great," Dallas Cowboys owner Jerry Jones said of the rule change. "Particularly with Stan and his interests. I'm proud for Los Angeles, because we actually benefit from that input from these owners that are involved in other leagues."
There are various reasons for the push to lift the cross-ownership restrictions. Many owners believe those had outlived their usefulness, and that the NFL is capable of standing on its own, as opposed to wringing its hands over competition from the NBA, NHL, or Major League Baseball.
And there's more. NFL teams have gotten so expensive — Forbes estimates the Cowboys are worth $5 billion — that the universe of people who can afford them is minuscule. Remember, a controlling owner must have a minimum of 30% equity in a team, and there are firm debt limits in place, so those owners have to have piles upon piles of money. The NFL doesn't allow corporations to own teams.
There's a theory that the Carolina Panthers, who were sold earlier this year for about $2.3 billion, could have commanded a higher price had the field of potential buyers been bigger. There reportedly were some NBA owners interested in the team who couldn't participate in the bidding because of NFL rules.
Allen, co-founder of Microsoft, died Monday at age 65 after a lengthy fight with cancer. He had no wife or children, but he had to have a succession plan for the Seahawks. The NFL requires those of every owner. The Seahawks are expected to inform the public of that plan soon. The team could be transferred to his sister, Jody, according to various reports.
If the Seahawks were to go up for sale at some point, the NFL's lifting of the cross-ownership restrictions could pave the way for a potential buyer such as Clippers owner Steve Ballmer. That's a hypothetical, but not outside the realm of possibility.
What's more, with the relaxing of the rules, current NFL owners are free to go baseball, basketball or hockey shopping in other markets. Theoretically, they could tell the president of their NFL team, "Oh, you'll be running an NBA team in your spare time." Or have their stadium architects drawing up plans for a hockey venue across the country.
Historically, the interest has been there from NFL owners. Lots have kicked the tires on owning other franchises, including Kroenke bidding on the Dodgers when the Rams were still in St. Louis.
On the surface, all that might not matter to NFL fans. But if you believe that winning begins with ownership — and a lot of people do — then any adjustment in those rules could make a difference for some teams. Maybe people who own teams such as the Boston Red Sox, San Antonio Spurs, or Pittsburgh Penguins have some fresh ideas the NFL could import.
An infusion of new blood in NFL ownership, or at least the potential for that, could be a change for the better. Or it could be that an existing NFL owner is no longer transfixed by his football team, and is more interested in pouring time and resources into a shiny new NBA bauble.
The change could be good or bad, and now we'll find out.
Head games
There was a lot of talk before the season about how the NFL's new rule prohibiting players from lowering their helmet to initiate contact would change the game. That chatter increased when there were 51 such flags in the first 33 exhibition games.
But, as the competition committee informed owners Tuesday, there have been only six such penalties called through the first six weeks of the regular season. Additionally, there have been 10-12 fines for that infraction — some of which weren't flagged — and close to 70 "warning letters" sent to players for venturing too close to that line.
One play that was neither flagged nor fined was the hit on Rams receiver Brandin Cooks by Seattle safety Tedric Thompson. Cooks sustained a concussion on the play, which appeared to be a blatant helmet-to-helmet infraction.
Troy Vincent, the NFL's vice president of football operations, said he and others studied that play in slow-motion and determined that Thompson didn't lower his head to initiate contact.
"We did speak with the defender in a letter just to ask, just to make sure," Vincent said. "We did see shoulder in, but there was incidental [helmet] contact."
Safety rules
According to the NFL, there was a 13% drop in concussions during the preseason from a year ago. There were 79 concussions suffered by players in practices and exhibition games this summer, down from 91 in 2017.
"We are cautiously optimistic about that result," said Allen Sills, the NFL's chief medical officer. "Certainly we're pleased to see that number go down. We know we've still got a lot of work to do."
There were zero concussions on kickoffs, down from three in the 2017 preseason, and there has been a significant increase in players wearing better-performing helmets when it comes to safety effectiveness.
Follow Sam Farmer on Twitter @LATimesfarmer
Get our high school sports newsletter
Prep Rally is devoted to the SoCal high school sports experience, bringing you scores, stories and a behind-the-scenes look at what makes prep sports so popular.
You may occasionally receive promotional content from the Los Angeles Times.