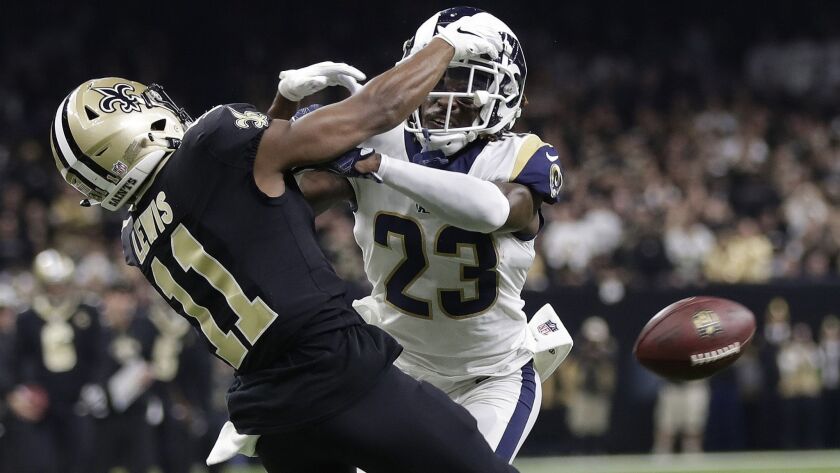 Reporting from Phoenix —
NFL owners will look this week at expanding instant replay to include some penalties, but not at non-calls — the situation that caused such a stir last season in the NFC championship game between the Rams and New Orleans Saints.
The league's competition committee, which has met three times since the Super Bowl to discuss possible rules changes, has proposed making pass interference, roughing the passer, and illegal hits on defenseless players subject to replay review.
However, the concept of allowing coaches to challenge calls that aren't made isn't currently on the table. That was the complaint the Saints had in the conference title game, when officials failed to call pass interference on the Rams' Nickell Robey-Coleman, despite his clear interference with New Orleans receiver Tommylee Lewis late in the game.
"In all our discussions, there's been a real reluctance to putting a foul on the field," said Troy Vincent, the NFL's executive vice president of football operations, who will participate in continuing discussions at the league's annual meetings in Arizona, which run Sunday through Wednesday.
Making changes to replay is typically a tortured process, and many team owners are staunchly against such tweaks to the system.
"We have a lot that's reviewable in the game and not that excited about adding to that list," Pittsburgh Steelers President Art Rooney II said in a recent interview with his team's beat writers. "I would not want to see the length of the game be expanded. We need to continually go in the other direction. If anything, try to shorten the game a little bit. It really is the pace of the game… that's something we have to keep in mind."
Any rules change requires 24 votes among 32 teams to be ratified.
Sign up for our daily sports newsletter »
Atlanta Falcons President Rich McKay, chairman of the competition committee, said there has been "no support from any committee member" for putting an eighth official in the press box — a so-called sky judge — to assist the seven officials in making calls on the field.
The NFL will continue experimenting with an eighth official on the field for exhibition games, as it has the last two summers.
The Kansas City Chiefs have proposed a change to overtime rules that would guarantee both teams at least one possession in the extra period.
In a conference call with reporters last week, McKay listed several statistical positives from the 2018 season.
Among them, the season featured the most touchdowns in league history; the top four scoring teams all reached the conference championship games; there were 35% fewer concussions on kickoffs because of new rules on that play; and the average game length was about four minutes less than in 2015, meaning pace of play has improved.
Follow Sam Farmer on Twitter @LATimesfarmer
---