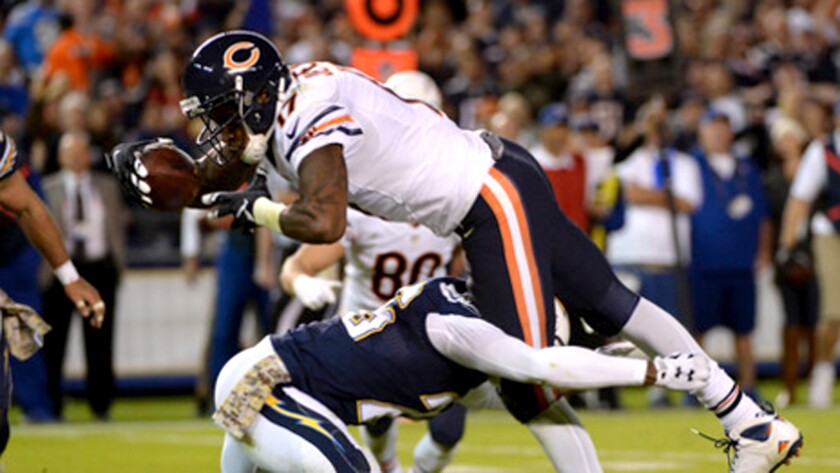 Chicago Bears receiver Alshon Jeffery was listed as doubtful for Sunday's game against Tampa Bay because of a hamstring injury.
Jeffery was hurt in last week's loss to Minnesota. The Bears' top receiver has played in only nine games this season because of a variety of injuries.
Chicago (5-9) also listed linebacker Shea McClellin as doubtful because of a concussion.
Former Colts running back arrested
Former Indianapolis Colts running back Zurlon Tipton Jr. was arrested early Christmas morning for allegedly firing a gun outside a suburban Indianapolis home, according to police.
The Indianapolis Star reports (https://indy.st/1kjFVTk ) that Tipton was charged with criminal recklessness with a deadly weapon in connection with the incident, which occurred about 1 a.m. outside his girlfriend's home, according to a news release from the Greenwood Police Department.
Tipton told police he was at a party when he received threatening text messages from his girlfriend's ex-boyfriend that indicated the woman was going to be harmed. Police said Tipton and another man drove to the woman's home, and he fired one round from an AR-15 assault weapon while in the driveway, incorrectly believing the ex-boyfriend was in the home.
Etc.
Tennessee Titans rookie Marcus Mariota is holding out hope he can play in Tennessee's season finale Jan. 3. A sprained right knee has sidelined him for Sunday's home game against Houston. This will be the third game the No. 2 overall draft pick out of Oregon and Heisman Trophy winner has missed after spraining his left knee in October.
"If I feel great, I look forward to playing in the last game," Mariota said. "We'll take this week and get healthy as much as I can, and see what it feels like on Monday, and go through the evaluation process. And if I feel ready to go and I can do it, I will definitely be out there on the field."
Cornerback Dee Milliner is doubtful for the New York Jets' game against the New England Patriots on Sunday with a strained hamstring. Milliner did not practice this week after being hurt in the Jets' 19-16 victory at Dallas last Saturday. ...
Defensive tackle Markus Kuhn (knee) and linebacker James Morris (quad) were placed on injured reserve by the New York Giants. The Giants signed two players from their practice squad, defensive end Brad Bars and tight end Matt LaCosse.
---