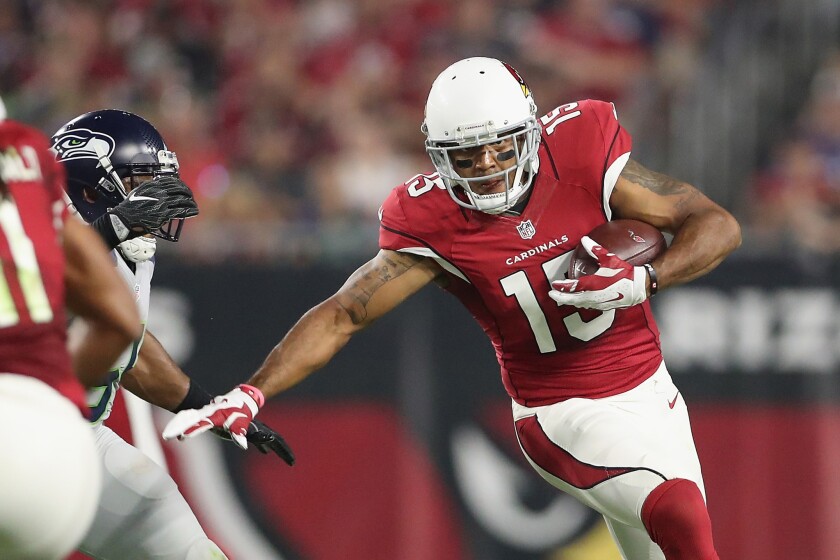 The New England Patriots claimed wide receiver Michael Floyd off waivers Thursday, one day after he was released by the Arizona Cardinals.
Floyd's agent Brian Murphy confirmed the move.
Floyd, Arizona's first-round draft pick in 2012, was released by the team two days after he was arrested on suspicion of driving under the influence and failure to obey a police officer.
The 6-foot-2, 220-pound receiver gives Tom Brady a big, experienced target. Floyd hasa down season, but he had five 100-yard receiving games last season.
Floyd had 33 catches for 446 yards and four touchdowns with the Cardinals this season but had several critical drops.
The Patriots have been hit by injuries to their receiving group, including star tight end Rob Gronkowski.
Giants may have broken radio rule
The New York Giants may have violated an NFL rule by using a radio briefly during Sunday night's win over the Dallas Cowboys.
Giants Coach Ben McAdoo was shown on television using a walkie-talkie on the sideline during the fourth quarter of New York's 10-7 victory.
The league has a policy that prohibits coaches from using a radio during a game because he would not be cut off from talking when the switch operator for the coach-to-player helmet communication system is supposed to cut off communication. That happens when the play clock reaches 15 seconds or when the ball is snapped.
McAdoo used the walkie-talkie for about five plays after his communications system appeared to go down. He was given the radio after someone on the sideline realized the radio signal was reaching quarterback Eli Manning.
Vikings' Peterson won't play Sunday
Running back Adrian Peterson's return to practice has brought much optimism to the Minnesota Vikings late in the regular season.
He has been wearing a brace supporting the right knee, which underwent meniscus surgery earlier this season. Peterson and the Vikings (7-6) are tempering any thought of a swift return for this Sunday against Indianapolis.
Speaking on Thursday for the first time since returning to practice, Peterson didn't hold firm to any return date, but acknowledged his hope of being back on Dec. 24 against the Green Bay Packers.
"That was the goal I had set for me, so I'm just going to continue to take it one day at a time," Peterson said.
Etc.
Carolina Panthers Coach Ron Rivera said an MRI exam on quarterback Cam Newton's right shoulder revealed no serious damage and he anticipates the 2015 league MVP will play Monday night against the Washington Redskins. ... Cleveland Browns offensive lineman Alvin Bailey was suspended without pay for two games by the NFL for a substance violation. ... The Detroit Lions claimed defensive end Corey Lemonier off waivers a day after he was released by the Cleveland Browns.
---