L.A. could be a winner in debate over funding for St. Louis stadium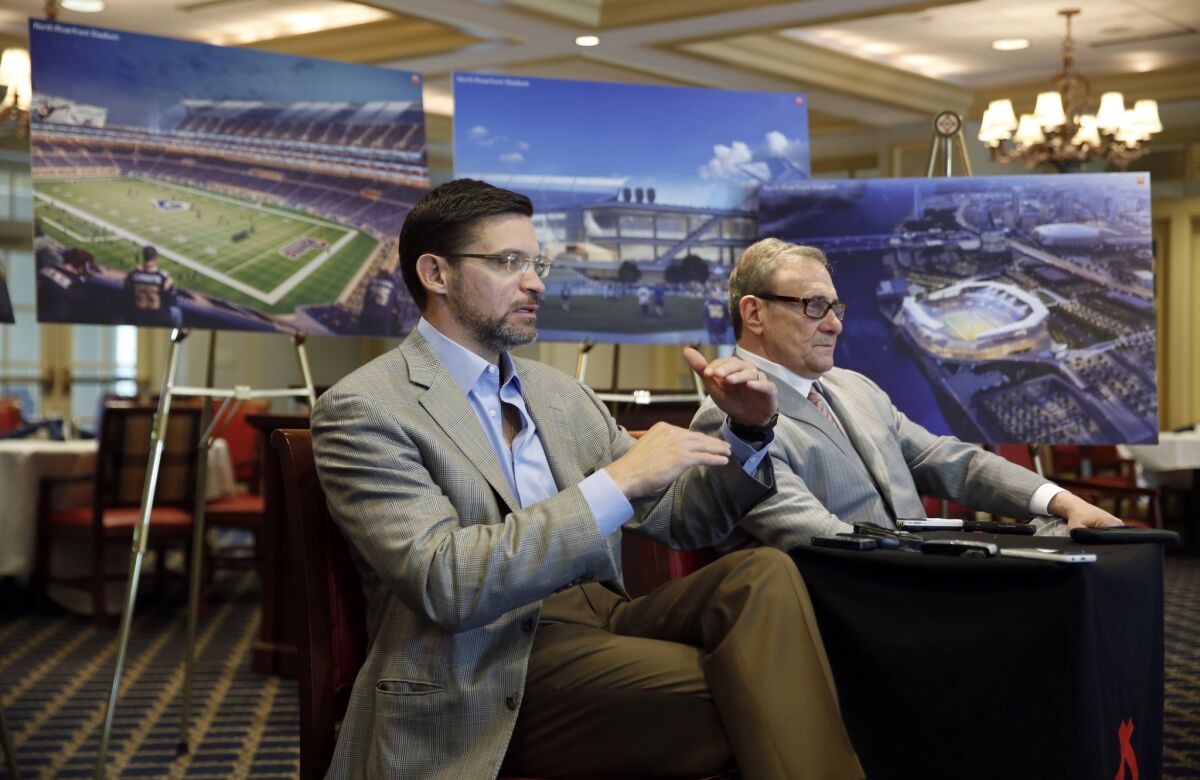 As St. Louis works to keep up in the NFL's fast-moving relocation derby, a debate is brewing over how much say taxpayers should have over the use of their money for a new football stadium.
Nine of St. Louis' 28 aldermen signed a letter Friday calling for a public vote before any city tax money is dedicated to the nearly $1-billion stadium proposal. Conversely, the public group that owns and operates the current stadium has sued the city in order to prevent a vote.
The debate is a sharp contrast to the quick — and nearly unanimous — approvals of privately-financed stadiums in Inglewood and Carson. A vote in St. Louis would delay, and perhaps kill, a new stadium plan, increasing the odds that the Rams move to Los Angeles.
Since Rams owner Stan Kroenke unveiled his Inglewood plan in January, a task force appointed by Missouri Gov. Jay Nixon has been moving ahead on a stadium proposal of their own, to keep the Rams or, if necessary, lure another NFL team to St. Louis.
The task force has since released renderings of a $985-million open-air stadium on the banks of the Mississippi River and designed a financing plan split about 50-50 between public and private money. The bulk of the tax dollars would come from an extension of $24 million a year in bond payments the state, city and suburban St. Louis County make toward the now-obsolete Edward Jones Dome, which was used to lure the Rams 20 years ago.
NFL executives — who have met several times with the task force — have been supportive, with Commissioner Roger Goodell praising their progress and Patriots owner Robert Kraft saying the league has an "obligation" to keep a team in St. Louis if there is a new stadium. At the same time, the league may speed up the clock, with Goodell saying he could accept relocation applications as soon as this fall.
The news triggered a lawsuit by the St. Louis Regional Stadium Authority, seeking to overturn an ordinance passed by voters in 2002 that requires a public vote before the government can give assistance — such as money or land — to a sports stadium. Stadium backers say that law doesn't apply here because their plan would simply extend the city's current $6 million a year in bond payments, not add any new costs. Their lawyers say the measure is "broad, vague and ambiguous" and asked a judge to throw it out.
"To finalize our proposal in the accelerated time frame required by the NFL, it's important to obtain legal clarity quickly," said David Peacock, co-chair of the stadium task force.
St. Louis' mayor, a stadium supporter, has promised to "vigorously defend" his city's ordinance on the vote. Yet, three residents, one a former state representative who helped propose the measure in 2002, have filed to intervene in the case.
"We think we're the only ones who can actually defend this law," said John Amman, their attorney and a law professor at St. Louis University. No hearings have been set.
The governor and his allies have made other moves to help find financing. Measures that would have called for a vote of Missouri's General Assembly before it extended its $12-million share of stadium bonds were defeated, meaning Nixon can authorize payments as part of the state budget. And when officials in suburban St. Louis County, which pays $6 million a year, said they'd ask voters before helping to fund a new stadium, they were dropped from the plan.
Even if a judge overturns the ordinance requiring a vote in the city of St. Louis, aldermen would have to approve their piece of any financing plan.
The letter's author, Scott Ogilvie, said he suspects more aldermen would join, clarifying that there's a difference between seeking a vote and opposing the stadium.
"This letter is not putting a stake in the ground that we're against a stadium, or against a subsidy," he said. "It's really just saying we should follow the law. If you want a stadium and a subsidy, put it to the voters and make a case for it."
The task force had no comment.
If the stadium subsidy came to a vote, Ogilvie said he wouldn't be surprised if it passed and a "yes" from the public would make a strong statement to the league. Stadium proponents, too, say they're confident they could win a vote, though a spokesman for the task force said they've done no polling.
Twitter: @bytimlogan
Times staff writer Sam Farmer contributed to this report.
Get our high school sports newsletter
Prep Rally is devoted to the SoCal high school sports experience, bringing you scores, stories and a behind-the-scenes look at what makes prep sports so popular.
You may occasionally receive promotional content from the Los Angeles Times.