Troy Aikman calls more plays as broadcaster than NFL quarterback, but he delivers just the same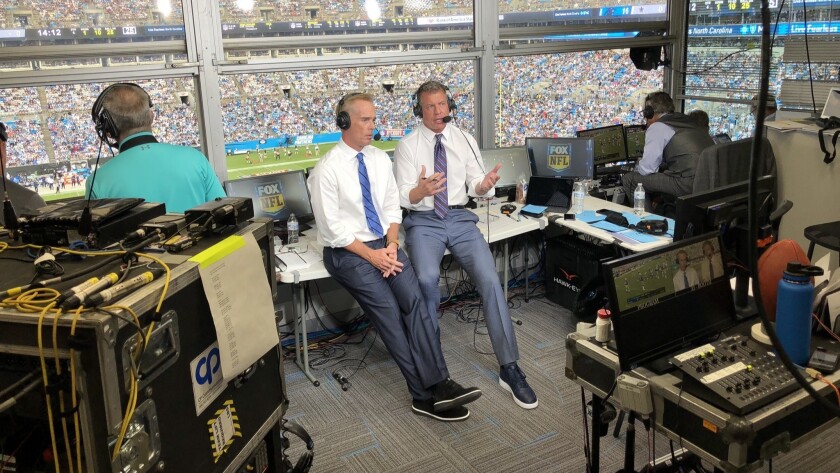 Reporting from charlotte, n.c. —
Nearly 18 years after his Hall of Fame playing career ended, Troy Aikman is still dropping back into shotgun.
The former Dallas Cowboys quarterback, in the Fox broadcast booth, stands high above the field at Bank of America Stadium. He's wearing a dress shirt, tie, and headset. His hands reach toward a bank of monitors, and he subconsciously shifts from side to side, as if about to take a snap. His eyes constantly survey the field as his old team takes on the Carolina Panthers in an NFL season opener. The windows are open and the crowd is rocking.
To Aikman's left is play-by-play man Joe Buck, his broadcast partner for the last 17 years. Between them, and always within reach, is an open can of bar nuts. Buck jokes that they "lead the league in nuts and gum."
"Problem is," Aikman says off-air, "both of us constantly are trying to watch what we're eating. I can blow through this whole can in one game. It's honey-roasted."
Sustenance will be especially key this year, with a new challenge. Buck and Aikman will double their workload by covering Thursday night games as well as their usual Sunday national game. Fox will pay the NFL $3.3 billion to take over the Thursday night package for the next five years, starting Sept. 27 when the Rams host the Minnesota Vikings. (NFL Network aired this week's Thursday game, and will do so again in Week 3, with Buck and Aikman working both.)
A national audience hears and sees Buck and Aikman, along with rules expert Mike Pereira and sideline reporter Erin Andrews, but there's an army of Fox employees behind the scenes. The network is issued 125 credentials for a typical game. Pereira sits to Aikman's right, and between them is a spotter who silently scribbles notes and statistics on blue cards — third-down efficiency, time of possession, turnover differential — and flashes them to Aikman.
Aikman, who was the No. 1 pick in the 1989 draft after his senior season at UCLA, retired as a player after the 2000 season. He has been a broadcaster longer than his college and pro careers combined.
He deftly manipulates the rewind knob on one of his monitors, sometimes before the play has finished, and uses a stylus to make notations on the screen quicker than he can scrawl an autograph. His game notes — and he and Buck have volumes — are printed and meticulously handwritten onto "boards" they create for every game. They're basically giant depth charts on stiff paper, but with player facts and stories distilled into a few lines. Aikman's handwriting is so neat it almost looks like calligraphy.
"Everybody over-prepares out of insecurity," Buck says. "Then I walk out of here and realize I used 10% of this."
Aikman studies for games as thoroughly as he did as a player. Immediately after working a game, and before their flights home, Aikman and Buck are given thumb drives of their broadcast so they can review it. Buck flies commercial home to St. Louis; Aikman flies private to Dallas.
Buck is typically too wired from working to sleep much Sunday night, so he gets started on the new week. Aikman's routine begins Monday morning, after he's gotten his two daughters off to high school and gets in a cardio workout and lifting session. At 51, he still has an impressive physique.
As a courtesy to Aikman, the Cowboys provide him any game tape he needs, regardless of the team. He downloads it onto his iPad.
"I dig down pretty deep," he says. "There's a lot to look at — players, scheme, personnel. You start studying a particular guy and then it's, what personnel groupings are they using? Then you go back and look at it a little bit differently and try to figure out what exactly they're trying to accomplish.
"When I was playing, I wasn't worried about [watching] defensive linemen. That's somebody else's job to plot those guys. I'd study coverages, study blitzes, and I'd study one team, one defense for that week. Now, it's four times as much film, both sides of the ball for two teams."
With two games a week now, the work has doubled. What's more, there are conference calls with coaches and players from the teams, and face-to-face production meetings when possible. Before the Cowboys-Panthers game, he talked to the Cowboys personnel on the phone, and met in person with Panthers coach Ron Rivera, tight end Greg Olsen and other members of the franchise.
Those meetings took place Saturday at Panthers headquarters in a small theater-type media room, and included Andrews, as well as lead game producer Richie Zyontz and director Rich Russo. Aikman directed the interviews, asking questions as if he were late for a flight.
"Troy doesn't suffer fools," Zyontz says.
Aikman doesn't waste time, either, because he didn't like people wasting his time when he was a quarterback. Although he is friendly with Rivera, he briskly moved from one question to the next to the next, with the coach barely having time to pause. All the while, Aikman took notes on his laptop. Andrews would mix in some questions as well, hers more to do with injuries and background stories more than Xs and O's.
"We each have respect for the information the other needs to get," Andrews says. "There's a great rhythm there."
When Aikman was a player, the production meetings were usually pretty informal.
"[John] Madden and [Pat] Summerall did most of our games," Aikman says. "It got to a point where we didn't really talk much football. I'd just go in there and we'd sit down and kind of BS and laugh. And then at the end of my career when we weren't very good, John was almost like my therapist. I'd come in and talk to him about things I knew weren't going to be on the air."
Like any good quarterback, Aikman is all about clock management. His longest question is a full sentence. Most are a word or two.
"You try to be respectful of guys' time," he says. "This is, in a way, an inconvenience for them. So I try to be mindful of that."
Aikman remembered an instance as a player when he met an analyst who seemed to want to chit-chat. It didn't go well.
"I said, 'Listen, if you want to know how I'm doing, I'll get up and leave right now,'" Aikman recalls. "If you want to know about the game, I'm happy to talk about the game. But we're not going to sit here and small-talk, and, 'How's life?' and, 'How's the family?'"
As an analyst, Aikman garners instant respect. A lot of the coaches grew up watching him play. During the Carolina production meeting, Panthers offensive coordinator Norv Turner, who coached him in Dallas, brought in a jersey for Aikman to autograph. It was for a Panthers player.
After a Fox Super Bowl broadcast, Aikman's handwritten board was auctioned for charity. Walking through the bowels of Bank of America Stadium, he might as well have been Paul McCartney with the way workers stopped to gawk.
"I've seen people stake out hotels where we stay, waiting for Troy to sign autographs," says Zyontz, Aikman's producer throughout the quarterback's broadcasting career. "I don't know how they find out where we're staying, but they'll wait for hours."
In 2002, with Aikman early in his broadcasting career, he was working in San Diego when the network did a game break-in to say that it looked as if Philadelphia Eagles quarterback Donovan McNabb had suffered a broken ankle. During a commercial, a producer got in Aikman's ear and told him someone wanted to talk to him at halftime: Eagles coach Andy Reid.
Aikman stepped out of the booth at halftime and called Reid, who explained the situation. He wanted the former Cowboys star, who had retired in large part because of concussion problems, to make a beeline for Philadelphia in hopes he would be ready to play the following week. There are no more bitter NFL rivals than the Cowboys and Eagles.
Aikman explained to Reid that he was in the middle of a broadcast and promised to call after the game. Aikman had plenty of time to chat too, because he would be driving from San Diego to Santa Barbara, where he had a home.
When Aikman called back, he told Reid he wanted to sleep on the decision. By the time he reached Santa Barbara, Aikman had a good idea which way he was leaning.
"So I went to bed that night and said, 'I can wake up tomorrow and spend a nice couple of days in Santa Barbara. Or, I can be in frigid Philadelphia getting my brains kicked in,'" Aikman said when recalling the story in 2009.
The next day, he called Reid and politely declined.
It's that type of respect that paves a path for Aikman as an analyst, getting coaches and players to open up to him.
He's got the ultimate hammer as far as I'm concerned: He's won three Super Bowls.
Joe Buck
"He's got the ultimate hammer as far as I'm concerned: He's won three Super Bowls," Buck says. "He was the No. 1 overall pick. He delivered for the Dallas Cowboys, and ever since he left they haven't won. Really, nobody else has that in TV."
That doesn't mean Aikman garners universal admiration from viewers. Far from it.
"When I work a Cowboys game, my social media will blow up with, 'Hey, don't forget who you played for,' or, 'You traitor,'" he says. "Cowboys fans will think, 'How can you say that? You're supposed to be for us.'
"You get [former Cowboy Michael] Irvin on NFL Network, and it's like [former New York Giant Michael] Strahan with Fox. It's studio guys and they're homers for their team. They're unabashed by it. Like, 'Giants are going to kill 'em!' or, 'Hey, my Cowboys!' Everybody laughs and has a good time with it. You can't do that when you're calling a game. Fans don't fully understand that."
Aikman's philosophy: If fans of both teams are mad at him, he's doing his job.
Yale-educated Cowboys running back Calvin Hill, who played 20 years before Aikman but spent his adult life around the organization, says the quarterback would have made a good lawyer.
"Troy's the kind of guy who sits in the front of the class in the middle row and takes meticulous notes," Hill says. "If he loses, or he fails, it's not going to be because he didn't prepare."
It was Ed Goren, then executive producer at Fox Sports, who coaxed Aikman into the booth. The two talked about it over golf at Bighorn after that third Super Bowl win, then Aikman worked an NFL Europe game as a color analyst toward the end of his playing career.
"I would take it a step beyond," Goren says. "I think Troy would be successful in whatever he did. But I see the lawyer part. I can see some of his Cowboys teammates nodding their heads and saying, 'Yeah, we lived it.'"
Now, twice a week, Aikman presents his case.
Follow Sam Farmer on Twitter @LATimesfarmer
---
Get the latest on L.A.'s teams in the daily Sports Report newsletter.
You may occasionally receive promotional content from the Los Angeles Times.