Sam Farmer's NFL Week 14 picks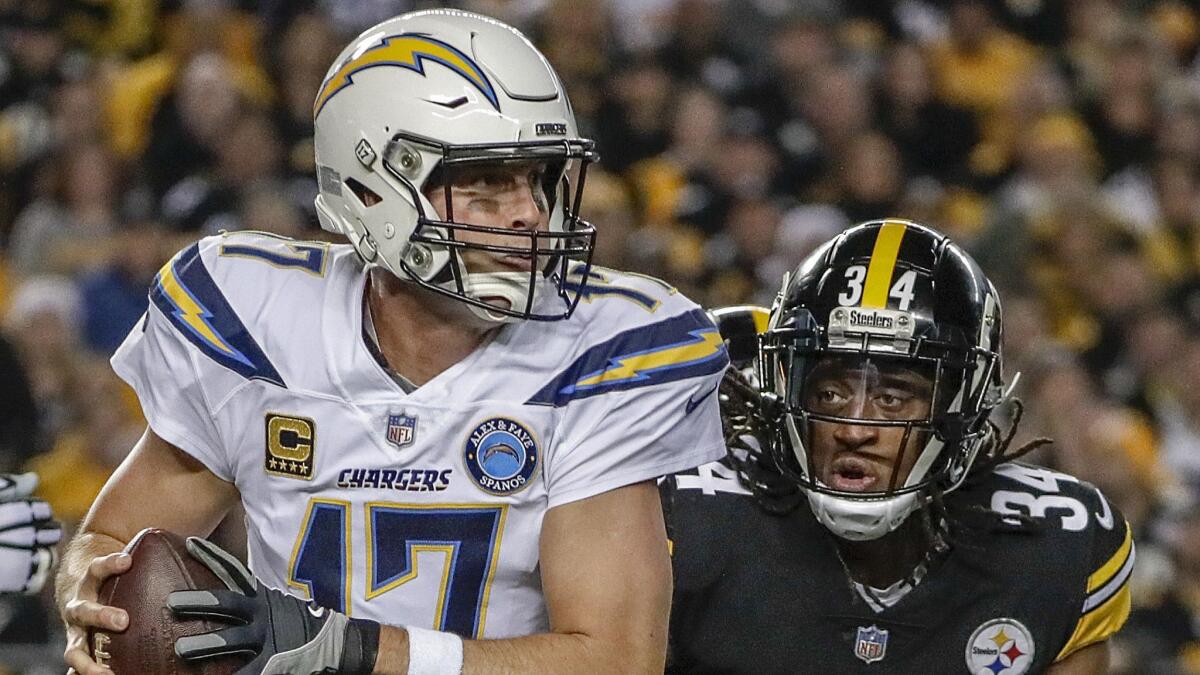 The Times' NFL writer, Sam Farmer, examines this week's matchups. Lines according to Pregame.com (O/U = over/under). Last week's record 8-8 (.500); season 126-64-2 (.663). Using point spreads with the scores Farmer predicted, the record against the spread last week would have been 6-9-1 (.400); season 91-93-8 (.495). Times are Pacific.
N.Y. Jets (3-9) at Buffalo (4-8)
Sunday, 10 a.m.
Bills 26, Jets 17
TV: None. DirecTV: 705.
Line: Bills by 31/2. O/U: 381/2.
The Jets have lost six in a row, and even though they're getting Sam Darnold back this week, he's playing on a sore foot. Josh Allen is running around and making some plays for Buffalo.
Indianapolis (6-6) at Houston (9-3)
Sunday, 10 a.m.
Texans 27, Colts 24
TV: None. DirecTV: 706.
Line: Texans by 41/2. O/U: 491/2.
The Texans have won nine straight, so it's tough to pick against them. But the Colts will put up some points, something they weren't able to do last week. Not a cakewalk for Houston, though.
Baltimore (7-5) at Kansas City (10-2)
Sunday, 10 a.m.
Chiefs 27, Ravens 21
TV: None. DirecTV: 707.
Line: Chiefs by 61/2. O/U: 511/2.
Baltimore's No. 1 defense flexed its muscles at Atlanta last week, and it will give the Kareem Hunt-less Chiefs some problems. But it's a tall order to shut down that high-octane offense, or match it.
New England (9-3) at Miami (6-6)
Sunday, 10 a.m.
Patriots 30, Dolphins 20
TV: None. DirecTV: 708.
Line: Patriots by 71/2. O/U: 47.
These teams have split in four of the last five seasons, with all those Dolphins wins coming at Miami. So even though the Patriots blew out the Dolphins earlier this season … oh, still go New England.
Carolina (6-6) at Cleveland (4-7-1)
Sunday, 10 a.m.
Browns 28, Panthers 24
TV: None. DirecTV: 709.
Line: Panthers by 11/2. O/U: 47.
The Panthers always have been able to fall back on their defense, but not so much this season. The Browns aren't a playoff team, although they have a solid roster and can piece together a win here.
Atlanta (4-8) at Green Bay (4-7-1)
Sunday, 10 a.m.
Packers 27, Falcons 23
TV: None. DirecTV: 710.
Line: Packers by 5. O/U: 50.
Both teams are disappointing. The Packers are still at home and still have Aaron Rodgers, however, and they might get a burst in the wake of Mike McCarthy's firing. Dome team in the cold?
New Orleans (10-2) at Tampa Bay (5-7)
Sunday, 10 a.m.
Saints 34, Buccaneers 24
TV: Channel 11. DirecTV: 711.
Line: Saints by 8. O/U: 551/2.
The Saints lost their opener to the Buccaneers at home 48-40, but these are different teams from what they were then. New Orleans can't afford to lose another game as it hunts for No. 1 seed.
N.Y. Giants (4-8) at Washington (6-6)
Sunday, 10 a.m.
Giants 27, Redskins 20
TV: None. DirecTV: 712.
Line: Giants by 31/2. O/U: 41.
The Redskins are capable of running the ball, as Adrian Peterson showed in Week 13. But they're down to their third quarterback, and that's a lot to ask of just-arrived Mark Sanchez.
Cincinnati (5-7) at Chargers (9-3)
Sunday, 1 p.m.
Chargers 34, Bengals 17
TV: Channel 2. DirecTV: 713.
Line: Chargers by 14. O/U: 48.
Stranger things have happened, but the Chargers should run away with this one. Without Andy Dalton or A.J. Green, the Bengals are toothless. No emotional hangover for Chargers after big victory.
Denver (6-6) at San Francisco (2-10)
Sunday, 1 p.m.
Broncos 30, 49ers 21
TV: None. DirecTV: 714.
Line: Broncos by 4. O/U: 451/2.
The 49ers are beat up, and running on fumes of pride. The Broncos are looking at making an against-all-odds playoff run, and they have the soft schedule to pull it off. Denver keeps it going.
Detroit (4-8) at Arizona (3-9)
Sunday, 1:15 p.m.
Lions 21, Cardinals 17
TV: None. DirecTV: 715.
Line: Lions by 3. O/U: 401/2.
Detroit has a better roster, but Arizona is riding a little wave of confidence after its upset victory at Lambeau Field. Without a healthy Kerryon Johnson in the backfield, Lions can't exploit the run.
Philadelphia (6-6) at Dallas (7-5)
Sunday, 1:15 p.m.
Cowboys 27, Eagles 23
TV: Channel 11. DirecTV: 716.
Line: Cowboys by 31/2. O/U: 44.
What Philadelphia team is going to show up? The Cowboys are solid, especially on defense, and they're a young team with confidence. That's what they need in December. Go with the home team.
Pittsburgh (7-4-1) at Oakland (2-10)
Sunday, 1:15 p.m.
Steelers 31, Raiders 23
TV: None. DirecTV: 717.
Line: Steelers by 101/2. O/U: 511/2.
The Steelers tend to play poorly on the West Coast, and they're coming off an emotional loss to the Chargers. Still, they're just better than the Raiders, even though Oakland is playing hard.
Rams (11-1) at Chicago (8-4)
Sunday, 5:15 p.m.
Rams 28, Bears 20
TV: Channel 4.
Line: Rams by 3. O/U: 511/2.
Weather could be a factor, and Chicago's defense is scary. Still, the Rams are the NFL's best team at the moment, and have no margin for error with home-field advantage left on their checklist.
Minnesota (6-5-1) at Seattle (7-5)
Monday, 5:15 p.m.
Vikings 28, Seahawks 23
TV: ESPN.
Line: Seahawks by 3. O/U: 45.
The Vikings are desperate, and can stop the run. That's not a good matchup for Seattle, which lives on a steady diet of running the ball. The Seahawks still have a significant advantage at home, but…
Get our high school sports newsletter
Prep Rally is devoted to the SoCal high school sports experience, bringing you scores, stories and a behind-the-scenes look at what makes prep sports so popular.
You may occasionally receive promotional content from the Los Angeles Times.