Column: These NFL coaches shouldn't feel secure
The NFL regular season is coming to a close and the dark clouds are gathering.
Black Monday is approaching, the league's annual coaching purge, when a handful of underachieving head coaches — and a surprise or two — are shown the door.
The process got off to an early start this season, with Miami firing Joe Philbin in October, Tennessee parting ways with Ken Whisenhunt in November, and Philadelphia cutting ties with Chip Kelly this week.
"It's a tough time of year," said ESPN's Jon Gruden, who founded the tongue-in-cheek Fired Football Coaches of America fraternity after Tampa Bay cut ties with him after the 2008 season. "You work your butt off all year round, and then you finally feel like you're going to get a little bit of a break, then you've got to go out and look for a job."
In moves that don't command the huge headlines, a head coach occasionally is spared at the expense of his staff.
"You're going to see a lot of head coaches keep their jobs, and they're going to fire a lot of position coaches and coordinators," Gruden said. "Sometimes they say, 'Hey, you want to keep your job? Fire the offensive line coach. Fire the coordinator.'"
A look at the coaches who could be on their way out:
Tom Coughlin, New York Giants — Despite winning two Super Bowls, Coughlin's teams have missed the playoffs four years in a row. The recent out-of-control behavior of star receiver Odell Beckham Jr., suspended for a game after multiple cheap shots against Carolina, was not a great reflection on Coughlin. Asked this week if he wanted to return to the team, the coach said: "Do I want to come back? I don't know if that's a great question right now. … Right now, let's stick with the game and let's go win a football game."
Chuck Pagano, Indianapolis — Although the Colts haven't been mathematically eliminated from the playoff picture, they'd need help from all corners — including the Stanford Band rushing the field early — to reach the postseason. Pagano could be gone. General Manager Ryan Grigson could be gone. Or maybe both. Colts owner Jim Irsay emailed a statement Thursday that didn't inspire a lot of confidence: "As of today, no decision has been made with respect to any structural changes within the Colts organization for 2016 and beyond."
Dan Campbell, Miami — Campbell, who replaced Philbin after the team's 1-3 start, took a step in the right direction as interim coach with wins over Tennessee and Houston in his first two games. Since, the team has looked rudderless, turning in a strong performance only sporadically. Campbell is 4-7 in his current role, and it's hard to see him being the guy.
Mike McCoy, San Diego — Not only have the Chargers had a bunch of key injuries this season, they've had the distraction of a potential relocation to Los Angeles looming in the background. Still, they're 4-11, 1-6 on the road, and 0-5 against AFC West opponents — and that's with one of the best quarterbacks in football. Chargers owner Dean Spanos can be quite slow in making these decisions — look how long he held onto Norv Turner — but a fresh start is probably in order.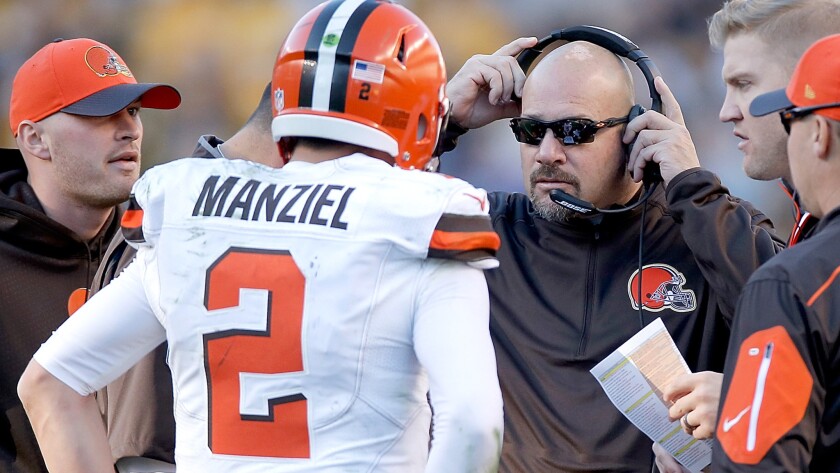 Mike Pettine, Cleveland — Since getting off to a 7-4 start last season, the Browns have lost 17 of 20 games. The team is 3-12, and quarterback Johnny Manziel seems to add a new chapter to his personal soap opera every week. Pettine, who signed a four-year deal before last season, said this week he hasn't received assurances from Browns owner Jimmy Haslam that he'll stay. "I'm competitive," Pettine said. "Just like our players. We want them to be competitive, prideful. Absolutely I want to finish out [this contract] and then some." GM Ray Farmer's job could also be in jeopardy.
Jim Tomsula, San Francisco — Tomsula was on solid ground less than a month ago when his team won an overtime game at Chicago. Since, a bit of doubt has crept in, thanks to consecutive ugly losses to Cleveland, Cincinnati and Detroit. Still, Tomsula has a good relationship with the York family, which owns the team, and those owners might conclude that any coach would have struggled under similar circumstances this season. That could buy him another year or more.
Jason Garrett, Dallas — Losing Tony Romo was a crippling blow to the Cowboys, who at 4-11 are at the bottom of the lackluster NFC East. In early December, owner Jerry Jones told reporters: "I would have thought that we could have coached it up enough, and put it together enough, that we would not have lost those games without Romo early. We would be in better shape than we are right now." Still, seeing as Garrett signed a five-year, $30-million deal before the season, it could cost the Cowboys $24 million to buy out his contract.
Sean Payton, New Orleans — The Saints are tied with Tampa Bay in the NFC South cellar at 6-9. The New Orleans defense has been horrible, and injuries are starting to crop up for quarterback Drew Brees, who turns 37 in January. Payton could wind up elsewhere next season and is rumored to be a possible next coach of the Chargers, particularly if they are playing in Los Angeles.
---
Get our high school sports newsletter
Prep Rally is devoted to the SoCal high school sports experience, bringing you scores, stories and a behind-the-scenes look at what makes prep sports so popular.
You may occasionally receive promotional content from the Los Angeles Times.