Column: NFL kickers are gaining attention, mostly for the wrong reasons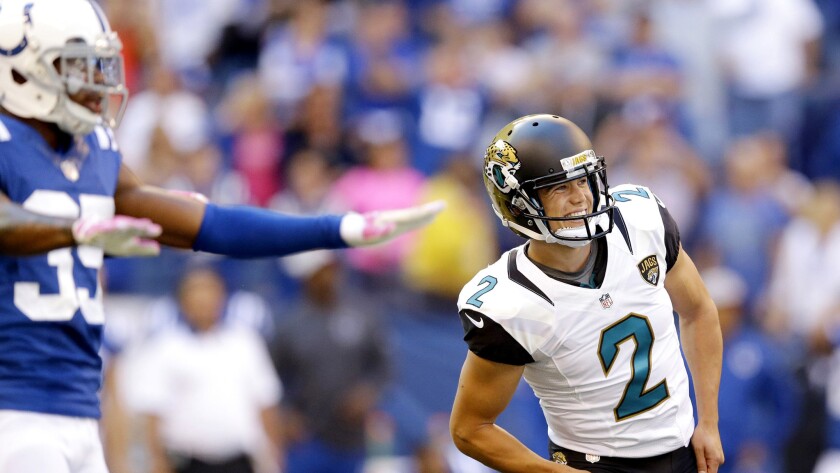 It's a problem that's happening left and right.
NFL kickers are missing right and left.
Some thrive in the spotlight. Others are caught in the headlights.
A microcosm of that leaguewide trend was on display in Jacksonville's game at Indianapolis on Sunday. Jaguars rookie Jason Myers was way wide right on a 53-yarder that would have won the game at the end of regulation. Mercifully, he got a mulligan because Colts Coach Chuck Pagano had called a timeout just before the kick. On the retry, Myers again missed right.
The game went to overtime, and Myers got another chance to redeem himself. But this time, he hooked his 48-yard kick wide left.
The Colts got the ball back, drove deep into Jacksonville territory and trotted out 42-year-old Adam Vinatieri, the league's oldest player. Good from 27 yards. Colts win, 16-13.
On the same Sunday that Kansas City's Cairo Santos kicked a club-record seven field goals in a losing effort at Cincinnati, and Chicago's Robbie Gould made a 49-yarder with two seconds left to beat Oakland, kickers elsewhere sprayed their kicks with the accuracy of Shaquille O'Neal at the free-throw line.
In the Sunday night game, New Orleans kicker Zach Hocker had a chance to clinch a victory over Dallas with 16 seconds to play, but his 30-yard field-goal attempt hit the left upright and fell harmlessly to the turf. Fortunately for Hocker, his quarterback bailed him out. Drew Brees hit C.J. Spiller on the second play of overtime, and the speedy back outran the Cowboys for an 80-yard touchdown and a 26-20 victory.
San Diego's Josh Lambo was wide right on a 39-yard kick at the end of a tied game against the Browns. But he got a reprieve because Cleveland was offside on the play. Lambo made the second attempt from 34 yards, and the Chargers won, 30-27.
In the last two weeks, Tampa Bay rookie Kyle Brindza has missed five of seven field-goal attempts and a pair of extra points.
Last week, Houston released kicker Randy Bullock. Pittsburgh followed suit after Thursday night's loss to Baltimore, getting rid of the unreliable Josh Scobee.
A position that was once an afterthought is suddenly front and center. A big reason for that is this season the league moved the line of scrimmage for extra points from the two-yard line back to the 15. That makes for a 33-yard kick and eliminates the biggest gimme in sports.
"I've got to think that's messing with the psyche of guys," said former NFL kicker Michael Husted, who now coaches kickers at all levels. "If you go out and miss a 33-yard PAT, now it's in the back of your head and, I understand you've got to put it behind you, but it's probably bouncing around back there somewhere when you go out for your next field-goal attempt."
Nickel package
The ranks of the unbeaten winnowed by one Sunday when Arizona lost at home to St. Louis, with Rams rookie running back Todd Gurley gaining 146 yards in 19 carries.
Five teams remain undefeated at 4-0: Atlanta, Green Bay, Carolina, Cincinnati and Denver. New England, which was off this week, is 3-0.
The Panthers are guaranteed to remain undefeated through Week 5; they have a week off.
Of the remaining five undefeated teams, three play at home next week — Cincinnati (Seattle), Atlanta (Washington) and Green Bay (St. Louis) — and Denver (Oakland) and New England (Dallas) hit the road.
With the Broncos winning their first four, it marks the seventh time Peyton Manning has led his team to a 4-0 start. That's an NFL record. Of course, it's all about how you finish.
Youthful exuberance
At 40, Indianapolis quarterback Matt Hasselbeck is the oldest non-kicker in the NFL. But he felt like a kid again Sunday when he had to step in for Andrew Luck, who is battling a shoulder injury and sat out his first game since his freshman year at Stanford.
Luck hadn't practiced all week, but the decision to sit him wasn't official until Sunday morning.
Hasselbeck, who once led Seattle to the Super Bowl, did a solid job. Making his first start in three years, he completed 30 of 47 passes for 282 yards with a touchdown and no interceptions.
Happy as he was about the victory, Hasselbeck nitpicked his performance.
"I got way too excited coming out of the tunnel," he said. "I was all geeked up, and I couldn't hit Frank Gore to save my life on two of the easiest Pop Warner passes you could ever have. Early on, I was hitting the deeper throws to [Donte] Moncrief and could not for the life of me hit Frank. I need to, I already know the lesson: Chill out, you're a quarterback."
TD machine
Atlanta running back Devonta Freeman rushed for three touchdowns in a 48-21 victory over Houston. That matched his production last week, in his first career start, when he ran for three scores against Dallas. He is the first player since the 1970 NFL-AFL merger to score at least three rushing touchdowns in each of his first two career starts.
Freeman, who didn't get a lot of playing time as a rookie, moved into the starting lineup this season after rookie Tevin Coleman sustained a rib injury in Week 2.
"I've always believed in myself," Freeman said. "But it's hard to get a feel when you're not playing. I have to get in a rhythm, and then the confidence comes."
Growing pains
Nobody said it was going to be easy for Tampa Bay rookie quarterback Jameis Winston, the No. 1 overall pick. He was intercepted four times in a 37-23 loss to Carolina, and the Buccaneers lost at home for the 11th consecutive time dating to December 2013.
Speaking generally about the defeat, the fifth in a row to Carolina, Tampa Bay Coach Lovie Smith said: "It's disappointing on a lot of different levels. [The fans] need to see a better product on the football field than that."
Relief could be on the way. The Buccaneers' next two games are at home against Jacksonville, and on the road against Washington.
Whistle stop
There were 884 penalties called through the first three weeks of the season, an NFL record.
Sunday, the Buffalo Bills did their best to keep the trend alive. They were flagged 17 times for 135 yards in their 24-10 loss to the New York Giants, and saw two touchdowns taken off the board because of penalties. That, after the Bills were penalized 14 times two weeks earlier in a loss to New England.
Coach Rex Ryan only shrugs.
"Can we play a lot smarter? Absolutely," Ryan said Sunday. "Say what you want, but I'll take a team that will fight."
Others in the Buffalo locker room were not so nonchalant about the problem. Safety Corey Graham called it "embarrassing."
"One after another, dumb penalties," Graham told reporters. "It's terrible. We can't win games like that."
Below-average Joe
A year ago, after an embarrassing loss to Miami in London, Oakland fired Dennis Allen as coach.
The tables were turned Sunday, with Dolphins Coach Joe Philbin trying to save his job — and win a game, of course — with a strong performance in London. His team flopped, stumbling to a 27-14 division defeat to the New York Jets.
Despite a Miami Herald report that a blowout loss could cost him his job, Philbin said after the game he did not believe his job was in jeopardy. Some of the numbers were brutal, though. Miami failed to convert any of its 12 third downs, and was 0 for 4 on fourth down.
"We've got to find a way to make plays," Philbin said. "As ugly as it may have seemed, at the end of the day we had opportunities to win that game. We can't panic. It can seem like the walls are closing in on you."
In the second quarter, the Dolphins had a three-and-out that consumed just 16 seconds.
Now that's a hurry-up offense.
---
Get the latest on L.A.'s teams in the daily Sports Report newsletter.
You may occasionally receive promotional content from the Los Angeles Times.