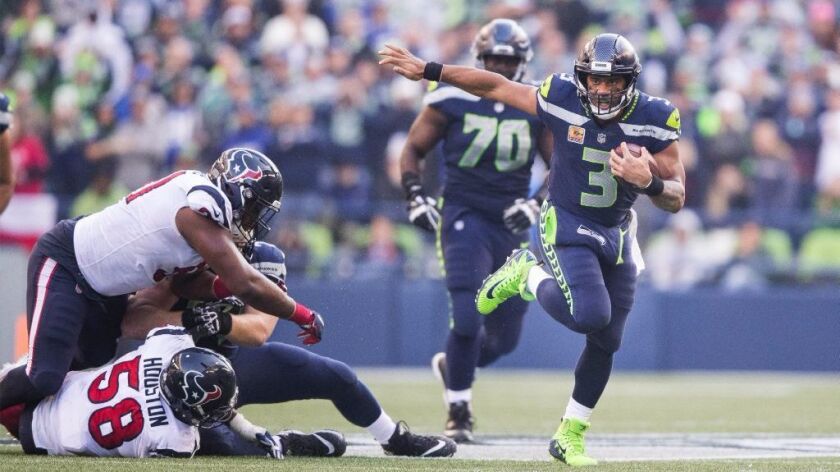 So you belong in the playoff hunt?
Prove it.
Several of the NFL's division leaders have litmus-test games this weekend, that could validate their position at the top of the heap or create eggshell cracks in their foundation.
Heading into Week 9, the division leaders are New England, Pittsburgh, Tennessee and Kansas City in the AFC, and Philadelphia, Minnesota, New Orleans and Seattle in the NFC.
Although the Seahawks and Rams have the same record, as do the Titans and Jaguars, Seattle and Tennessee have the edge in head-to-head victories.
The Vikings, Patriots and Steelers have the week off. The other five division leaders — four of whom will be playing at home — have some challenging matchups.
Tennessee plays host to Baltimore. Although the Ravens are 4-4 and have sputtered on offense, their confidence is cresting in the wake of a 40-0 humiliation of Miami. The Ravens have a solid defense, and the Titans aren't an offensive juggernaut, as evidenced by their 12-9 win over Cleveland in their most recent game.
Ravens coach John Harbaugh said Monday that quarterback Joe Flacco, who sustained a concussion on a brutal hit by Dolphins linebacker Kiko Alonso, has exhibited "zero" concussion symptoms and has a "good chance" of playing against Tennessee.
The Chiefs play at Dallas, which is coming off decisive road wins over San Francisco at Washington. The Cowboys aren't invulnerable at home, but they'll be desperate to stay in the division race with Philadelphia starting to pull away.
It's Denver at Philadelphia, and the Eagles might be the hottest team in the league right now. But the Broncos had the league's No. 1 defense heading into Monday night's game against Kansas City. They're capable of having a cooling effect on second-year Philadelphia quarterback Carson Wentz.
New Orleans plays host to Tampa Bay. The Saints have won five in a row, the league's second-longest winning streak behind Philadelphia (six), and on paper figure to hand the Buccaneers their fifth straight defeat. Tampa Bay is loaded with talent, but hasn't found a way to get the most out of it. In the past few weeks, though, the Buccaneers played both New England and Buffalo tough.
Finally, Seattle plays host to Washington. The Seahawks and Redskins account for the Rams' two losses. Although the Seahawks are 3-0 at home, and the Redskins are 1-2 on the road, Sunday's could be a close game and certainly a formidable test for both teams.
Seahawks safety Earl Thomas, essentially the quarterback of Seattle's defensive backfield, sustained a hamstring pull in Sunday's wild, 41-38 victory over Houston.
In an eye-opener of a move Monday evening, San Francisco acquired New England quarterback Jimmy Garoppolo, reportedly trading a 2018 second-round pick to the Patriots for Tom Brady's backup.
For the Patriots, it's an acknowledgment that the 40-year-old Brady has a lot more football in him. For the 49ers, it ends speculation that Coach Kyle Shanahan will pursue Kirk Cousins, his quarterback in Washington.
Garoppolo, a second-round pick in 2014, has played in 17 games for the Patriots in the past three seasons, with five touchdowns, no interceptions, and a lofty passer rating of 106.2.
Brady is the only remaining quarterback on New England's roster, with the Patriots trading Jacoby Brissett to Indianapolis earlier this season. ESPN cited a source Monday in reporting that the 49ers will release quarterback Brian Hoyer. That might be a convenient move for the Patriots, seeing as he used to play behind Brady.
Meanwhile, San Francisco is 0-8 and has its best chances to end that losing streak in the next two weeks, with home games against 3-4 Arizona and the 1-6 New York Giants. It's unclear how quickly Garoppolo will be ready to go.
For weeks, the 49ers hung tough in games, losing five in a row by a combined 13 points. But as of late they've been blown out, with losses of 40-10 to Dallas and 33-10 to Philadelphia in the past two weeks.
Running back Marshawn Lynch will be back with the Raiders for Sunday's game at Miami after serving a one-game suspension for coming off the sideline and making contact with an official during a skirmish with Kansas City.
During his suspension, Lynch took the unusual step of practicing with the football team from his old high school, Oakland Tech. That reportedly got his alma mater in hot water with the California Interscholastic Federation, because only high school students are allowed to practice with the team.
Raiders coach Jack Del Rio was asked Monday if he's had a conversation with Lynch about that unusual workout.
""No, there's nothing to really talk about," Del Rio said. "I think the people at the school district have more of a problem with it. For me, I'd prefer our guys to concentrate on doing the right thing for the football team."
Seeing as the Raiders have lost five of six, Del Rio has more pressing concerns.
Follow Sam Farmer on Twitter @LATimesfarmer
---