Sam Farmer's NFL Week 9 picks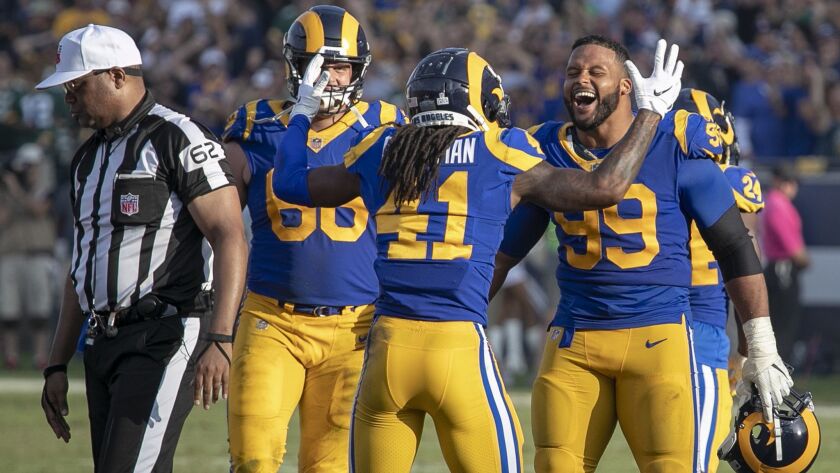 The Times' NFL writer, Sam Farmer, examines this week's matchups. Lines according to Pregame.com (O/U = over/under). Last week's record 11-3 (.786); season 77-42-2 (.647). Using point spreads with the scores Farmer predicted, the record against the spread last week would have been 6-7-1 (.462); season 53-61-7 (.465). All times Pacific. Arizona, Cincinnati, Indianapolis, Jacksonville, the N.Y. Giants and Philadelphia have the week off.
Pittsburgh (4-2-1) at Baltimore (4-4)
Sunday, 10 a.m.
Steelers 24, Ravens 21
TV: None. DirecTV: 705.
Line: Ravens by 3. O/U: 47 1/2.
These teams always seem to split, and this is a bit of a revenge game for Pittsburgh after getting embarrassed by the Ravens in Week 4. The Ravens have come back to earth as an average team.
Kansas City (7-1) at Cleveland (2-5-1)
Sunday, 10 a.m.
Chiefs 27, Browns 17
TV: None. DirecTV: 706.
Line: Chiefs by 8. O/U: 51.
The shakeup with the Browns might inspire them a bit, but they're limited on offense and Kansas City is rolling. Cleveland's defense can be pretty good at times, so this might not be so ugly.
N.Y. Jets (3-5) at Miami (4-4)
Sunday, 10 a.m.
Jets 24, Dolphins 20
TV: None. DirecTV: 707.
Line: Dolphins by 3. O/U: 44.
Brock Osweiler is playing well for the Dolphins but doesn't have a lot of healthy receivers. Tough to play at Miami, but the Jets get it done on the strength of their intermittently respectable defense.
Chicago (4-3) at Buffalo (2-6)
Sunday, 10 a.m.
Bears 24, Bills 10
TV: None. DirecTV: 708.
Line: Bears by 10. O/U: 37 1/2.
The Bills fought gamely for three quarters against New England, but will have a tough time moving the ball against Chicago. The Bears are creative enough offensively to put this out of reach early.
Tampa Bay (3-4) at Carolina (5-2)
Sunday, 10 a.m.
Panthers 31, Buccaneers 20
TV: None. DirecTV: 709.
Line: Panthers by 6. O/U: 55.
The Panthers might not be great, but they're too good at home for the Buccaneers, who are going back to Ryan Fitzpatrick. Cam Newton will spread the ball around, and he's got enough weapons.
Detroit (3-4) at Minnesota (4-3-1)
Sunday, 10 a.m.
Vikings 28, Lions 20
TV: None. DirecTV: 710.
Line: Vikings by 4 1/2. O/U: 49.
The Lions are nothing special, losing at home to Seattle last week. The Vikings are legitimately good, and they just ran into the Saints' buzz saw last week. Minnesota needs this one badly.
Atlanta (3-4) at Washington (5-2)
Sunday, 10 a.m.
Falcons 27, Redskins 23
TV: Channel 11. DirecTV: 711.
Line: Redskins by 1 1/2. O/U: 48 1/2.
The Falcons aren't the same team on the road, and the Redskins are doing a great job of stopping the run. Washington has won three in a row, and Atlanta is desperate. Go with the team that needs it more.
Houston (5-3) at Denver (3-5)
Sunday, 1 p.m.
Texans 28, Broncos 24
TV: None. DirecTV: 712.
Line: Broncos by 1. O/U: 46.
Losing Will Fuller hurts the Texans, and they're still not hitting on all cylinders, but they have won five in a row. The Broncos are respectable at times, but they're just not very good right now.
Chargers (5-2) at Seattle (4-3)
Sunday, 1 p.m.
Chargers 31, Seahawks 24
TV: Channel 2. DirecTV: 713.
Line: Seahawks by 1. O/U: 48.
When is Joey Bosa going to come back? Not yet, it seems. The Chargers still have enough in the tank to win here, even though Seattle is on an upward trend. Philip Rivers has too many ways to win.
Rams (8-0) at New Orleans (6-1)
Sunday, 1:15 p.m.
Saints 31, Rams 28
TV: Channel 11. DirecTV: 714.
Line: Rams by 1. O/U: 59 1/2.
Rams are unbeaten, and they're getting Cooper Kupp back. On the flip side, they're facing Drew Brees after Aaron Rodgers picked apart their corners. A key will be stopping the Saints' ground game.
Green Bay (3-3-1) at New England (6-2)
Sunday, 5:15 p.m.
Patriots 30, Packers 27
TV: Channel 4.
Line: Patriots by 5 1/2. O/U: 56 1/2.
The Patriots are banged up and coming off a short week, but they're in Foxborough and also coming off a sharp defensive performance. Rodgers will make it interesting, but go with the home team.
Tennessee (3-4) at Dallas (3-4)
Monday, 5:15 p.m.
Titans 24, Cowboys 20
TV: ESPN.
Line: Cowboys by 5 1/2. O/U: 40 1/2.
We'll get a first look at Amari Cooper, so maybe the Cowboys will throw more. Marcus Mariota can move around enough to take the bite out of the Dallas pass rush, and Titans can stop the run.
---
Get our high school sports newsletter
Prep Rally is devoted to the SoCal high school sports experience, bringing you scores, stories and a behind-the-scenes look at what makes prep sports so popular.
You may occasionally receive promotional content from the Los Angeles Times.