Panthers-Broncos Super Bowl rematch in NFL opener features several familiar faces, plus a few new ones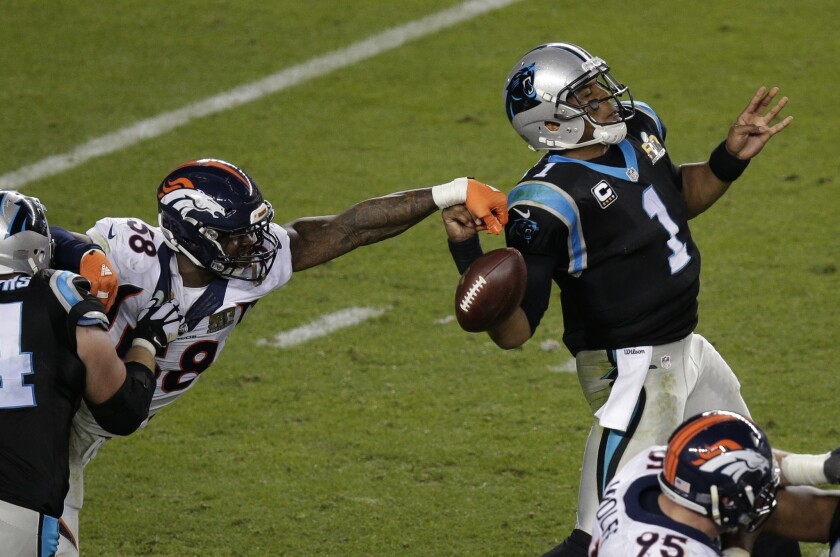 In the six months between confetti fall and curtain rise, the Denver Broncos became a vastly different team. Any casual observer could see that, with Peyton Manning retiring and Trevor Siemian ascending to the starting quarterback job.
But these Broncos will look strikingly similar Thursday night to Carolina Panthers quarterback Cam Newton, whose team was toppled in the latest Super Bowl by Denver, 24-10.
After all, despite all the changes on offense, the Broncos have not made wholesale alterations to a defense that was so dominant in that February masterpiece. Defensive tackle Malik Jackson and linebacker Danny Trevathan no longer play for Denver, but the Broncos have filled those spots with capable replacements. Newton will still see linebackers Von Miller and DeMarcus Ware (or Shane Ray) roaring around the edges — and the elusive Panthers leader is looking forward to Thursday night's Super Bowl rematch in Denver.
"This is what you dream about as kids," said Newton, the defending NFL most valuable player. "I know I can't speak for a lot of people, but we all have dreamed of playing in front of prime-time football. And just to think about it, this is the type of game that you pretty much set your legacy."
So the 2016 season will kick off with the matchup that ended the 2015 season. The last time that happened was 1970, when the season began with a Super Bowl rematch pitting Kansas City and Minnesota.
Given the choice, Panthers Coach Ron Rivera would not open the season this way. He would prefer the defending NFC champions open at home on Sunday, which would give them 10 days of preparation in the wake of their exhibition finale. As it is, they have had a week.
"If I had my druthers, I'd have liked to start the season differently, but I don't," said Rivera, named NFL coach of the year in two of the past three seasons.
The Broncos have made significant alterations on the offensive side, most notably at quarterback after Manning retired and heir apparent Brock Osweiler signed a free-agent deal with Houston.
Denver is the first defending Super Bowl winner since the 2001 Ravens to begin the following season with a new starting quarterback. Siemian, a seventh-round pick in 2015, has never thrown a pass in a regular-season game, making just one appearance in a game as a rookie.
Although the Broncos have continued their shift to more of a run-based offense, Coach Gary Kubiak said he plans to give Siemian ample authority to make changes at the line of scrimmage.
"We have to give him freedom," Kubiak said. "We've got to let him play. Obviously when you're talking about a Hall of Famer [Manning], that package may be a little bit bigger, but Trevor's a smart kid and that's one of the reasons he's got himself in this position, because he's able to handle a lot. It's going to be up to him to get us in the right situations and we also have to help him, too, and keep him in the right situations."
The Panthers have some young players of their own they are bringing up to speed. Star cornerback Josh Norman is gone, a high-profile signing of the Washington Redskins, and Carolina likely will start a pair of rookie cornerbacks, James Bradberry and Daryl Worley.
"I imagine that [Denver's receivers] have looked at all the tape at our guys and see what they do better and what their tendencies are," Rivera told reporters this week. "They'll try to have a plan for that. I would anticipate that they would attack them. If you have young guys out there, people are going to attack them. That just makes sense."
That said, Kubiak called the Panthers' front seven "as good as I've ever competed against as an offensive coach."
No matter what's happening on the other side of the ball for the Broncos, Denver defenders are anxious to show they're the same unit that hoisted the Lombardi Trophy at the end of last season.
"We haven't played a game yet, so whatever is [predicted] about our offense doesn't matter," Broncos safety T.J. Ward told reporters. "We're prepared for anything. We're prepared for the offense to score 50 points a game or 10 points a game. Whatever the case, we're prepared."
---
Get our high school sports newsletter
Prep Rally is devoted to the SoCal high school sports experience, bringing you scores, stories and a behind-the-scenes look at what makes prep sports so popular.
You may occasionally receive promotional content from the Los Angeles Times.