'Back in black' with Raiders' rock star coach, Jon Gruden
Reporting from Napa, Calif. —
Jeff Leonardo is the guy behind The Guy.
He's the right-hand man to Jon Gruden, essentially spending every waking moment with the $100-million coach of the Oakland Raiders, from swinging by his house to pick him up for work at ungodly hours, to helping organize his schedule, to compiling video on players, to holding up the dry-erase board at training camp that shows the play for the No. 1 offense.
"Jon," he said, "is a rock star."
Leonardo should know. Before he spent the past 13 years as an ESPN bus driver for the "Monday Night Football" crew — nine of those transporting Gruden from city to city — he was a fixture in the rock music scene. Over 30 years, Leonardo drove the band bus on tour with Paul McCartney, the Rolling Stones, David Bowie, Ozzy Osbourne, Guns N' Roses, Eric Clapton, Jimmy Buffett, Alicia Keys and others.
"It's easier to mention who I haven't worked with," said Leonardo, who at 54 is the same age as Gruden and might be mistaken for him from a distance when both are in their training camp gear — white T-shirts, baggy black shorts and Raiders caps.
Leonardo doesn't look like the shaggy-haired, psychedelic-inspired bus driver from "The Simpsons." He looks like John Denver, an everyday guy who, say, does your taxes. He grew up in Columbus, Ohio, a 2½-hour drive south of Sandusky, birthplace of Gruden.
"We think alike; that's what's funny" Leonardo said over lunch at the Napa Valley Marriott, where the Raiders hold training camp. "We've been raised in similar Midwest values. I can't outwork him, though. I don't think anyone can."
Gruden actually has two right-hand men. The other is Mark Arteaga, who started as an intern with the Raiders in 1988, a decade before Gruden's first stint there. Arteaga went with Gruden to Tampa Bay, won a Super Bowl ring there (with a victory over the Raiders), and stayed with the coach during his nine years in television.
Hours or days can go by when we wouldn't interact or talk, but things are getting done.
Mark Arteaga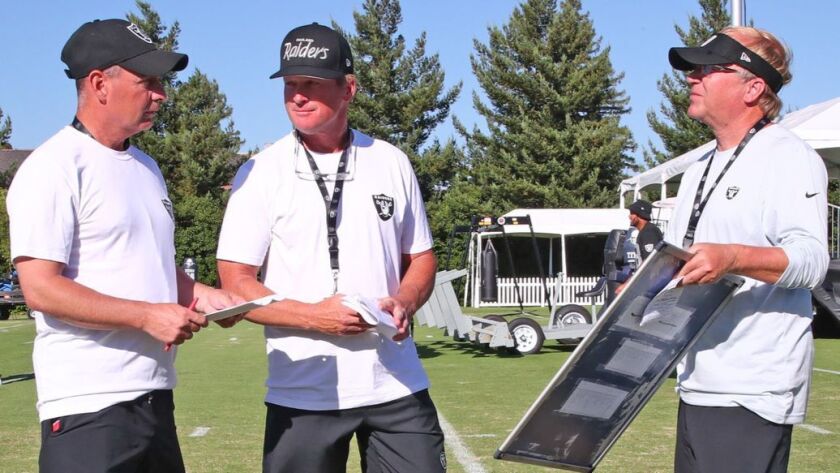 Arteaga, who is ubiquitous but essentially nameless to everyone but the most ardent of Raiders trivia buffs, is a resource and confidante to the coach, organizing practice schedules and itineraries, compiling video, anything and everything.
"I guess it's trying to take as much off of him so he can concentrate on his plays, his coaches, his quarterback, his installation, and to work with all his departments, from personnel all the way up to owner Mark [Davis]," said Arteaga, 50. "Just trying to think like Jon, what he would want, and carry out his plan without having to talk to him. Hours or days can go by when we wouldn't interact or talk, but things are getting done."
Leonardo calls Arteaga "the power strip" because virtually everyone in the organization plugs into him, looking for help. So ingrained in the organization is Arteaga that Leonardo jokes he was the inspiration for the square-jawed pirate on the team logo (but notes it was actually actor Randolph Scott.)
"Mark and I are here to take away the ancillary stuff that takes away from Jon's focus as a coach," he said. "Answering the mail, the phones, doing all the personal stuff. And then you get into the office and you go straight to the film."
The two work in tandem, but it's Leonardo who has the connection to the rock world, which is Gruden's only obsession other than football.
"No matter what I've done in life, he brings it all back to, 'Hey, he drove the bus for AC/DC!'" Leonardo said. "I go, 'Well, I've done a couple other things too. I can recite pi to 100 places. I can tell you all the presidents. I own one of the coolest vineyards in Central Europe, and it's like, 'He drove the bus for AC/DC!' OK, I guess that's what I am, then."
Leonardo doesn't mind. He and Gruden have had a special bond for years, with the coach sitting at the front of the bus with him playing their constant game of "Name That Tune." It's really "Name That Band," though, and Leonardo wins nearly every time, identifying an artist in the first few notes.
When not at the wheel of the bus, Leonardo shuttles Gruden around in a Cadillac Escalade that has a post-it note over the satellite radio display screen to obscure the name of the song and band currently playing. That way, nobody can cheat.
"We've played it every day, on the way to work and the way home from work," Gruden said. "Like our lives were at stake."
The competition, like an Eddie Van Halen guitar solo, gets loud and intense.
"He'll do whatever he can to beat me, because he can't," Leonardo said. "His go-to is, when he feels it slipping away a little bit, he'll switch [the radio] to '70s on 7.' He can get a little bit of an edge there. Because he comes up with crap like Maxine Nightingale. And I'm looking at him like, 'I can't even believe you said that.' Even if I knew it, I wouldn't admit I knew it. Would you admit you knew a Maxine Nightingale song? I'm like, 'You can have that one. I'll catch up to you in a second.'"
Gruden is infatuated with AC/DC, whose members are among Leonardo's best friends. The Raiders take the field to the ominous clanging of "Hells Bells," and, appropriately, the screaming strains of "Back in Black" are on an endless loop in Gruden's head.
Here's a puzzler: What if the coach were limited to three albums for the rest of his life?
"I'd take 'Back in Black' … ," he said, pausing to think, "and I wouldn't take any more. I'd just take 'Back in Black' and listen to that all the damn time."
To Leonardo, the parallels between the coach and that legendary band are undeniable.
"He's AC/DC, 100%," Leonardo said. "The same work ethic, the same grounded values. They think a lot like him. The same no-nonsense passion for their craft. The same confidence in their abilities to get it done.
"AC/DC is like, 'Really? Play after us. Go ahead, put us on first. Play after us. We'll see what happens."
Then, there are the stories from the road — many of which Leonardo will take to his grave. He'll share a few.
Has he ever been starstruck?
No matter what I've done in life, he brings it all back to, 'Hey, he drove the bus for AC/DC!'
Jeff Leonardo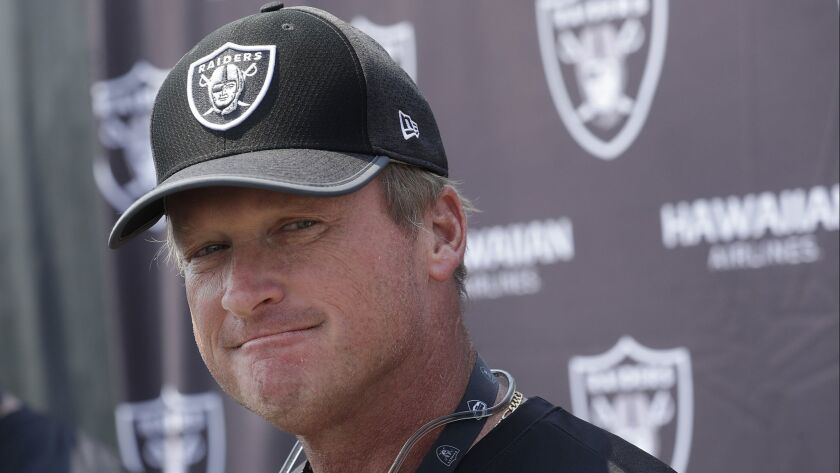 "Yeah, McCartney," he said. "Any time you're around McCartney, you're starstruck, but what can you do? But eventually that wears off. It all wears off.
"How about going into Long John Silver's with David Bowie, just he and I? He's looking at the menu and going, 'Jeffrey, it says fish. What kind of fish?' I go, 'It's good fish. [Sounding irritated.] Just order the fish. I don't know what kind of fish it is.'
"Or Ozzy and his candy. It seemed like every other day you're buying hundreds of dollars of British candy. Everything. Chocolates, licorice, you name it.
"The boy bands will drive you crazy. But also turn out to be good kids."
Leonardo, who grew up a devoted fan of the Cleveland Browns and will forever love Ohio State football, started with ESPN in 2006 when the network landed "Monday Night Football." He wanted to scale back from the rock 'n' roll tour circuit, and football was a saner life. There was opportunity because sports columnist turned broadcaster Tony Kornheiser didn't like to fly, so he took a bus from game to game.
Word was, Kornheiser had an artistic temperament. Leonardo had spent decades dealing with those types. Kornheiser was with "Monday Night Football" for three seasons. When Gruden joined the booth, Leonardo stuck around as driver.
"Tony and Jon have a lot more in common than you'd think," Leonardo said. "They both have a maniacal work ethic. Tony and I became good friends. Jon and I are the same way."
The coach and the bus driver clicked — and playfully clashed — right away.
"I meet the guy," Leonardo said, "and within five minutes of meeting him, he'd heard a little bit of my background, and he goes, 'Is Ohio State ever going to win a bowl game?' And I'm like, 'Oh, nice to meet you, too. Game on.' He poked the bear."
What followed were years of jabs, jousts and practical jokes.
"I duct-taped him in his room once in Green Bay, because I knew he'd go out jogging at 3:30 in the morning," Leonardo said. "So I duct-taped his room closed. I made a spider web of tape, and then I put an unflattering picture of him facing the door so when he opened the door he was looking at him.
"You have to do that kind of stuff, because there's a lot of people who kiss his butt and are pretty plastic around him."
It's in keeping with what Leonardo learned in all those years on the road with rock bands.
"The trick was, treat the band like the crew, and the crew like the band," he said. "Because everyone wants a little of what they don't get. Bands, they're rock stars, they're used to people kissing their butts and yes-men. They just want honesty and real people.
"The crew is just the opposite. When the band's around, the crew is forgotten. They're in the lesser hotels and all of the above. They want to be treated like kings."
Leonardo has such tight connections in the music business that the Raiders called on him to coax Lynyrd Skynard to perform Kenny Stabler's favorite song, "Sweet Home Alabama," before a home game in a tribute to the late Hall of Fame quarterback. The band rearranged its schedule to get there for the gig.
For the coach, he's a walking, talking, rocking skeleton key to that other world.
"When we go to concerts, I'm not just at the concert, I'm in the concert," Gruden said. "We're right there. You're Angus, man…" — directing a reporter standing two feet away to play the role of AC/DC lead guitarist Angus Young — "and I'm standing right here. I'm right next to the stage. I could step right up there."
During football season, Gruden would make a weekly, voiced-over study tape for everyone on the "Monday Night Football" crew, picking all the music for the soundtrack accompanying it.
"I'd make fun of some team's running game — 'There's nowhere to run, nowhere to hide,'" he said, invoking the lyrics from a classic song by Martha and the Vandellas. "I did 'Cat Scratch Fever' for [Carolina Panthers linebackers] Thomas Davis and Luke Kuechly.
"Then I'd rip [ESPN producer Jay] Rothman like, 'Can't we use this song in the show? Twenty-five grand for "Cat Scratch Fever"?' I was even having Leonardo call AC/DC to see if we could use 'Back in Black' and 'Shoot to Thrill.'"
Gruden is buddies with country singer Kenny Chesney, has shared a microphone with Axl Rose, has lived out a lot of his rock 'n' roll fantasies, but isn't a big fan of everyone in the genre.
"I went with Jon to a Bruce Springsteen show in Tampa," Rothman said. "He bought T-shirts for everybody. Then, when he didn't recognize the first three songs, he was out of there. He's got no patience."
Guilty as charged, said Gruden.
"I'm not a big Springsteen guy," he conceded. "Just play 'Born to Run' so I can get the hell out of here."
After all, Gruden can't afford to be shaken all night long. He has to get his rest so he can be up at 3:17 a.m. — his ritual — and ready to attack the day.
"Sometimes, Jon will give you a bit of the martyr syndrome like, 'Yeah, I've been up all night,'" Leonardo said. "I go, 'You know what? Normally, I'd only be halfway done with work when you got up at 3:17 a.m.' We lived a nocturnal existence pretty much, moving from town to town, and doing it all over again."
Rock on.
Follow Sam Farmer on Twitter @LATimesfarmer
---
Get the latest on L.A.'s teams in the daily Sports Report newsletter.
You may occasionally receive promotional content from the Los Angeles Times.