Rams defense peaking at the right time
Dante Fowler Jr. came screaming off the edge knowing the San Francisco 49ers had to throw on third and long. The Rams' agile edge-rushing linebacker ripped his right arm under the block attempt of rookie right tackle Mike McGlinchey, keeping his left free to reach out for quarterback Nick Mullens.
Fowler slapped Mullens' arm as he tried to launch a pass. Fowler pulled Mullens down and listened.
"Every time I just wait to hear the crowd go crazy," Fowler said. "Once that's happening, then I'm ready to get up and defend my boy so he can go score."
The ball fluttered through the air. Linebacker Cory Littleton waited under it like an easy infield pop fly, picking off the first of three interceptions in a 48-32 victory at the Coliseum. The Rams also forced a fumble on the first possession.
In total, the Rams created four turnovers on the first five possessions. The game was never in doubt after Littleton took the last of those to the end zone on a 19-yard interception return to give the Rams a 21-3 lead.
"Their ability to take the ball away was what allowed us to gain control early on," Rams coach Sean McVay said of the defense. "I think we're starting to find our identity and I think they're peaking at the right time, which is exactly what you want."
It's a stark contrast to a month and a half ago when the Rams were licking their wounds defensively after allowing 127 points and 1,447 yards in a three-game span. Defensive coordinator Wade Phillips sat the group down during their Week 12 off week.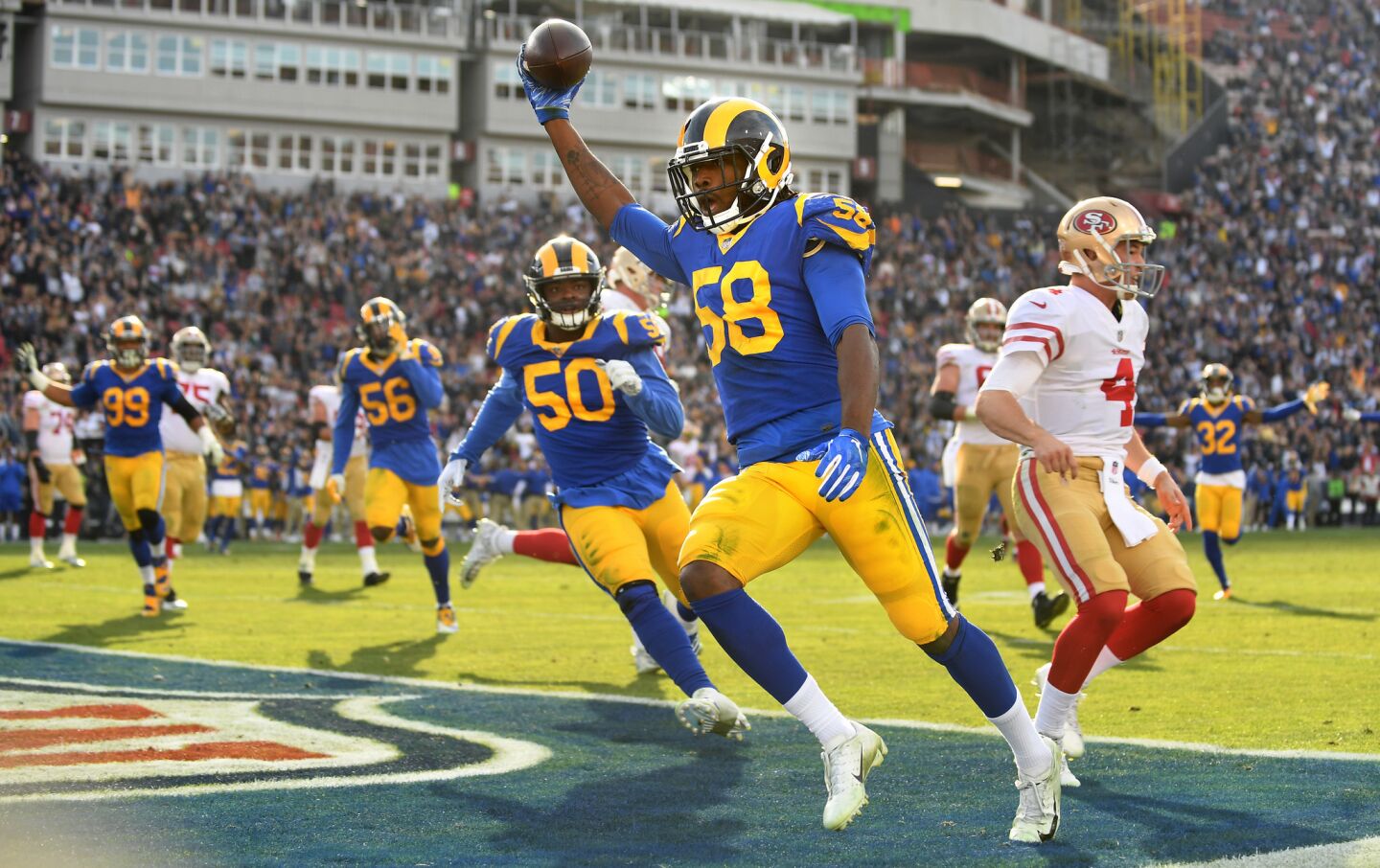 Rams linebacker Cory Littleton beats 49ers quarterback Nick Mullens (4) to the end zone while returning an interception for a touchdown.
(Wally Skalij / Los Angeles Times)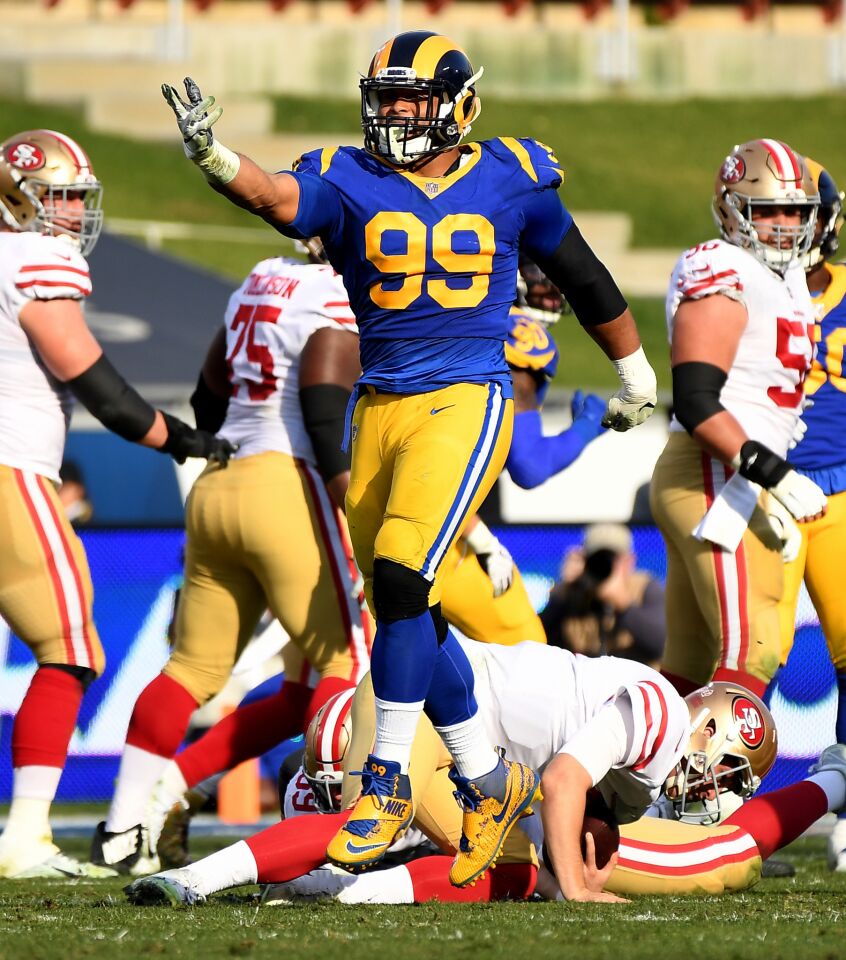 Rams Aaron Donald celebrates his sack of 49ers quarterback Nick Mullens.
(Wally Skalij / Los Angeles Times)
Rams Aaron Donald sacks 49ers quarterback Nick Mullens.
(Wally Skalij / Los Angeles Times)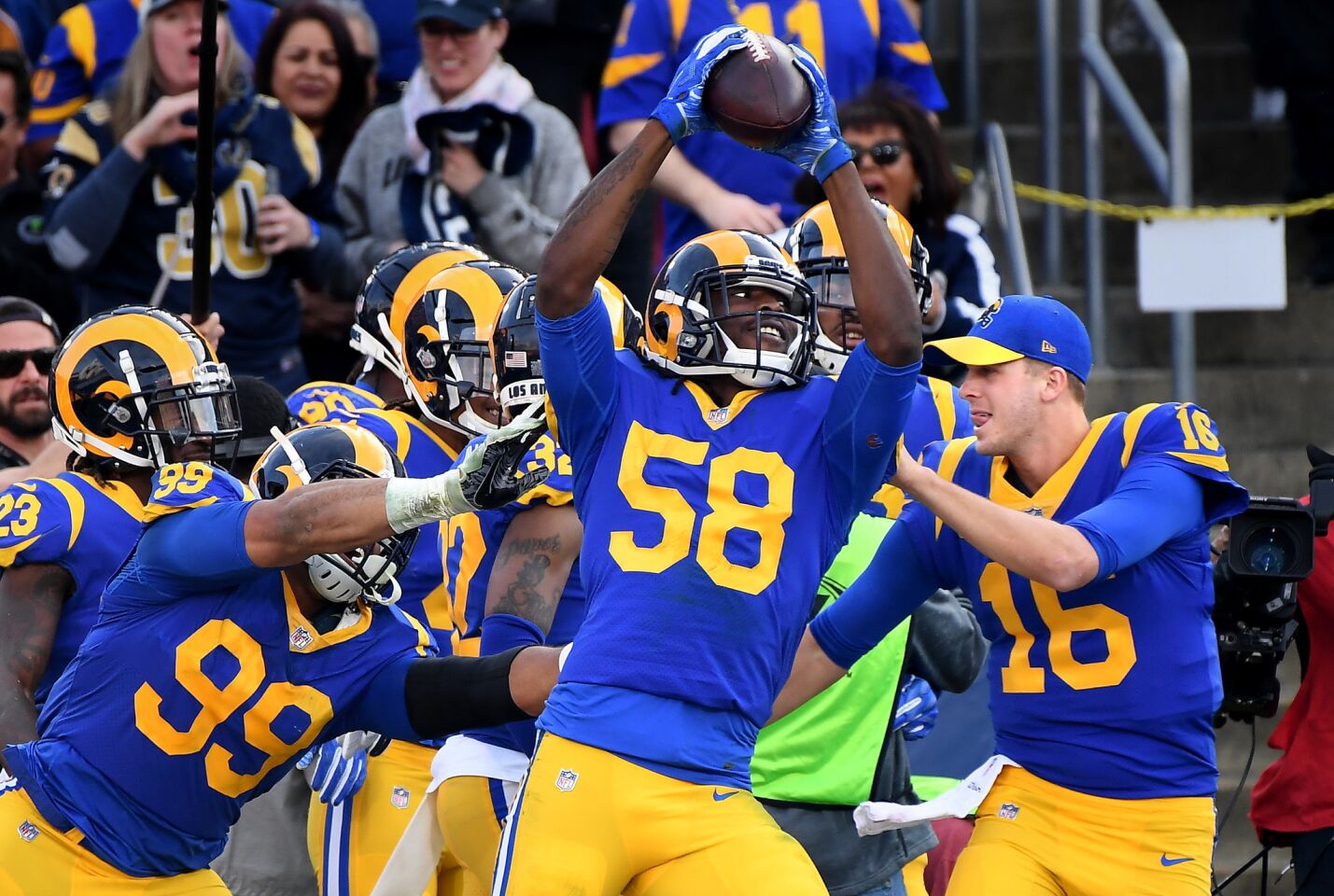 Rams linebacker Cory Littleton celebrates a touchdown with teamates after intercepting a pass against the 49ers.
(Wally Skalij / Los Angeles Times)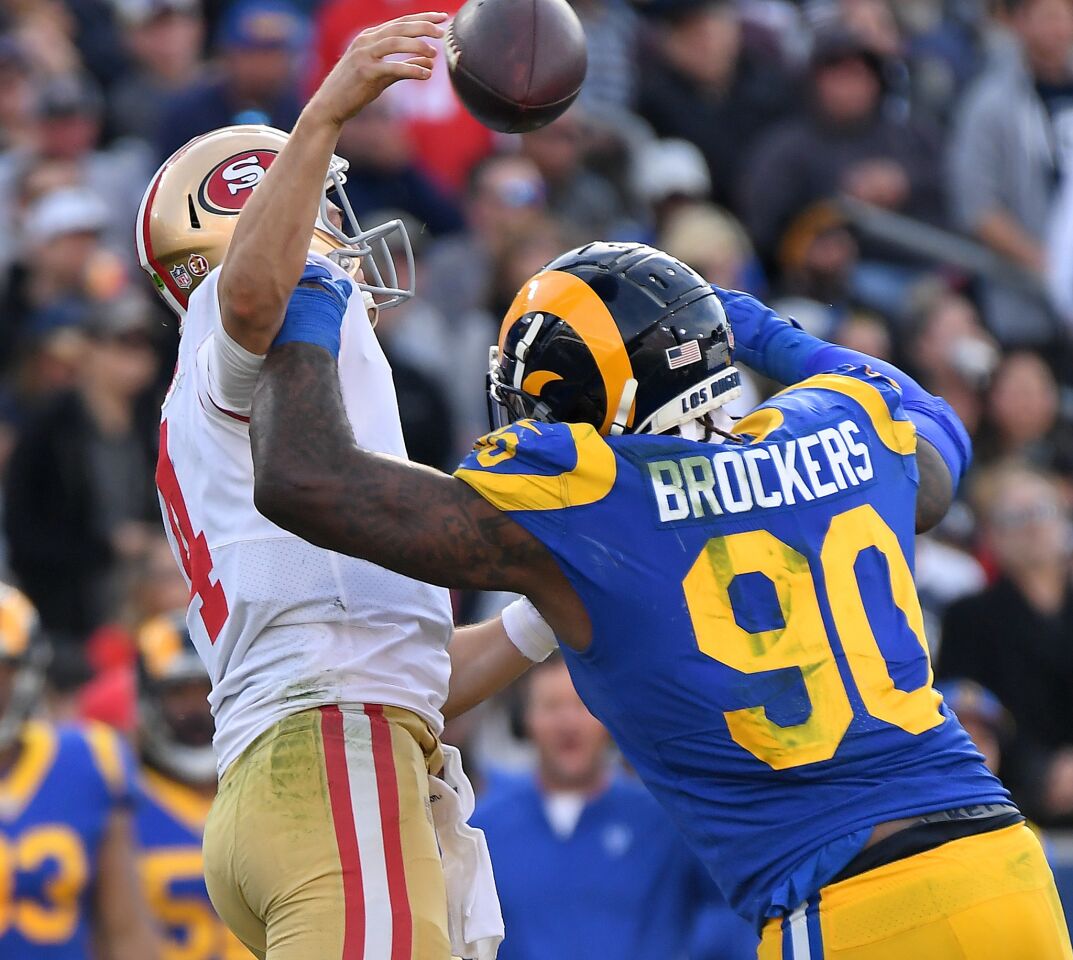 Rams defensive lineman Michael Brockers forces 49ers quarterback Nick Mullens into an incompletion.
(Wally Skalij / Los Angeles Times)
Rams quarterback Jared Goff celebrates his touchdown pass to Brandin Cooks against the 49ers.
(Wally Skalij / Los Angeles Times)
Rams receiver Josh Reynolds catches a touchdown pass in front of 49ers defensive back Greg Mabin.
(Wally Skalij / Los Angeles Times)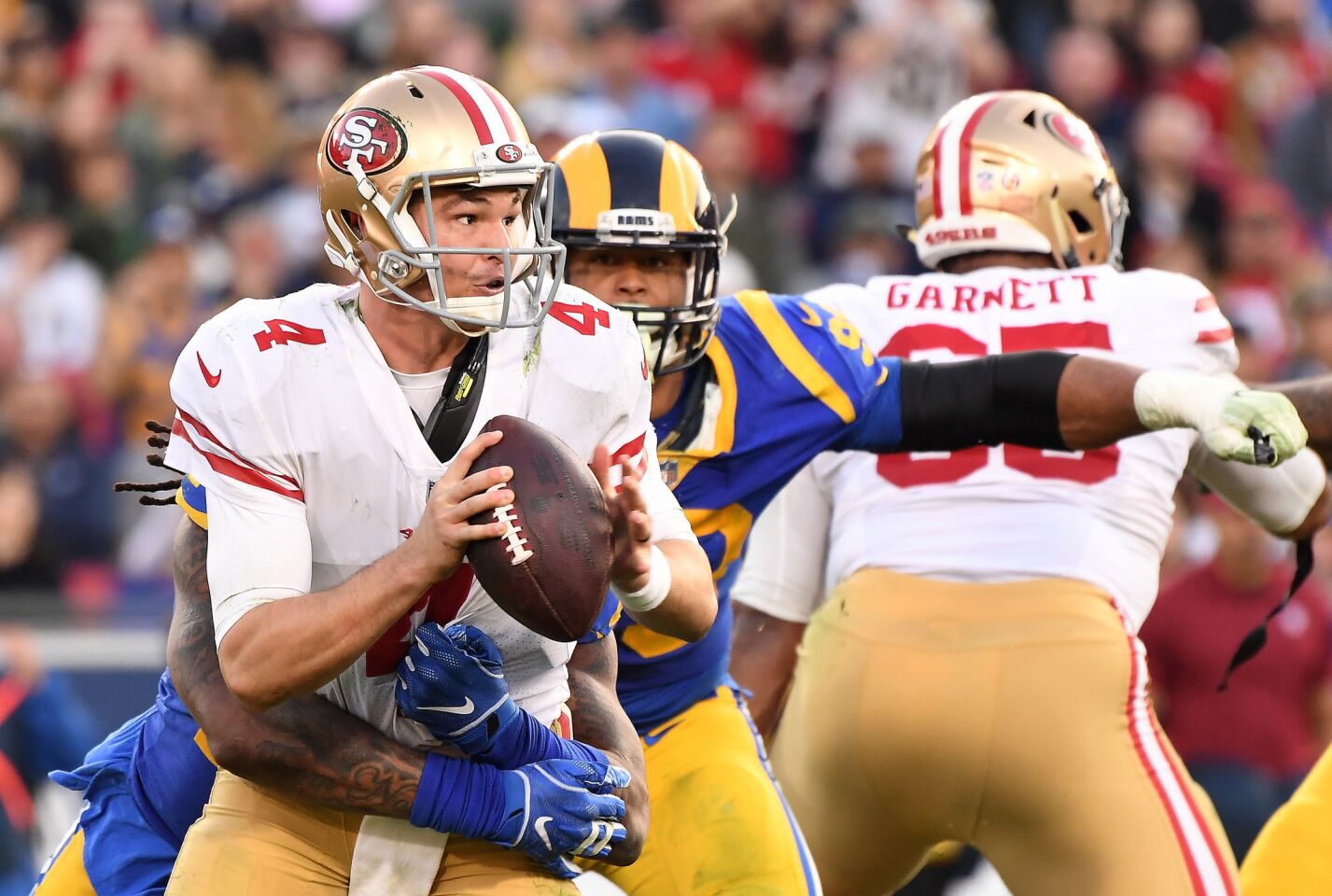 49ers quarterback Nick Mullens is sacked by Rams linebacker Mark Barron.
(Wally Skalij / Los Angeles Times)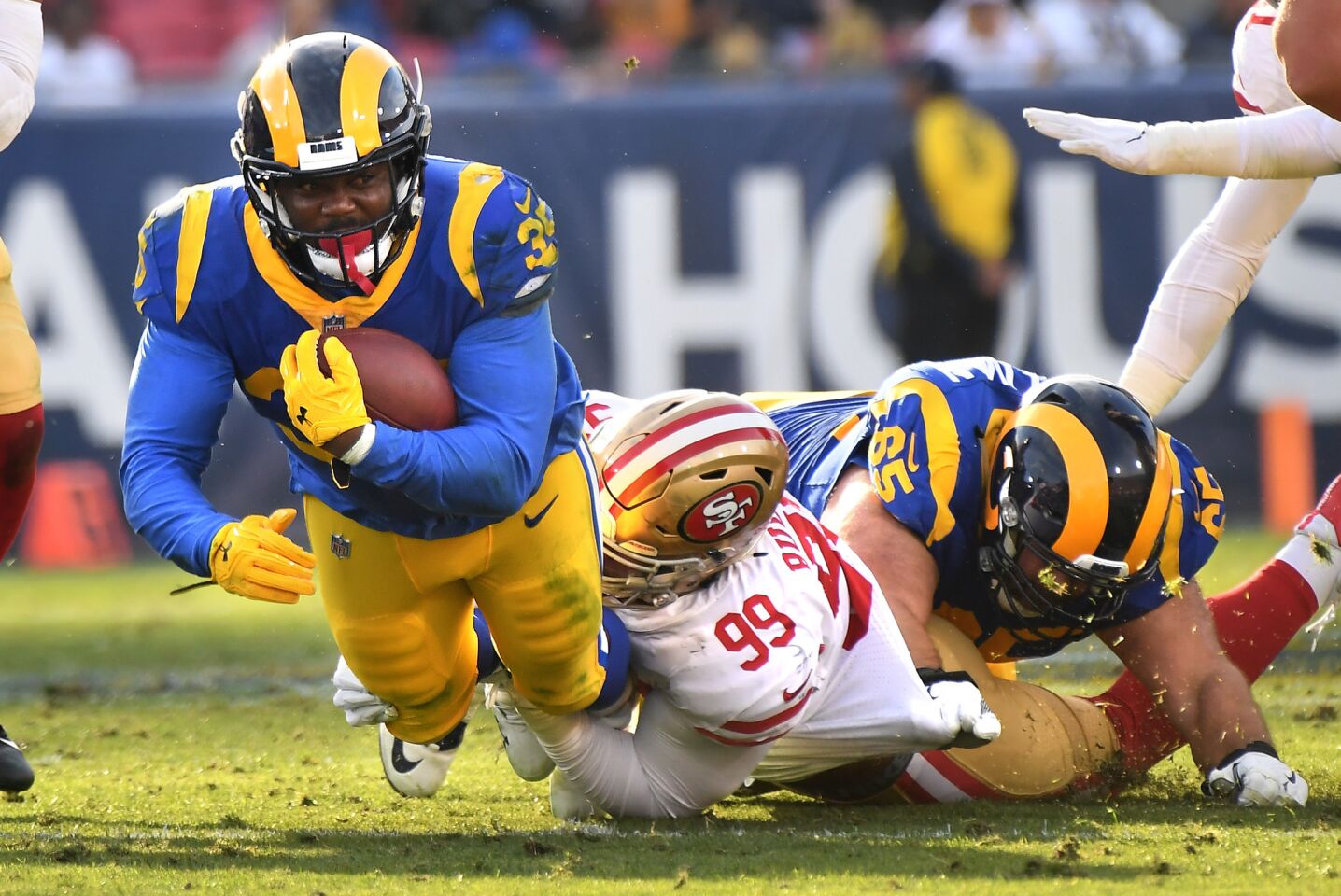 Rams running back C.J. Anderson is tackled by 49ers defensive lineman DeForest Buckner.
(Wally Skalij / Los Angeles Times)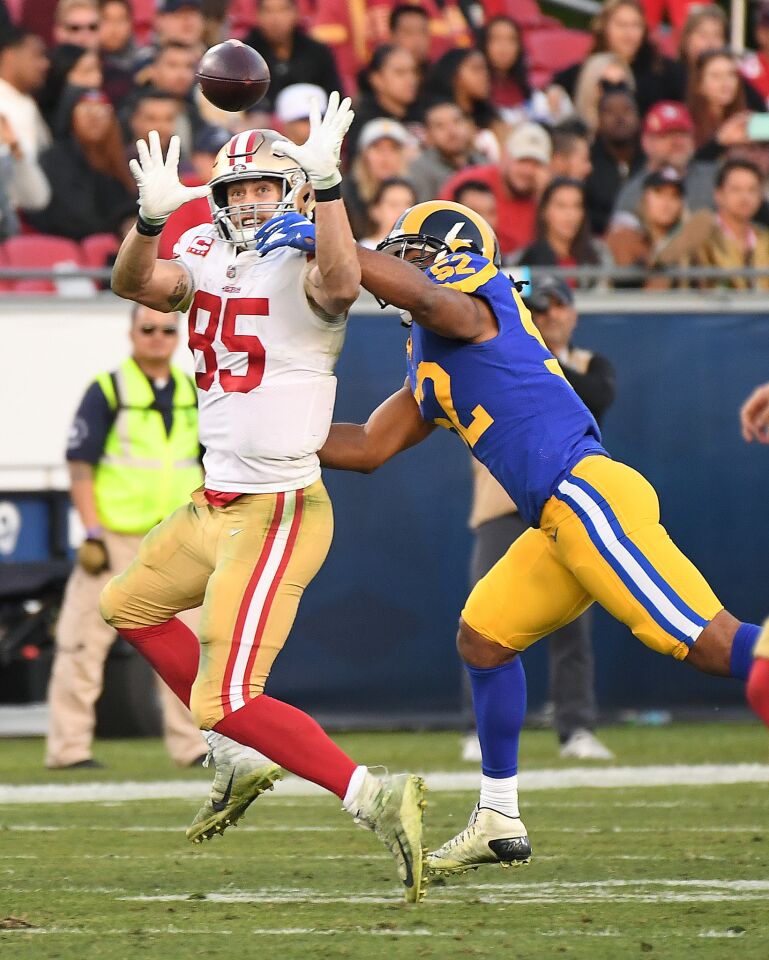 Rams linebacker Ramik Wilson prevents 49ers tight end George Kittle from catching a pass.
(Wally Skalij / Los Angeles Times)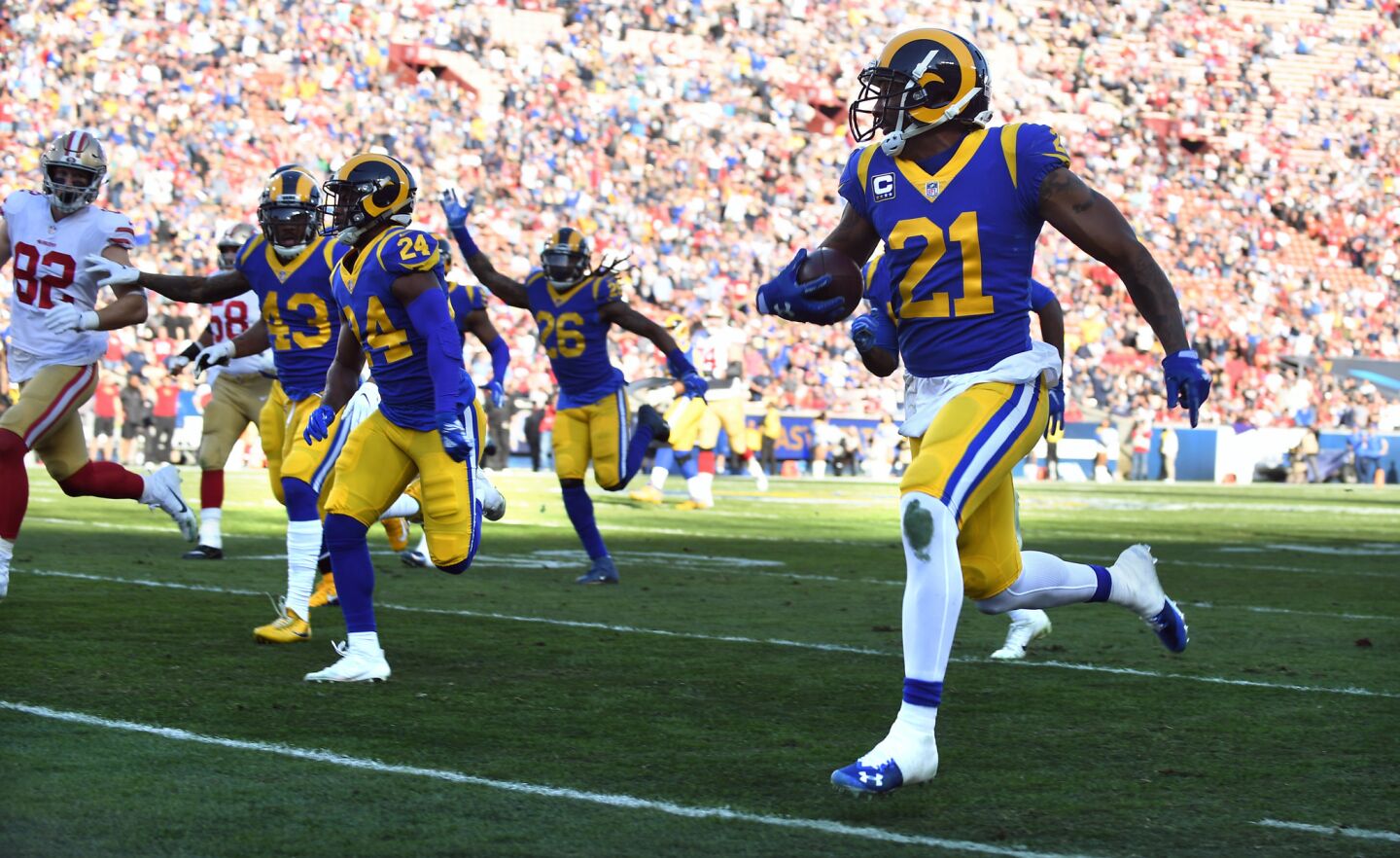 Rams cornerback Aqib Talib returns a fumble against the 49ers.
(Wally Skalij / Los Angeles Times)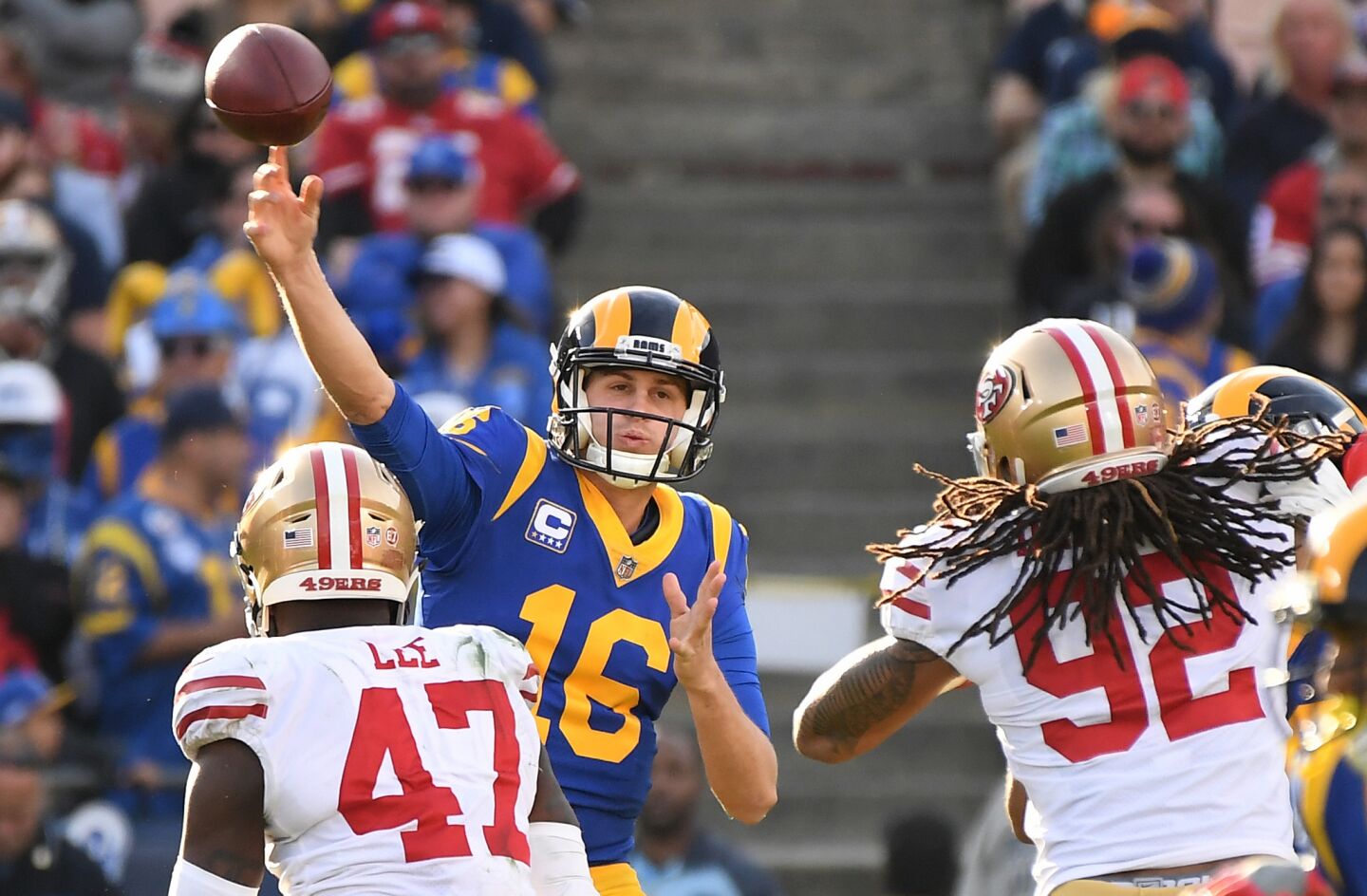 Rams quarterback Jared Goff throws a pass against the 49ers.
(Wally Skalij / Los Angeles Times)
Rams tackle Andrew Whitworth provides a block for receiver Robert Woods as 49ers Tarvarius Moore is pushed back.
(Wally Skalij / Los Angeles Times)
"He told us that can't happen," Fowler said.
When the Rams opened the season 8-0, their defense allowed 25 first downs or 400 total yards once each. Both happened three straight weeks against the New Orleans Saints, Seattle Seahawks and Kansas City Chiefs before the off week.
Neither has happened since. Even after allowing 391 yards Sunday — 134 on two fourth-quarter drives — the Rams allowed 327.8 yards per game the five weeks of December. Over the course of the season only five teams are holding teams to fewer yards per game.
MVP candidate Aaron Donald has been a havoc-wreaking wrecking ball all season, but the recent success has been a team collaboration. Eight defenders each played a significant role in Sunday's turnover splurge.
Aqib Talib scooped up a fumble on the third play of the game. He returned it 47 yards to set up a three-yard Jared Goff touchdown pass.
Mark Barron came in to knock the ball free when 49ers fullback Kyle Juszczyk tried to stretch for the sticks on a third-and-one play.
Michael Brockers hit Juszczyk behind the line of scrimmage and was pulling him down when Barron arrived.
Fowler and Donald tried to have a sandwich meeting with Mullens in between on the first interception. The Rams' second interception featured Donald running by an offensive lineman and obliterating Juszczyk on his way to hitting Mullens as he threw into triple coverage. John Johnson III tipped the wobbly pass up into the air. Blake Countess was the beneficiary, catching the ricochet in the end zone.
"We knew they had a younger quarterback," Brockers said. "We felt if we can get some pressure in his face, there's no way he'd be able to complete passes and see who he's throwing to. And we have the best defensive player in the league right now [Donald], so we knew we can probably get that done."
Mullens didn't see who he was throwing to on Littleton's touchdown. Littleton read Mullens' eyes looking right and cut on an in-breaking route from his middle linebacker spot. Cornerback Marcus Peters also had good outside leverage in the Rams' zone coverage, pushing the route to Littleton.
The Rams have played more zone defense since the off week. Coincidentally, that's when Talib returned from an ankle injury after missing eight weeks. Brockers didn't hesitate to say adding the five-time Pro Bowl cornerback with Super Bowl championship experience is the reason why the defense has improved.
"Having a veteran back there who can call out different routes, different stuff that he's seen over the years and the tape that he goes over and studies," Brockers said. "Just the little details, just the little things he can communicate with the other DBs and let them know what's coming.
"Adding him to the defense and us changing our philosophy a little bit, playing a little bit more zone and stuff like that, it's been a very big help for our defense."
Several teammates echoed Brockers, saying Talib helps the team and its communication back to front.
"It added an extra element to our game," Peters said. "Everything we've been doing since the start of the season, it just pushed up with an extra notch with him coming back. We've just been executing a lot more."
They have had better execution and created impact plays. The Rams head into the playoffs having averaged two turnovers per game the last five games. Many have been the product of enhanced pressure on the quarterback, where the midseason trade for Fowler and offseason acquisition of Ndamukong Suh have paid dividends beside Donald, who finished the regular season with 20 1/2 sacks after adding one Sunday. Adding Tailb and Peters in the offseason strengthened the secondary. When the backend of the defense is providing tighter coverage, the pass rush has more time to get to the quarterback.
"We're in a good spot. We've just got to keep it up," Barron said. "We really can be even better. We've given up some things, but fortunately, we're making plays, making great plays, causing turnovers and helping our team win games right now."
---
Get our high school sports newsletter
Prep Rally is devoted to the SoCal high school sports experience, bringing you scores, stories and a behind-the-scenes look at what makes prep sports so popular.
You may occasionally receive promotional content from the Los Angeles Times.