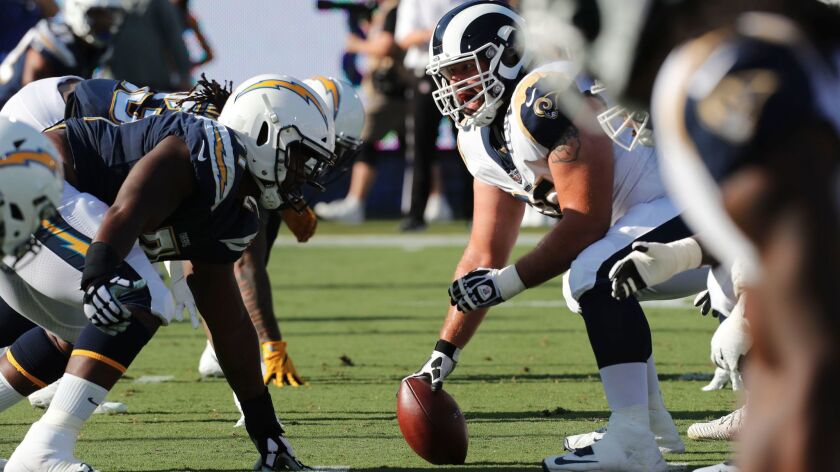 With two teams in Los Angeles, the NFL has had to get creative to provide the nation's second-largest market with the best TV experience it can.
The next two Sundays, Weeks 10 and 11, will feature "double-doubleheaders" in the L.A. market, with morning and afternoon games on both CBS and Fox. That was also the case in Weeks 4 and 5.
The Rams and Chargers will play on the same network the next two weeks. Sunday, it's CBS, with Chargers at Jacksonville in the morning, and Houston at Rams in the afternoon. Fox will have both games the following Sunday, with Rams at Minnesota in the morning, and Buffalo at Chargers in the afternoon.
This is where the NFL had to do some gymnastics, because it would be a problem if, say, the Chargers went into overtime on Sunday, and the L.A. audience couldn't see the start of Texans-Rams.
So this Sunday, Texans-Rams will start on KCAL 9 – and stay there as a simulcast – but will also be shown on KCBS once the Chargers' game is finished.
It's the same for Bills-Chargers the following Sunday. It will start on KCOP 13, then move to the primary Fox station, KTTV, at the conclusion of Rams-Vikings.
How rare is a move like this? NFL schedule makers cannot recall it happening before.
By making these adjustments, the NFL is ensuring the L.A. audience won't miss Dallas at Atlanta this weekend, or New England versus Oakland in Mexico City next weekend.
Follow Sam Farmer on Twitter @LATimesfarmer
---