North Dakota State's Carson Wentz is a 'no-brainer' choice for the L.A. Rams
Football is a game of disguise and misdirection, so fittingly the Rams aren't disclosing which quarterback they'll select with the No. 1 pick in this month's draft, Cal's Jared Goff or North Dakota State's Carson Wentz.
This much is known: They'll take a quarterback, not surprising considering the hefty price tag required to make the unprecedented move from No. 15 to No. 1.
The Rams had private workouts with both players and it's highly improbable the team hasn't zeroed in on one. As General Manager Les Snead said Thursday in a news conference formally announcing the trade with the Tennessee Titans, "the hay is in the barn" in terms of scouting the quarterbacks. An interesting wrinkle is that both players are represented by agent Bruce Tollner, son of former USC football coach Ted Tollner.
While the Rams have praised both players and caution against assuming that either is out of the running, some outside experts see the choice as clear: It's Wentz who should wind up in L.A.
"I really like Jared Goff, but he doesn't have the upside that this kid [Wentz] has," said Mike Mayock, NFL Network draft analyst. "So in my mind, it has to be Wentz — it's not even a question — and I think it's the intangibles that sold [Rams Coach] Jeff Fisher and Les Snead, on top of the physical stuff."
Mayock said he was impressed when studying video of Goff after the season and initially thought he was the best quarterback prospect in the class. He changed his mind, though, after watching tape of Wentz.
"At that point, I had never heard of Carson Wentz," Mayock said. "He was just a name on a quarterback list. I put in his tape against Northern Iowa and when I got done with it I was like, 'Wow, I hope the next one is just as good, because this was kind of special.' And the next one was just as good if not better, as was the next one."
But there wasn't a large body of work from Wentz's 2015 season because he sat out eight games because of a broken wrist. He shined at the Senior Bowl, however, and Mayock said he was clearly the best quarterback there.
Mayock said he was sold on Wentz after attending his pro day in Fargo, N.D.
"I watched him interact with his offensive linemen in the locker room," he said. "They were giving him a hard time, teasing him, 'You're a celebrity. You're not one of us anymore.' He was handling it beautifully, having fun with his guys. The head coach, the offensive coordinator, the quarterback coach, all three of them reiterated how much he controlled the line of scrimmage, the fact that he never got less than an 'A' in school. His work ethic is off the charts."
Another draft expert, Greg Cosell, said that taking the 6-foot-5, 237-pound Wentz over Goff would be a "no-brainer." The former Cal quarterback is an inch shorter and, at 215 pounds, more angular.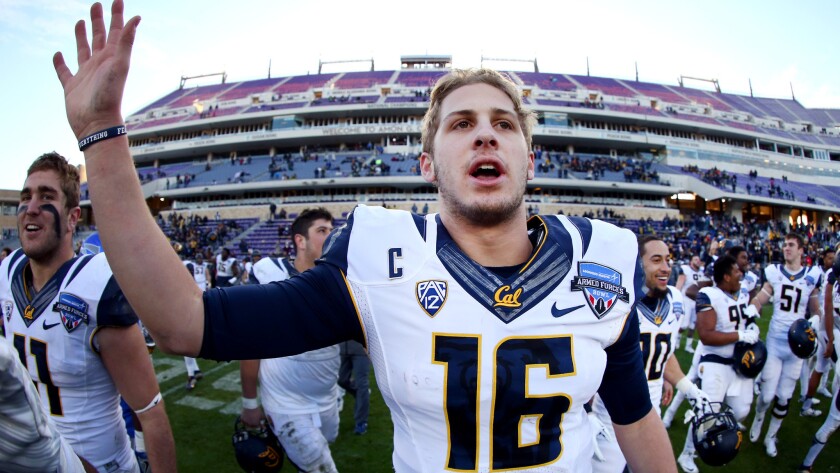 "To me, Carson Wentz's physical traits are far better than Jared Goff's," said Cosell, executive producer of NFL Matchups. "I think it's reasonable to compare Wentz to Andrew Luck. The reason people struggled with that for so long, and they still struggle with it, is because of the level of competition [at FCS North Dakota State].
"He can make every kind of throw, whether it involves power and velocity or pace and touch. He played in a very multiple system in college, in which he called the protections at the line of scrimmage."
Cris Collinsworth, color analyst on NBC's Sunday Night Football, raised eyebrows last month when, in his first-ever mock draft, he predicted that the Rams would trade all the way up to make Wentz the top pick.
He took a drubbing on Twitter for making what many people viewed as a ludicrous projection — then sat back and watched that precise scenario unfold, or at least the trade part of it.
Collinsworth too believes that the Rams will take Wentz.
"When you put the tape of Wentz on, the first thing that jumps out at you other than his sheer size is watching him run," said Collinsworth, majority owner of Pro Football Focus, a subscription-based analytics service.
"He is a powerful-looking, maybe not Cam Newton, but in that big, strong, hit-me-I-don't care kind of category. And when I watch him throw, especially on the run, there's an ease to it. The ball just comes out so easily, it makes you think that there's a little more he could put on it. Like watching Usain Bolt run — it always looks like there's one more gear he could hit if he ever had to."
That said, Collinsworth can understand the appeal of Goff, who last season completed 64.5% of his passes, 43 for touchdowns, with 13 interceptions.
"The decision-making, you'd definitely take Goff, his ability to move around and make plays in the pocket, to see down the field," he said. "There's not one thing I don't love about him. ...
"If you said to me, 'You've got to put one of these guys on the field and win a game tomorrow,' I'd probably take Goff. But if you're looking at the next 10-15 years, there just seems to be so much upside to Wentz. I'd take him."
Follow Sam Farmer on Twitter: @LATimesfarmer
ALSO
Long Beach Grand Prix is a driver favorite
Reporting on Kobe Bryant meant moving in and out of the circle of trust
Dodgers offense breaks through in seventh inning for 5-2 defeat of Diamondbacks
---